Clay and shale are what attracted four brick manufacturers to west central Indiana.
There's Meridian Brick, formerly Boral Bricks, in Vigo County; Brickcraft in Clay County; and General Shale in Mooresville.
On Monday U.S. Rep. Larry Bucshon, R-Newburgh, visited Ontario-based Brampton Brick, which opened its Farmersburg facility in 2008, capable of producing 100 million modular bricks.
"Plants like this create jobs and economic activity and provide a tax base," said the congressman, who first visited the brick plant seven years ago.
The Farmersburg plant, which makes eight different sized bricks, is capable of producing 100 million modular bricks. The facility is currently operating at 60 percent of full capacity.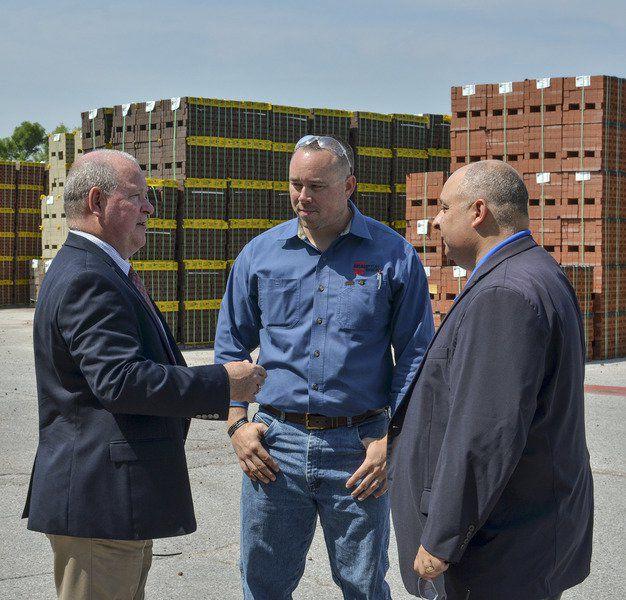 The site is designed to add another kiln and dryer in the future making it capable of producing 200 million modular bricks, said Chris Egge, plant manager.
To put that into perspective, a 2,000-square foot home typically requires 14,000 bricks, Egge said.
The plant, with 32-full time workers, mines clay and shale on 220 acres of its 280 acres next to its facility, Egge said, adding there is enough raw material to continue to produce bricks for about 150 years.
The facility's kiln is powered from natural gas, costing about $70,000 a month, said Mike Rixner, technical manager and a ceramics engineer. Bricks, loaded on a steel "kiln car," are passed through a kiln which heats up to about 1,850 to 1,900 degrees, then is cooled as the bricks progress and leave the kiln at only about 5 to 10 degrees above outside air, Rixner said.
Each kiln car can hold as many as 18,000 modular bricks. It takes seven days from start to finish to produce a brick. The facility currently produces bricks five days a week, with trucks shipping out product on the weekends.
Egge said the facility recently celebrated 10 years with no lost time accidents.
Giving tours, such as to a congressman, is not new to Egge or to the Farmersburg plant, which has also handled large crowds, such as on June 26, when 97 professionals attending the annual American Ceramics Society Convention in Indianapolis in conjunction with the National Brick Research Center toured all four brick plants in West Central Indiana.
"This plant is important to Brampton Brick because it is their only U.S. brick manufacturing site," Egge said. "We service the entire U.S. and work through 411 distributors that move our products."
Reporter Howard Greninger can be reached 812-231-4204 or howard.greninger@tribstar.com. Follow on Twitter@TribStarHoward.