While the event planners, volunteers, parents and chaperons struggled to describe the joy that was Night to Shine 2019 on Friday, the smiles on attendees' faces said all that needed to be said.
Hosted by Mount Pleasant United Methodist Church and sponsored by the Tim Tebow Foundation, Terre Haute's Night to Shine 2019 welcomed hundreds of the community's teens and adults with special needs for a prom night experience they won't soon forget.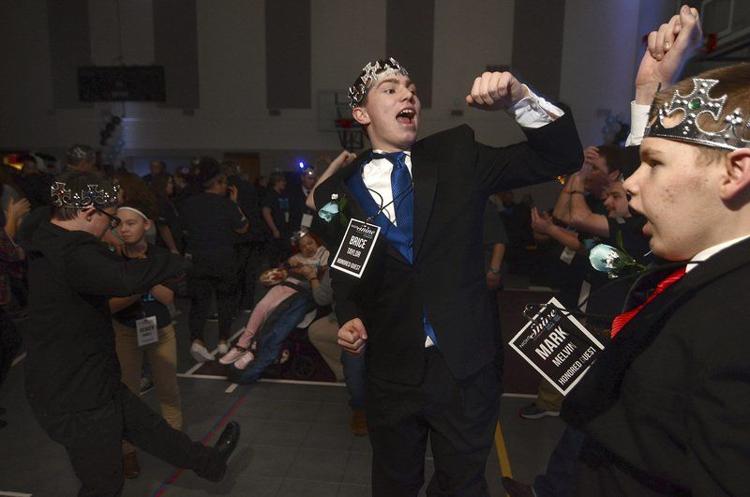 Dressed to impress, each prom goer was introduced by name upon arrival and walked the red carpet to a chorus of applause from a sanctuary full of volunteers and community supporters.
To compete the red-carpet experience, each guest was accompanied by either a volunteer from the Indiana State Police, Terre Haute Police Department, Vigo County Sheriff's Office or any number of armed forces members in attendance, among others.
Rose Switzer said she was overcome with joy as she watched her daughter Samantha take her turn on the red carpet.
"I was so excited and overwhelmed with happiness seeing her being able to walk down the aisle," Switzer said.
After completing their celebrity entrance, guests were able to enjoy a party bus, hair and make-up stations, get their shoes shined, a karaoke room or dance the night away.
Dennis Ticen, lead pastor at Mount Pleasant UMC, said putting together the special-needs prom is a monumental effort that takes cooperation from specialty groups from all over the community.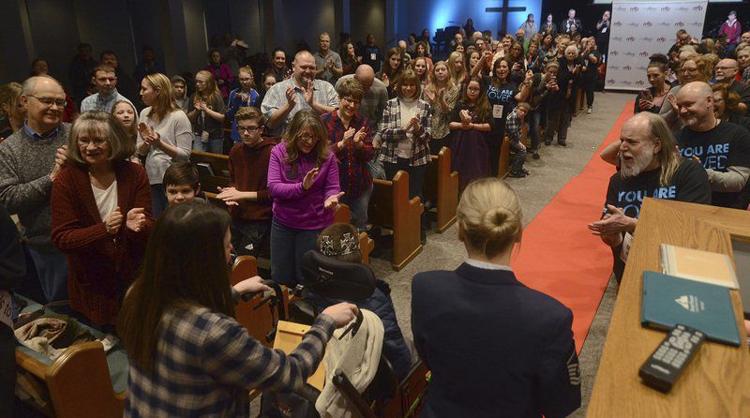 But added that he and all the volunteers who made Friday night's event happen wouldn't trade any of the work knowing how special the night is for those with special needs and their families.
"Tonight is really hard to describe," Ticen said. "The week leading up to this can get crazy at times, but it's worth every bit of it to see all these amazing people out here having fun.
"And we, as church, we've felt called to be intentionally involved in the special needs ministry and to meet a need we feel isn't being met in the community. Because sometimes these people are overlooked or pushed aside, and we're really feeling called to make sure that doesn't happen."
Switzer echoed Ticen's sentiment, saying it's such a special thing to see those with special needs get a night to be themselves free of judgment.
"Just to have something like this and know that she can do whatever she wants and not worry if someone is going to make fun of her is exciting," Switzer said.
"And other than exciting, I don't really know how to describe what tonight means to us. For them to have a night that is all about them ... it's special. I'm just so happy knowing that [Samantha] gets to enjoy herself just the way that she is."
Mount Pleasant UMC was just one of nearly 700 churches around the world registered to host Night to Shine 2019. In all, more than 170,000 persons with special needs are expected to participate in this year's event.
Reporter Alex Modesitt can be reached at 812-231-4232 or at alex.modesitt@tribstar.com. Follow him on Twitter @TribStarAlex.