Next Step Cafe is slated to open in February on the street level corner of The Deming at Cherry and Sixth Street.
It's a collaborative effort between Next Step Foundation Inc. and Launch Terre Haute, said Dana Simons, Next Step executive director.
"It is a great location," Simons said. "We have the Wabash Valley Recovery Center in Launch Terre Haute space," as Launch Terre Haute has returned to The Deming. The concept of the cafe is "about creating jobs for people in recovery."
The cafe will offer coffee, soups, sandwiches, baked goods as well as ice cream and use equipment once housed at Sweet Science. Since it is nonprofit, Simons said, it will be suggested donation pricing.
"Sweet Science closed down and gave us their equipment," Simons said.
A counter bar is to be installed along the front glass windows at the corner site to allow people to look out onto the street, as well as see the liquid nitrogen ice cream maker inside the cafe.
The cafe will also offer a cereal bar, with 10 different cereals, six different toppings and six different milks, such as almond, soy and cow's milk.
The cafe is slated to be open daily from 7 a.m. to 10 p.m., Simons said, to attract students from Indiana State University.
The soups and baked goods are a result of numerous contributions and work from Thompson Thrift, Simons said.
Thompson Thrift is installing a commercial kitchen at Next Step's main building at Sixth and Washington streets, a former church and the last free freestanding building of the Coates College for Women, a Terre Haute liberal arts women's college that opened in 1885 and closed in 1897.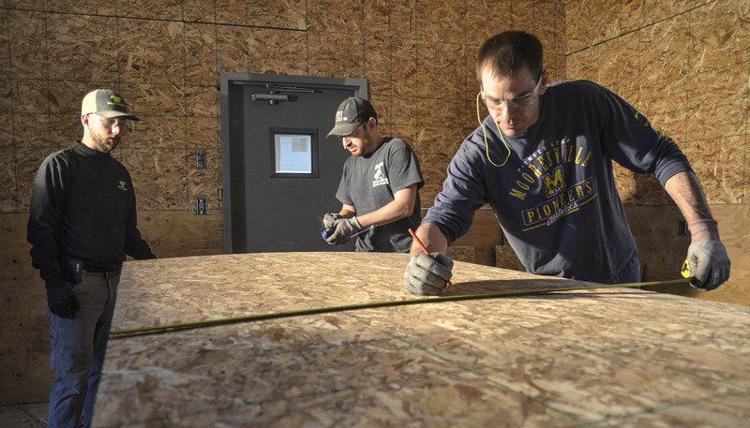 "We will be working with a chef who will teach how to make soups here in our commercial kitchen," Simons said. Fifi's Lunch Box will also provide assistance to teach Next Step workers on making baked goods, she said.
The baked goods and soups will then be taken daily to the cafe.
The cafe also will have space for pop-up businesses, which is something Launch Terre Haute encourages to spark new business, such as potential retail, Simons said.
Next Step is a faith-based, non-profit program to help people overcome addiction to drugs and alcohol. Next Step provides both residential programs and outpatient services such as substance abuse groups, AA meetings, peer coaching and case management.
Several other organizations and foundations and individual donors help sponsor Next Step, as well as 14 churches. The program has six residential houses, plus two duplex apartments, as well as its main building that serves as a community center for meetings and offices. Additionally, Simons said, four more apartments where purchased by Thompson Thrift and will be restored.
The cafe will be a way to help provide a solution to give people work experience, Simons said.
"We have a lot of uncredentialed workers in our town, many without even a GED. They get into sobriety and recovery and are doing really well, but don't have any skills. We want to give them that chance to really have some skills in the hope that they will be available for food service jobs or create new jobs," Simons said.
"I am hopeful that people will be pleasantly surprised," with the cafe. "I am also hoping that it will help break stigma, when they realize...that everyone working there is in recovery and that might change minds about people being in recovery. ... I am hoping this will be a side benefit and people will start thinking differently about giving people a chance."
Reporter Howard Greninger can be reached 812-231-4204 or howard.greninger@tribstar.com. Follow on Twitter@TribStarHoward.