Frustration has prompted a Terre Haute family to speak up about blight in their neighborhood.
Four years ago, when Lucy Chew and Eric Handlin moved into a turn-of-the century house situated close to Collett Park in the Twelve Points neighborhood, they thought they had made a good choice in location and price.
It was a quiet, residential block of North 10th Street with older homes and friendly neighbors.
But the Chews did not anticipate that just two years later, urban blight would infest their block.
Two houses directly south of them have been condemned by the city, and another house north of them is abandoned.
All three houses are uninhabitable, but have raccoons, rats, and vandals as nonpaying tenants.
Chew said she regularly contacts the city's 3-1-1 Call Center to report issues with the properties, but so far, she has received no help in getting property owners to either clean up or tear down the houses.
A long process
City officials say it takes time to move a property through the process of condemnation and demolition, and working with absent property owners is frustrating for them, too.
"We liked it here," Lucy Chew said recently talking about her home's location. "It's perfect for us. The location is good. It's just that some of the people are not taking care of their properties, and it's a problem."
When the couple moved into their home at 1933 N. 10th St., the house south of her at 1927 N. 10th was occupied by a family. However, the house had no heat, and at times, no running water or electricity. The family told her their landlord, who lived in Florida, reduced the rent in exchange for the family making improvements to the house.
The people were nice, Chew said, but they were inexperienced and unable to pay for needed repairs.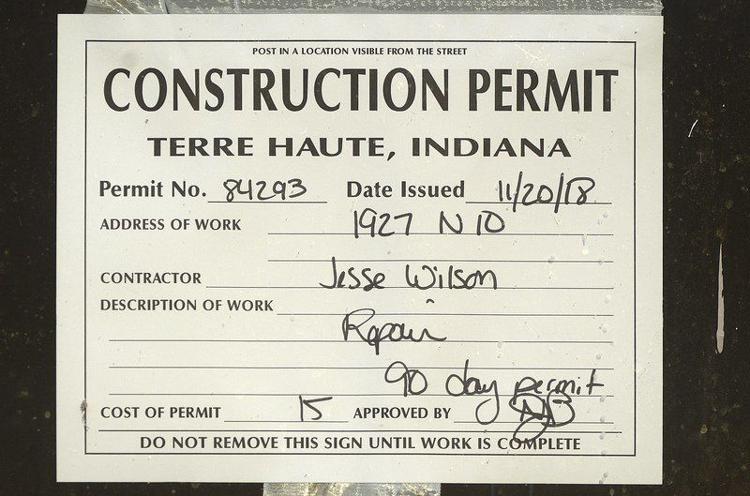 Another family moved in with the same repair-for-reduced-rent deal, she said, but were also unsuccessful during the next year.
Eventually, the water pipes burst and flooded the basement, adding to the mold problems already in the structure. With windows broken out by vandals, raccoons and other scavengers moved in.
"I went out and picked up broken glass myself," Chew said. "It was all over the front sidewalk."
Periodically, people would show up to work on the house, she said. But they were not professionals and usually only picked up trash on the lot before leaving.
One man said he was contracted to repair the roof, Chew said, but then she noticed he had arrived on a bicycle and had no tools or equipment with him. He never returned.
A condemnation notice was posted on the house in August 2018.
In November, a 90-day construction permit was issued for the property. However, no repairs have been made and the permit has expired.
The second property south of Chew at 1923 N. 10th Street is owned by a local person, according to property records available through the Vigo County government website.
That house has had a condemnation hearing, city records show. It was condemned in May 2017.
But if a building permit is issued for improvements, that stops the condemnation process in which the house is put on a list for future demolition.
The house north of Chew at 1937 N. 10th Street has been abandoned for more than a year.
The elderly occupant died, and the remaining family moved away.
The city handled three grass and weed complaints on the property last year, and online records show property taxes are past due.
A wooden fence between that abandoned house and Chew's house is no deterrent to trespassers who regularly get into the abandoned house.
"I hear them at night when they are breaking in," she said. "My window is right next to the house, and we hear people in there."
Among her fears are that someone will start a fire in the abandoned and condemned homes, and the fire will spread.
She also fears the wildlife – including rats – that have tried to get into her closed garbage cans to search for food.
"We can't go out into the backyard in summer without fearing raccoons and rats," she said. "I can't let my daughter play back there, in our own yard."
Gradual decline
Mike King of M-Squared Properties said he sympathizes with the couple and others plagued by absent property owners and blighted housing.
King rented the North 10th Street house to Chew, and after they proved good tenants, he sold them the house on contract.
"I feel so terrible for them," King said of the couple, "because here they are a young couple with a young child, and they are choosing to live in an older neighborhood and invest in the community, but they are surrounded by these condemned houses. Here they are doing everything right, and they are being penalized for their efforts."
King said he and his property partners find houses to purchase and renovate, then rent to people who are expected to keep the property clean and in good shape.
"We always try to make sure the houses we rent look like they are owner-occupied," King said. "We take responsibility for mowing the grass, and we remind the tenants of trash pickup. It is the property owners' responsibility to keep tenants informed."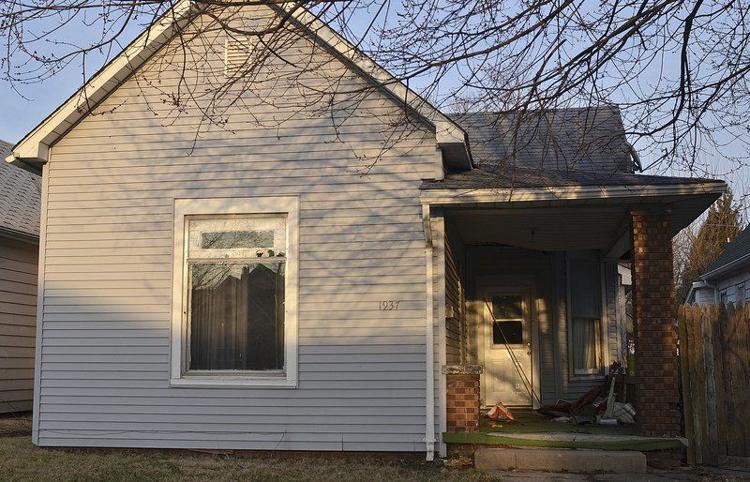 King said he is sad to see gradual declines in some neighborhoods around the city, but the decline on North 10th Street is the worst cluster of blight he has noticed.
He said he commends the couple for continuing to contact the city about the problem properties.
"They deserve to know the house next to them isn't a rat farm," King said.
Across the street from the Chews, a house with well-tended bushes and friendly cats is the home of "Papa Joe," who moved into the neighborhood in 1968.
He's known most of the residents in the 1900 block of North 10th Street, many of whom have died or moved away.
"It used to be a real nice neighborhood," Joe said of his 50 years in the neighborhood. He recalls the former Collett School up the street, and the busyness of the nearby Twelve Points merchants district.
The condition of some houses on both sides of the streets is worrisome, he agreed.
"You can never find the landlords because they live out of town. They would never want to live next to one of these houses," he said, pointing to the condemned and abandoned houses.
Census records have shown about 46 percent of Terre Haute's residential housing stock was built before the 1940s. A majority of houses were built between 1880 and 1920 – a time of rapid expansion – and the houses in this Twelve Points neighborhood are no exception.
Local property records show the nine houses in the 1900 block on Chew's side of North 10th Street were built around 1890 to 1900.
Grant program
Phil Kesner, grants and planning administrator for the Terre Haute Department of Redevelopment, helped the city get a blight elimination grant about four years ago.
The city received $650,000 in federal funding to take care of abandoned and blighted properties.
Unfortunately, Kesner said, the additional requirements for using that federal money added time to the process of cleaning up properties.
"If a property is not involved in a blight program," he said, "it takes about two years to go through a tedious process. Condemnation is a lengthy process anyway, but the blight program required a city to own the property before tearing anything down, and that added time."
He said 60 to 65 properties went through the blight elimination program, but the city has returned to handling the process with its own funding.
Funds are allocated each year for demolition of condemned buildings, he said, but the need outstrips the funding.
It can take $5,000 to $10,000 to tear down most homes, Kesner said, but it costs more to tear down a house with asbestos siding or other environmental concerns, which most pre-1940s houses have to a degree.
Chew said she is concerned about asbestos and lead paint when the houses near her are demolished.
Kesner said some communities with blight problems have had success when area residents form a neighborhood development cooperative to buy up endangered property and save the houses.
That happened in the Farrington's Grove neighborhood, where a partnership was formed to purchase and rehabilitate a historic house on South Seventh Street.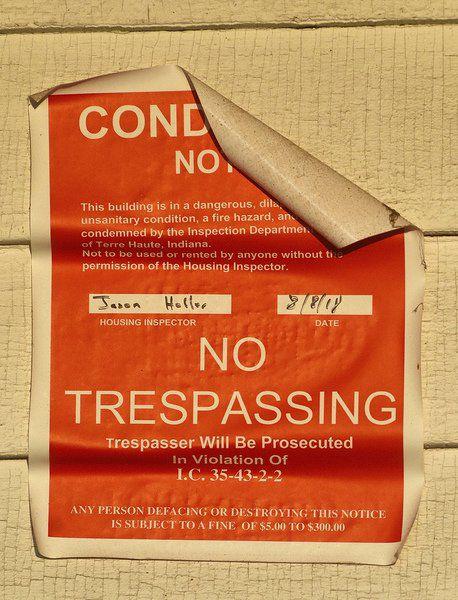 But even in that instance, it took several years for the group to get to the point of taking on a rehabilitation project.
Mayor looks into problem
Mayor Duke Bennett said he is well aware of the blighted property issues in the city.
Last year, 81 condemned houses were torn down by the city.
"That's the most we've done in one year," Bennett said. "We have a pretty big list with 300-plus properties on it. We just hope to keep it up."
After being contacted last week about Chew's situation, Bennett said he drove through the city block and looked up information on the houses.
"It's a problem to track down and get people to be responsible," Bennett said. "Each house has its own process."
It can take two years to get a condemned house demolished by going through the legal process, the mayor said. Burned out structures and houses used for drug-related activity usually get moved up on the list faster.
Absent landlords are also a concern, he said, and there are a few out-of-state landlords with whom the city has repeated encounters.
Another resident concerned about blighted homes in her neighborhood south of Hulman Street is Kylie Carrithers, a friend of Chew.
Carrithers lives in the 1700 block of South Fifth Street near an elementary school, and said she has been turned down for a home-improvement loan by a bank due to the bad condition of neighboring houses.
Carrithers said she reached out to the city code enforcement office, and one of the houses was condemned. She knows that is the start of a long process.
"I don't want to live in a neighborhood that looks like it's crumbling," she said. "It seems like every block has at least one house like this."
A call to the owner of one of the North 10th Street properties – Vinod Gupta of Boca Raton, Florida – was made by the Tribune-Star.
Gupta said he knows his property at 1927 N. 10th has been condemned, but he has a building permit and plans to have it repaired.
"I have been contacted by the city, and we are working with the city," Gupta said. "We should be fixing that."
He could give no timeline, however, on when repairs would be made.
"I know it takes some time," he said.
For now, Chew said she will continue to call the city's 3-1-1 Center when she has new concerns about the abandoned and condemned properties.
Lisa Trigg can be reached at 812-231-4254 or at lisa.trigg@tribstar.com. Follow her on Twitter at TribStarLisa.