This community of about 2,700 must surely hold, or be on its way to, a world record for the most world records – at least per capita.
Already home to eight Guinness-certified world's largest items, three more are on the way: a more than 82-foot long teeter-totter, a barber pole at least 15 feet tall and an item creator Jim Bolin is not yet disclosing. A fourth item, a gavel, will be displayed at the Clark County Courthouse in Marshall.
They won't officially be the world's largest until Guinness says, but Bolin has done his research and is confident they will pass muster.
Like most days when the weather is nice Sunday saw a steady stream of motorists pull off Interstate 70 at Exit 129 to view the unique collection.
Shaughn Riley of Fishers, Ind. stopped with his wife and three children en route home from St. Louis.
"This is actually our second time coming to this city just because of the world's largest attractions," he said.
Riley spoke shortly after his two sons coaxed sound from the world's largest wind chimes. With the largest pipe 42 feet long, the sound is a far from the tinkle of front porch or patio chimes.
"It's more like a gong," said Shaughn's wife, Heather.
"Everywhere we go we try to find the world's largest [items]," she said of what has become a family tradition after just one previous stop in Casey.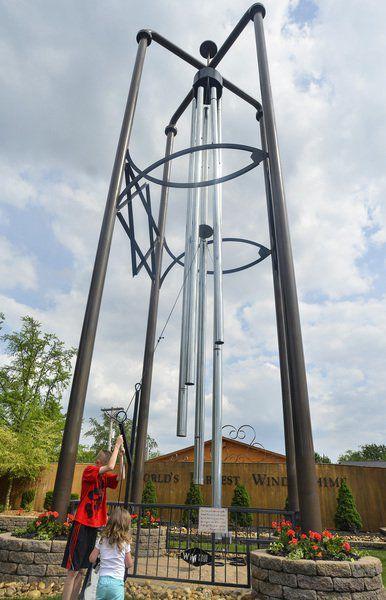 The Rileys also viewed the world's largest crochet hook and knitting needles and learned someone had to demonstrate the items would work in order to pass Guinness' muster.
"That's a new thing; that's kind of fun," Shaughn said as another visitor banged the gong – er rang the chimes. "Sometimes it's not the big trips that make the memories; sometimes it's the little stops at a town on the side of a highway."
All items must operate to be the "world's largest." It took 11 men to get the giant rocking chair next to City Hall to rock, Bolin said.
Rodney Davidson of Effingham dubbed the world's largest items "an interesting attraction to bring you into town."
Deb Power, also of Effingham, observed that "it increases the foot traffic — definitely."
Asked her favorite item, Power said she was torn between the rocking chair and the wind chimes.
Kim Arnett of Shumway was making her first visit to view the "big things in a small town," as Casey bills its attractions. After climbing down from the world's large mailbox with her husband and three daughters, she said of the growing collection, "I like it; it's pretty cool."
Like others, Arnett pronounced the rocking chair her favorite item and noted her family was headed to Casey Country Club check out the world's largest golf tee. The tee and the world's largest pitchfork, at Richard's Farm restaurant, are the only items not on a three-block stretch of Main Street (Old U.S. 40.)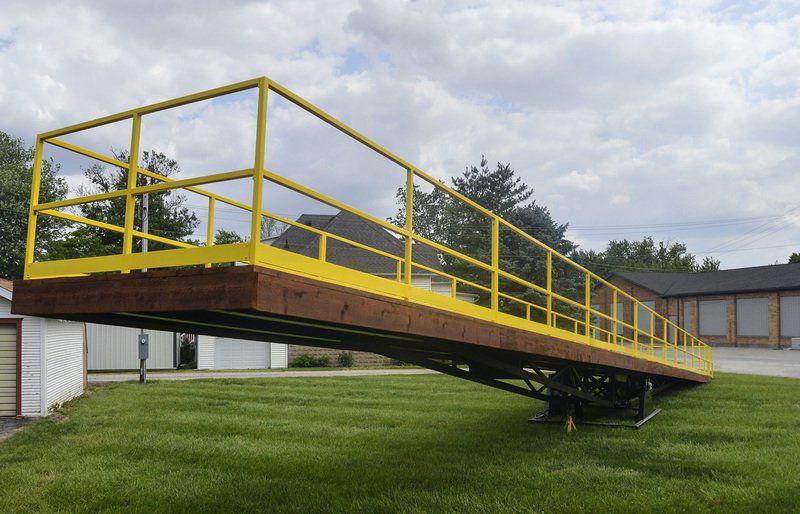 The wind chimes went up in 2011 and, amazed by the out-of-state traffic generated by that attraction and a modest tea shop, Bolin has been adding to the collection ever since.
Bolin Enterprises employs about 240 people. Jim Bolin's goal is to help bring more business to town without competing with existing ones.
Bolin has completed some or most of the work on many items by himself but some of the family business' employees have also had a hand in many of the creations.
Cory Foster, 33, has "had a hand in just about everything," he said. "I feel like we're doing really good work for the town and it's something to be proud of."
He pronounced the world's largest pitchfork his favorite creation.
"We actually had to join two telephone poles together to find one long enough," he said.
Foster and Bolin agreed the world's largest clogs, or wooden shoes, were the most challenging because of the amount of carving, sanding and gluing required.
Bolin said the popularity of the attractions has exceeded his expectations.
"I never in my wildest dreams thought it would come to the point where it's come."
Calvary LLC is the business the family created for its "world's largest" venture and Bolin points out with pride that each item bears an appropriate scripture from the Bible and some feature Biblical symbols.
"I'm a man of faith, our family is a Christian family and I just wanted to give back to the Lord," he said. "I think that's kind of boosted it, too."
In conjunction with its "big things," downtown Casey features a restaurant, ice cream shop, bakery, candy store, two antique stores, a home decor store and a bed and breakfast.
Current world's largest items in Casey:
wind chimes
rocking chair
mailbox
clogs/wooden shoes
knitting needles
crochet hook
World's largest items in development:
teeter-totter
barber pole
gavel
undisclosed item
Dave Taylor can be reached at 812-231-4299 or dave.taylor@tribstar.com. Follow him on Twitter @TribStarDave.