Tiarra Taylor, an Indiana State University senior and Miss Indiana, travels today to participate in next week's Miss America competition.
"I'm going to go in with a with a positive attitude, knowing it's a once in a lifetime opportunity," said Taylor, 21, a New Albany native.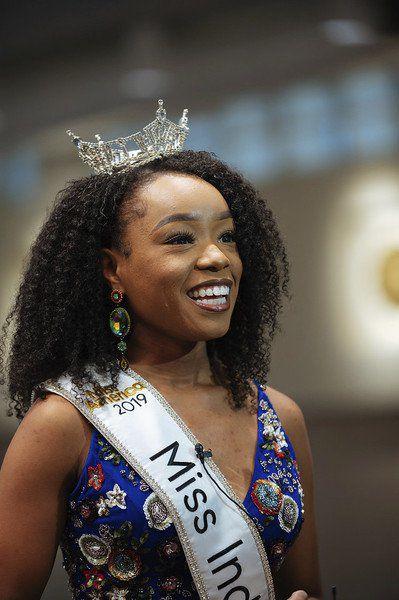 A large Indiana contingent will be there to support her next week, including family, ISU staff and the Miss Indiana state director.
Chosen Miss Indiana State University in October 2018, she won the Miss Indiana title in June, which set her on the path to the national competition.
"This is going to be the one and only time I get to compete at Miss America, so I'm really excited to see what the week is going to be like," she said.
Taylor will be in the national spotlight during the Dec. 19 live broadcast, but for now, she's calm. "Honestly, because I'm not there yet, I don't feel any nerves. I'm sure once I see the stage, I'm going to get all the emotions, knowing I get to be one of the women this year" on that stage, she said.
Preliminary competition will take place Sunday and Monday and includes talent, on-stage questions and social impact pitch. Those who score high enough in prelims will advance on Dec. 19 — but contestants won't know who advances until the 19th.
On the actual night of competition, "Everyone will be seen on television, which is really cool," Taylor said. Each contestant will be introduced.
She's taken vocal lessons to prepare for her talent event, and ISU staff have worked with her in preparation for the on-stage question. The event also includes a private, personal interview with judges.
A communication major, once she graduates, Taylor wants to go back to school and pursue a career in teaching at the high school level.
Her platform focuses on bringing advantages to disadvantaged youth. "It's all about empowering young people and giving them the tools necessary to thrive," she said.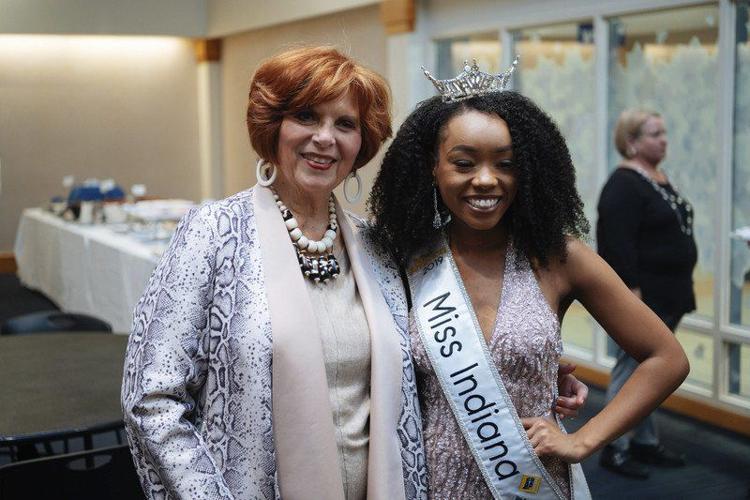 Taylor wants to let those who are underprivileged know "their dreams are tangible despite their circumstance, just because I'm a living testament that it doesn't matter where you come from or who you are, you can totally do all the things you dream of."
Taylor said she's received much support from family, the ISU community and her hometown. She'll be walking on campus and a classmate will say, "I can't wait for you to compete in Miss America." Says Taylor, "It's moments like that that remind me, so many people are in my corner, which is so appreciated."
While Taylor said she doesn't feel she's under pressure, she does feel a great sense of responsibility in representing not just herself, but Indiana, ISU, family and friends. "I know that regardless of the outcome, my support system is going to be proud of me," she said.
Freda Luers, ISU director of campus life who also is director of the Miss ISU program, said Taylor has been Miss Indiana State University twice. She attributes Taylor's success to her down-to-earth, sincere personality, her hard work and her upbeat attitude.
Taylor continually works to improve, both academically and personally, and "she uses every opportunity she can to do that," Luers said.
She also "is very passionate about her social impact platform," and her involvement in agencies such as 14th and Chestnut Community Center "have motivated her to continue that journey," Luers said.
Taylor "is very caring. She cares about other people immensely. She is open, welcoming and very sincere about knowing people and what they are going through," Luers said. But she's also a happy person and "just a lot of fun."
Taylor said it's an honor to be chosen as one of 51 contestants in Miss America, and she doesn't take it lightly. "If anything, it makes me want to work even harder to represent the state," she said.
She is a firm believer that "whatever is meant to happen is exactly what will happen," and as she heads to the high profile competition, "I feel at peace and ready to enjoy the week of Miss America."
Taylor is only the second Miss Indiana State University to become Miss Indiana and get a shot at the Miss America title. The other was Terre Haute native Kathleen Burke in 1961.
NBC's "The 2020 Miss America Competition" will be telecast live from 8 to 10 p.m. Dec. 19. The event is taking place in Uncasville, Conn.
Sue Loughlin can be reached at 812-231-4235 or at sue.loughlin@tribstar.com Follow Sue on Twitter @TribStarSue.