The season of giving is near, and with it comes the annual Miracle on 7th Street celebration in downtown Terre Haute.
Now in its 10th year, Miracle on 7th Street is one of Terre Haute's largest holiday celebrations, complete with the Light your Way Parade, a tree-lighting ceremony with Santa Claus, gifts, food and holiday cheer.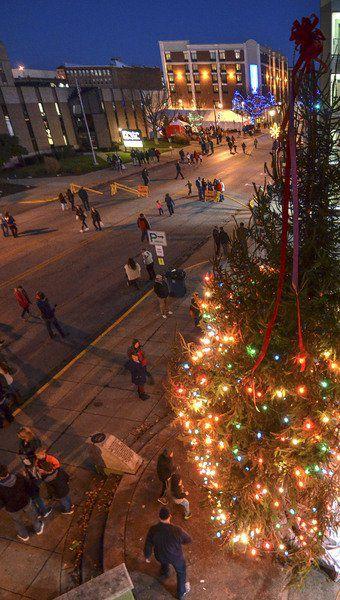 This year's celebration begins Dec. 7, from 5 to 10 p.m. and continues on Dec. 8, from noon to 8 p.m.
The Light your Way Parade is at 6 p.m. Dec. 8 and will travel down Wabash Avenue from Fifth Street to 9 1/2 Street. A sensory sensitive area of this year's parade will be in the block between Fifth and Sixth streets.
Event organizer and Miracle on 7th Street board member Boo Lloyd said the two-day celebration is a great way for families to make memories and spend a part of the holiday season together.
"Christmas is in all of our hearts. Our board members all have such great Christmas memories from growing up," Lloyd said. "And I like to help start Christmas traditions and create good memories for the families to move on with. It's just so important to us."
Fellow board member Lisa Johnson agreed, saying that while she and other members of the Terre Haute Economic Development Corporation are always excited when people congregate downtown, Miracle transcends that and is far more about memories than money.
"Of course we want to bring people downtown, we know what the value of that is, but these are times when making that first memory for a child or adult, that will last a lifetime, is significant," Johnson said.
"Whether you have memories of sledding down a hill with your family or going shopping, those are the kinds of things we never forget. And that's the type of experience we want to give to those who come for the Miracle on Seventh Street."
Miracle on Seventh Street is also an opportunity to help those less fortunate, Lloyd and Johnson said, highlighting opportunities for giving during the event.
Donations of food and money will be gathered during the festival and disseminated to a host of soup kitchens and food banks ahead of the busy holiday season.
"I think that's what's so neat about Miracle on Seventh Street, to me at least, is we're a conduit in that we not only raise food and money for charities but also welcome a number of others to come and share what they or their organizations are about," Johnson said.
Johnson said in the Miracle's 10 years, more than 80 tons of food, the equivalent of 536,000 meals, has been collected and distributed to local food banks and shelters. 
More than 30 Wabash Valley charities benefit from the two-day event's donations, including Catholic Charities, 14th & Chestnut's Grumbling Tummies and St. Benedict's Soup Kitchen. Food baskets are also made with monetary donations for charities including the Salvation Army Christmas Food Basket program and the Tribune Star's Christmas Basket Fund.