"Crazy busy" and "fun." 
That's how 2019 Vigo County Fair Queen Lucy Harbaugh described her week during the fair from July 6 to July 13 at the Wabash Valley Fairgrounds.
Harbaugh, an Indiana State University sophomore and a 2018 Terre Haute South graduate, is a 10-year 4-H member herself, but wearing the crown offered her a "whole new perspective" on the annual event that celebrates the achievements of 4-H members young and old.
One eye-opening event for Harbaugh was the project check-in.
"There are crazy projects," Harbaugh said during an interview in the community center at the fairgrounds late last week.
"That just really opened my eyes to how many kids are in 4-H and what they capable of doing. There's welding projects. One kid even built a kitchen. It was cool to see their creativity come out."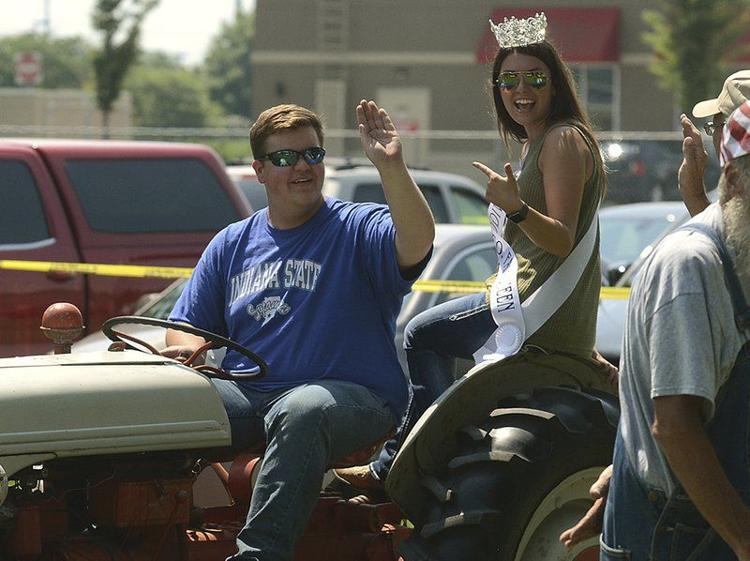 Not only was witnessing the creativity of 4-H members impressive for Harbaugh but also seeing them being awarded for their hard work and dedication.
Almost daily, Harbaugh, her court and the 2019 Vigo County Fair Princess Maya Snider helped hand out ribbons and banners to the winners of the various shows and contests.
"It was rewarding to see their excitement," said Harbaugh about the winners and their achievements.
Harbaugh saw an example of that excitement when she handed the Grand Champion banner to Kylie Morgan, 12, after Morgan won during the Swine Grand Drive in the Swine Barn on July 9.
As the Master of Ceremonies praised Morgan for her hard work and explained the reasons why the judge chose her entry, Harbaugh and Morgan walked back to Morgan's stall and draped the banner and ribbon over it.
Harbaugh hugged Morgan knowing what she had just gone through since she herself had participated in the swine competition for nine years with help from her uncle, Jeff Harbaugh.
While attending almost every show and contest could fit under her "crazy busy" description of the week there were still plenty of opportunities for "fun."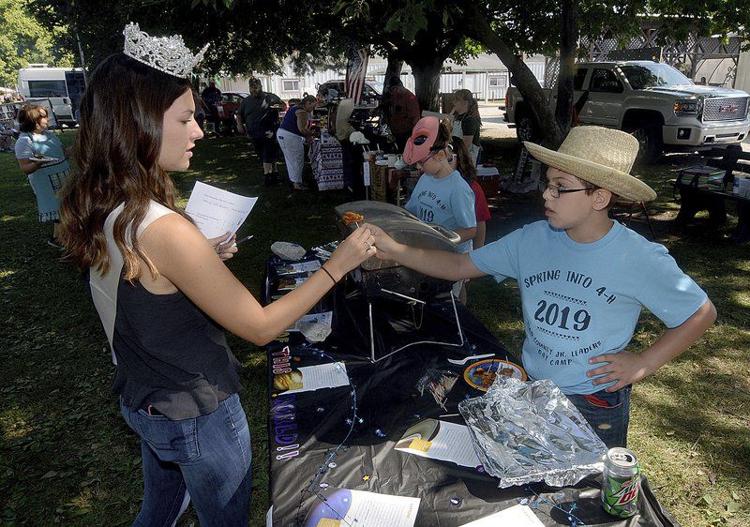 The alpaca/llama costume contest, chalk art show, Silly Safari, rooster crowing contest and rocket launch were just a few examples of times that Harbaugh and her court could relax and enjoy the fun.
During the Rooster Crowing Contest, Harbaugh did her best to help Jennifer Michaels, 11, make a stubborn rooster crow. They were successful enough for Michaels to win a ribbon. 
At another cage with yet another stubborn rooster as its occupant, 11-year-old Gavin Hargis wore a full-sized stuffed chicken head. Neither Hargis nor his chicken mask could convince the rooster to crow enough to win, but he did convince Harbaugh and 2019 Vigo County Fair Princess Maya Snider to join him in a brief chicken dance.
Harbaugh is quick to thank all of the supporters who helped to make the experience smoother and less hectic, especially her father, Joel Harbaugh and her aunt, Natali Stadler.
"Aunt Nat" was often at Harbaugh's side, as she was during the barbecue contest on July 12 on the 4-H lawn. Stadler collected each individual judging sheet from Harbaugh as Harbaugh helped judge the presentation of each barbecue contestant's table.
An outer space theme was definitely present, while others like Buck Gillin chose a different presentation and made Harbaugh laugh with a Hula girl outfit and a dance to match. His kebobs were impressive too.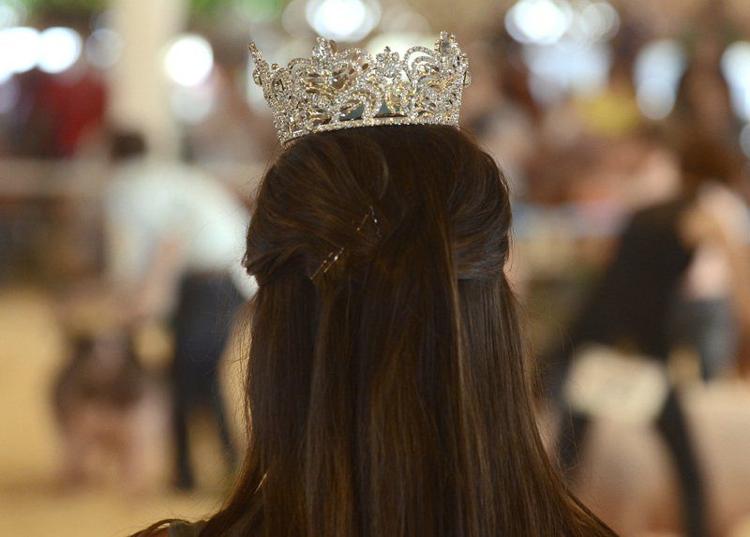 On Saturday, the last day of the fair, Harbaugh juggled a bowl of cereal and her phone, which she used to make sure her crown was centered properly as Joel Harbaugh placed clips to keep the crown in place as Lucy prepared at home an hour before the start of the rabbit show. 
Family dog, Paisley begged for attention as Lucy took a spoonful of cereal and tried to not move too much for her dad, who had become an old pro at this crown thing.
Joel, too, was frequently at the fair as he accompanied her to various events around the fairgrounds with a camera around his neck to capture moments. He walked with her along the 4-H parade route on July 11 as she handed out candy to kids of all ages and braved the dust of the demolition derby on July 8.
Harbaugh's grandmother, Bekki Dyer, and Aunt Nat made sure she had outfits for every day of the fair. Dyer also helped prepare the evening gown Harbaugh wore during the pageant in Rose-Hulman's Hatfield Hall on June 29.
While she had many family and friends present to watch, there was one more person she felt was watching her from afar and just as proud, her late mother, Mary, who died in 2011 from breast cancer.
"She would be very proud," said Harbaugh.