For Nick and Jami Kasprzyk, becoming owners of McDonald's franchise restaurants starts with family ties.
"I am a Purdue University alum and I met my wife in Chicago. She was an elementary school teacher," Nick Kasprzyk said. "I got a job with McDonald's Corporation as a computer programmer after college. We got married and talked about what does our future hold and talked about McDonald's."
The couple then moved to Springfield, Illinois, to work for his father.
"I come from a line of [McDonald's] operations. My father was an operator since 1989 in the Springfield, Illinois, area. I became an operator in 2009 and bought one of his restaurants," Kasprzyk said.
"We were able to expand by buying a different operator's restaurant in 2011 outside of Springfield and we had those two restaurants until the four we purchased in 2014. Jami was teaching and as I got set up on my own, she is now an approved operator as well. Although she misses the classroom and the kids, there is a ton of teaching in classroom management in business that has filled that desire," he said.
The couple sold its two McDonald's to obtain four restaurants outside of Terre Haute in August 2014. Those restaurants include McDonald's in Clinton, plus McDonald's in Illinois at Marshall, Paris and Casey.
In August 2018, they bought five McDonald's in Terre Haute.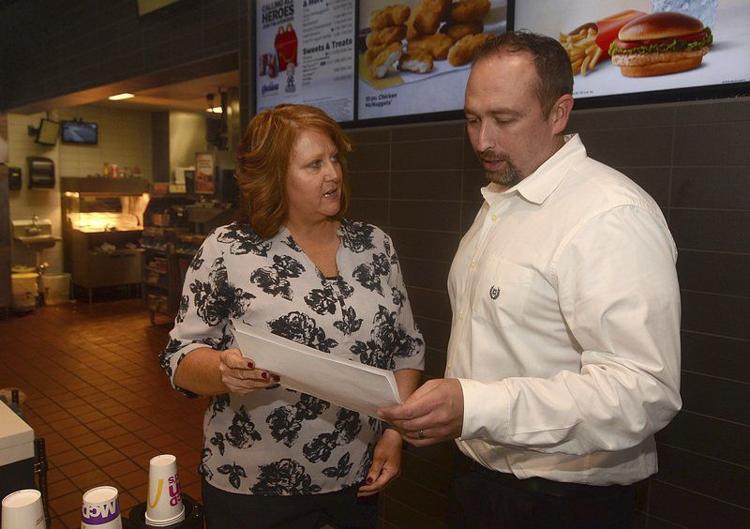 They operate their business under AMAC Association Inc., named after the initials of their children — Addison Marie (11) and Alexander Clyde (9).
They lived in Terre Haute from 2014 through 2018, then moved to Danville to enroll their children into a Christian elementary school. They now commute daily.
Grand reopening
The couple recently celebrated the grand re-opening of a renovated McDonald's at 2111 Lafayette Avenue.
Their McDonald's in Clinton had a renovation completed in March. They've also begun renovation of their restaurant at 3606 S. U.S. 41 near Town South Plaza. The lobby of McDonald's at Third and Poplar streets will be renovated starting in December or January of next year. After that, their McDonald's on Wabash Avenue will be renovated, starting in the first quarter of 2019.
"McDonald's is in a program now called Experience of the Future. It really focuses on modernizing the restaurant decor, technology, the experience in how customers interact with us," Kasprzyk said.
"Different stores are going at different times, so some of the things have been rolled out such as our mobile app which came out a few years ago, but all locations now should have the ability to take mobile payment from your phone, can place orders or you can come inside and your order will be ready for you, or you can come through the drive-through or curbside service, so all restaurants are doing that," he said.
"As part of the Experience of the Future, it is transforming how the restaurants look. Terre Haute kinda had a blend of older looking buildings and some newer looking buildings," Kasprzyk said. "The one on Third and Poplar streets has a nice outside facade, which is kind of the newer look. Lafayette Avenue has it as well."
About those kiosks
"We are trying to get to that look on the outside with double-lane drive-through. And on the inside, we are looking at updating the decor and adding self-ordering kiosks at every location. That is kind of the wave of the future," Nick Kasprzyk said. "There are some customers who are shy and don't want to interact with people, as everybody is buried in their phone, and some customers don't want to wait in line.
"The misconception it would be taking people's jobs and that is absolutely false. If anything, it is adding four order points and we have to staff the station and need more people on the grill to fabricate the food, so we are definitely hiring. The impression is it is automation and taking jobs, but that is definitely not the case," he said.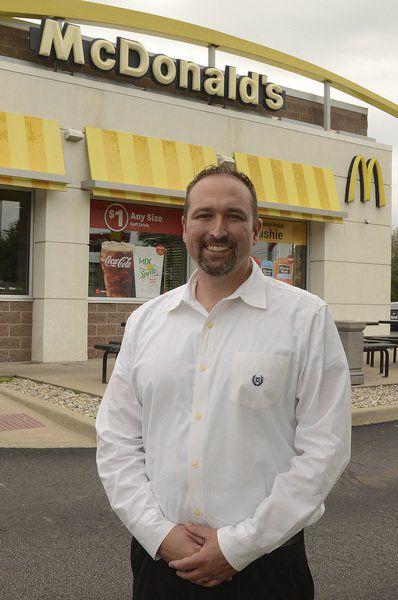 McDonald's now has a guest experience lead, like a Walmart greeter. If a customer wants to use the kiosk, the lead can help with the new technology, or customers can order at the front counter. Part of the new dining-in experience, Nick Kasprzyk said, is table service.
"Whether you order at the front desk or kiosk, you will get a table tent [a folded card with a number on it]," he said.
The guest experience lead will bring out food to the customer at the table, and will check back while dining "so you can enjoy yourself. I think it is really handy with guests who have young kids. When they are bouncing all over the place, when [parents'] hands are full ... it is nice to get the table tent number and get your family settled and the food will arrive shortly," he said.
Donations
As owners, the couple is able to hold special events.
Last year, they partnered with the Vigo County School Corporation, donating a portion of sales on a specific day and time for a back pack program, allowing the business to donate $3,000. It was also done for the Boys and Girls Club of Terre Haute, donating $2,500.
Recently, at the grand opening of the Lafayette Avenue store, 20 percent of sales at that restaurant between 4 p.m. and 7 p.m. were to be donated to Terre Town Elementary School.
Also, Ronald McDonald House of Charities presented a check for $20,000 to the Boys and Girls Club of Terre Haute. Jami Kasprzyk serves on the Ronald McDonald House Charities of Central Indiana board of directors.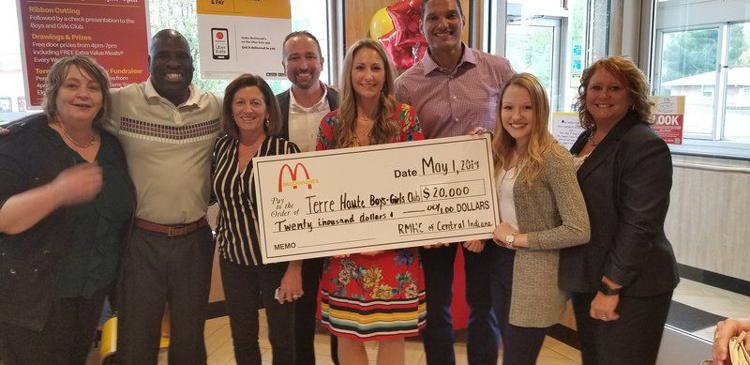 "One of the needs was transportation with buses for transportation to and from their facility," Nick Kasprzyk said. The club filled out an application. While Jami Kasprzyk was not in the board room, the board discussed that application, voting to fund a grant for bus transportation.
"Nick and I are excited to help the Boys and Girls Cub partner with our local schools in our communities where we do business, to help them achieve their goals," Jami Kasprzyk said in a statement. "We are also delighted to help provide scholarships so every child can take advantage of the programs the club offers, regardless of their financial situation."
Reporter Howard Greninger can be reached 812-231-4204 or howard.greninger@tribstar.com. Follow on Twitter@TribStarHoward.