Art creates conversations, said Jennifer Perry as she took part in the unveiling for the new "Dreiser - Shadows of Meaning" sculpture Friday on the northwest lawn of the Vigo County Public Library.
"Artists think differently about everything," said Perry, a founding board member of Art Spaces Inc. and representative of the Hollie and Anna Oakley Foundation.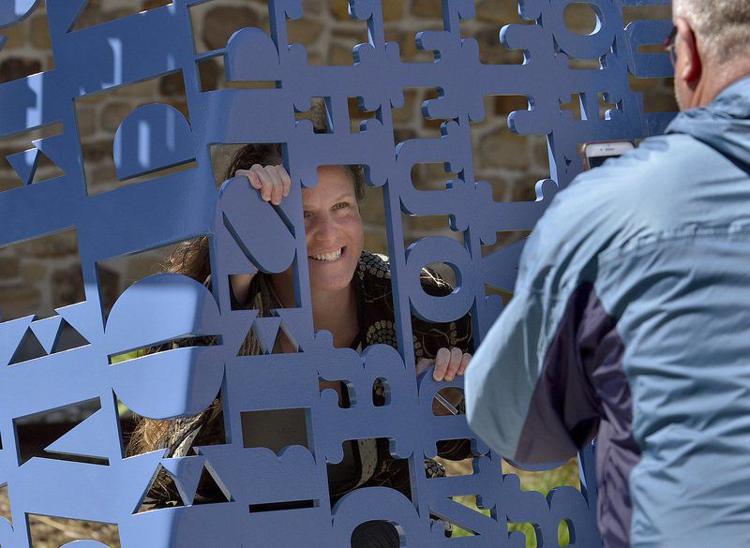 Terre Haute native and novelist Theodore Dreiser "was not a naturalist icon at the time. It was only in hindsight that we saw his genius," Perry said. "At the time, he was controversial and was a lightning rod for discussion, but ultimately he gave us a stark description of the times," she said of Dreiser, an author and journalist who lived from 1871 to 1945.
"He started important conversations. They may have been heated and may have been unpopular. The Puritans didn't like it very much, but they sparked a dialogue about what literature can and should do for us. Art creates conversations. That is one of the amazing things about art," Perry said.
Artist Russell Rock, who crafted the sculpture honoring Dreiser, said the work is "something that encapsulated his spirit. Since he was a writer, it was important that we have something that explored themes and meanings of his work," he said.
"We felt like we had to have him expressed on his own terms and to do so, we selected a sequence of works, working back and forth" with members of an Art Spaces committee and through his own research of Dreiser.
"We found some representative quotes. Formerly the sculpture represents a sheet of paper in the platen of a typewriter, which was his major means of writing," Rock said.
"The fact that things change is captured in the sculpture itself .... as at certain times of year and certain times of day" quotes in the sculpture will be "broadcast as shadows on the ground."
Mary Jo Brown stopped to watch the sculpture dedication before going grocery shopping.
"I think the sculpture is really nice, I love it," she said, adding she likes the blue-colored metal containing the authors words "that looks like a crumpled page. I love having outdoor art and think it adds to the community. I have read a book of his, but it has been a long, long time," Brown said of Dreiser.
Don Arney brought his small dog with him to listen to remarks on the lawn of the public library.
"I think it is pretty interesting the way the sculpture is set up with the sunshine going through to put some of the words down on the concrete base. Terre Haute has some really great sculptures around, and Art Spaces has done a fantastic job," Arney said.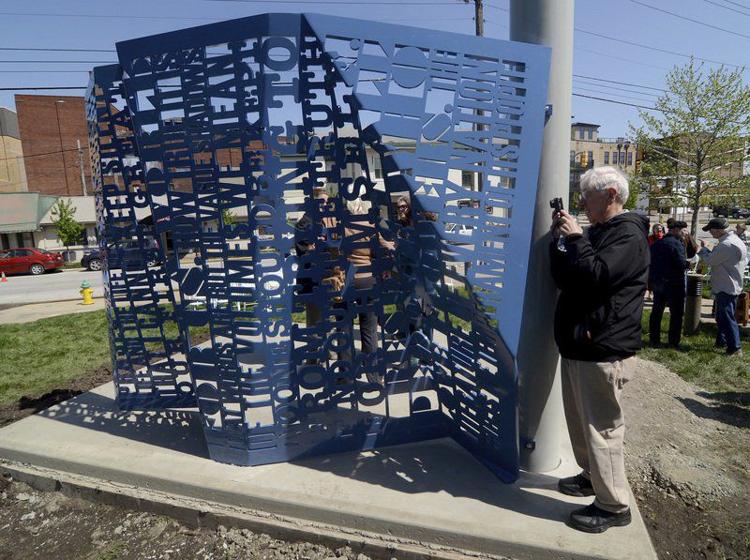 Arney said he read Dreiser's book "'Sister Carrie,' which is great writing. We have Dreiser, and Paul Dresser, his brother, is from here, which is a hot bed of talent that doesn't go recognized very often," Arney said.
John Paul Dreiser Jr. was the older brother to Theodore Dreiser. He changed his name to Paul Dresser when he left Terre Haute at age 16 to pursue a stage career and songwriting. His song, "On the Banks of the Wabash, Far Away," written in 1897, became the official state song of Indiana in 1913.
Kristi Howe, executive director of the Vigo County Public Library, said Theodore Dreiser was "willing to shine a light on darkness. He was willing to take a look at what might not be the most beautiful around us and explore it and reveal it for what it was. Libraries not only serve as sanctuaries for literature, but as sanctuaries for people and communities," Howe said.
"We too shine a light in darkness. We embrace diversity of thought and the complexity of human nature. I ask you, where better to discover an author and man like Dreiser than at a public library?"
Mary Kramer, executive director of Art Spaces, said the work is the 19th public outdoor sculpture through Art Spaces and the third along Terre Haute's Cultural Trail.
"All of the work done along the arts corridor over the past dozen years helped lead us to the recent state designation for the Terre Haute arts and cultural district," Kramer said.
The next outdoor art work from Wabash Valley Art Spaces will be unveiled at 2 p.m. on May 7 on 5th Street near the east entrance of Indiana State University's College of Health and Human Services. That is a sculpture titled "Our River Our Future" by artist Deedee Morrison of North Carolina.
Reporter Howard Greninger can be reached 812-231-4204 or howard.greninger@tribstar.com. Follow on Twitter@TribStarHoward.