Duke Energy Foundation Tuesday announced $250,000 in grants that will help educate and train addiction specialists and help provide treatment for substance abuse disorder.
The gift provides $175,000 to Ivy Tech Community College for education grants and $75,000 to Hamilton Center's WIN Recovery, an opioid treatment program. That pilot program uses medication-assisted treatment, administering methadone daily for opioid use disorder under monitored and controlled conditions.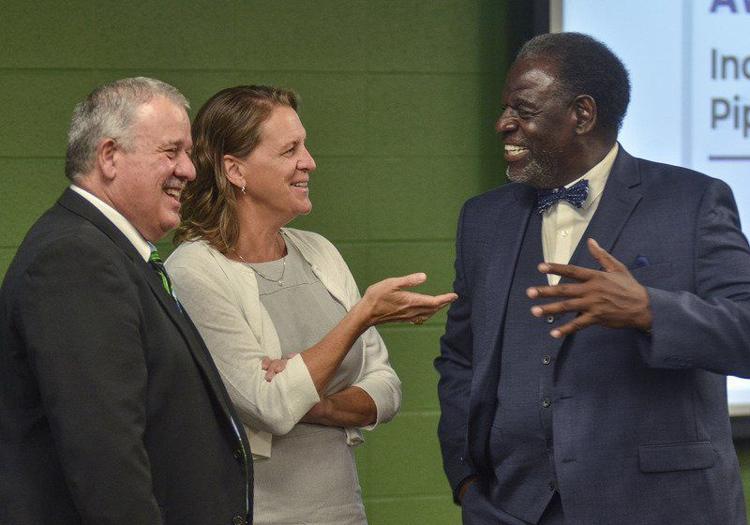 "These two places were well positioned to help combat this issue in the Wabash Valley. We were looking to identify ways of how we can help address the opioid issue," said Marvin Blade, vice president Indiana community relations for Duke Energy during an announcement at Ivy Tech's Terre Haute campus. The foundation is funded by shareholders of Duke Energy.
Opioid addiction is a state strategic issue, Blade said, "and this is one of our top-ranking grants this year."
Blade said this is the foundation's first grant targeting opioids. Last year, the foundation contributed more than $2.2 million in Indiana.
"We know that the government can't do it all, but as a corporate citizen we felt it is our responsibility also to step up to the plate and invest in the communities and individuals that help our workforce," Blade said.
For Hamilton Center, the grant funding will allow 15 people to receive treatment for a year, said Melvin L. Burks, Hamilton Center's chief executive officer. The grant funding, Burks said, will be targeted toward individuals not able to pay for treatment at Hamilton Center's WIN Recovery clinic.
"They will go through (an assessment) process and receive counseling" in addition to daily medication assisted treatment, Burks said. "Hamilton Center received a license to open (an opioid treatment) facility in Vigo, then two more licenses for Knox and Hendricks County, but we receive no funding for those facilities, so Hamilton Center has to find ways to provide those services, and this grant will be one of those ways and we really appreciate it," Burks said.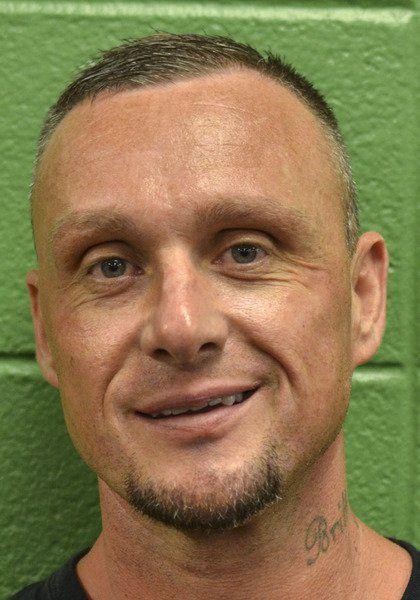 "Opioid use disorder is a complex problem, not only (for) those struggling with addiction issues, but also (for) families, in particular children, as well as employers, social services organizations and the criminal justice system just to name a few," Burks said.
The foundation grant will be used in an 11-county region including Vigo, Clay, Gibson, Greene, Hendricks, Knox, Owen, Parke, Putnam, Sullivan and Vermillion counties.
For Ivy Tech, it means scholarship support and work-and-learn opportunities for students to pursue certificates and degrees in nursing or addiction studies. Ivy Tech offers these programs throughout the Wabash Valley area at campuses in Avon, Greencastle, Bloomington, Terre Haute, Rockville and Linton.
The funds will enable grants for 30 to 40 students across the six Ivy Tech sites, said Lea Anne Crooks, chancellor at Ivy Tech Terre Haute.
"We are working to make sure we have an impact on all of the 11 counties that (Duke Energy Foundation) wants us to touch," Crooks said. "We have some people who already have a bachelor's degree but can come back and get certification (for addiction counseling). That's where we think we can have some immediate impact."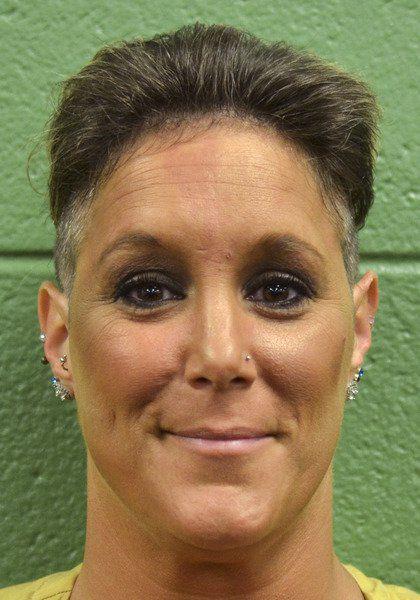 Angela Hayes, assistant professor in human services at Ivy Tech's Terre Haute campus, said "many people who have a bachelor's degree may have exhausted their financial aid, through student loans or Pell grants, so this allows them to come back to take the course work then take a licensing exam," Hayes said.
Ivy Tech has an "achieve your degree" agreement with Hamilton Center, Hayes said, after which students must obtain a bachelor's degree to become a licensed addiction counselor.
In 2012, Indiana became a licensing state for the title of addiction counselor, Hayes said.
"More and more insurance companies, including Medicaid, are getting on board to reimburse the licensed individuals providing services, but they need to have the training and expertise to provide those services," said Hayes, who is a licensed mental health counselor and licensed clinical addictions counselor.
Tyson Cargal is a current student at Ivy Tech in the human services program, who plans to get a bachelor's degree or more.
"A lot of people are uneducated in what addiction is and what steps to even take ... " said Cargal, who is also director of the Truman House, a recovery facility for men that uses a 12-step program. It has been open in Terre Haute for three years.
"We have three recovery homes and about 30 guys. It is complete abstinence ... a lot of guys come in with opioid, heroin and meth (addictions), just different backgrounds," Cargal said.
Jaime Walters is a graduate of Ivy Tech's program and works at Harsha Behavior Services as admission coordinator.
"I don't think you will ever eradicate addiction because you will never eradicate disease," said Walkers, who is seeking her bachelor's degree and plans to seek a master's degree. "We can fight as best we can. I think we need to start (addiction) education in the schools."
To apply for the Duke Energy Foundation grant funds and for all Ivy Tech scholarships, visit www.ivytech.edu/financial-aid/scholarships.
Reporter Howard Greninger can be reached 812-231-4204 or howard.greninger@tribstar.com. Follow on Twitter@TribStarHoward.