When the Wabash Valley Jeep Junkies first assembled in 2016, it had all of 10 members. Today, its Facebook page has 7,800 followers.
Mike Latta, who created the organization, recalled its first Going Topless for PINK (Passion, Initiative, Need, Knowledge) event, which benefits PINK of Terre Haute's efforts to aid those with breast cancer. The drive went to but one location, Charley's Pub and Grub in central Terre Haute.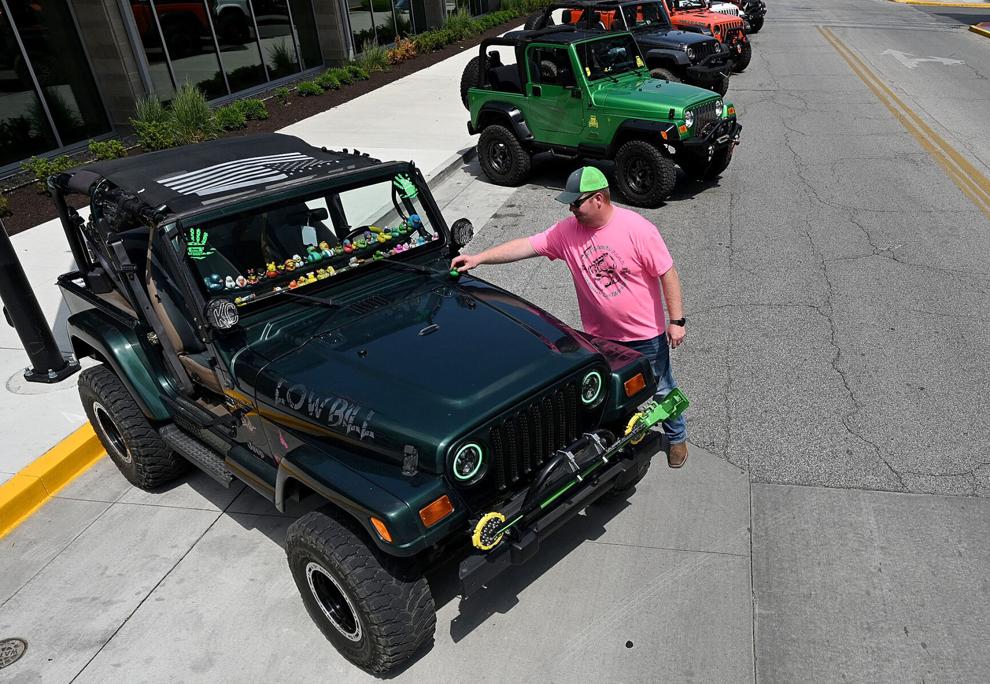 "We thought we'd get about a hundred Jeeps," Latta said, "and we had 220 that we stuffed into Charley's parking lot, if you can believe that."
Fast forward to last year, when more than 700 Jeep drivers participated, raising $87,000. It's become the biggest Jeep event in the Midwest.
"The thing that's really cool about this event and why we make such a connection with PINK of Terre Haute is we're both all-volunteer groups," said Latta, who was named Jeep Junkies' president when it was officially declared a nonprofit last year. "Every penny that we raise goes to someone who needs it and it's usually families that are fighting breast cancer."
Latta started the group shortly after his friend Amy Bagnoche passed away from breast cancer.
"I knew Amy very well — what better way but to raise some money as a tribute to her," he said. "To know what she was going through, that she was fighting cancer and she always had this tremendous attitude of, 'I'm going to beat this,' and she always did it with a smile on her face. That always just put me in awe of her."
It made sense to conjoin Go Topless Jeep day — an event celebrated this past weekend by Jeep drivers throughout the country — with its fundraising effort. A Jeep owned by Rick Bagnoche, Amy's widower, will become the local group's official PINK of Terre Haute Jeep in tribute to Amy.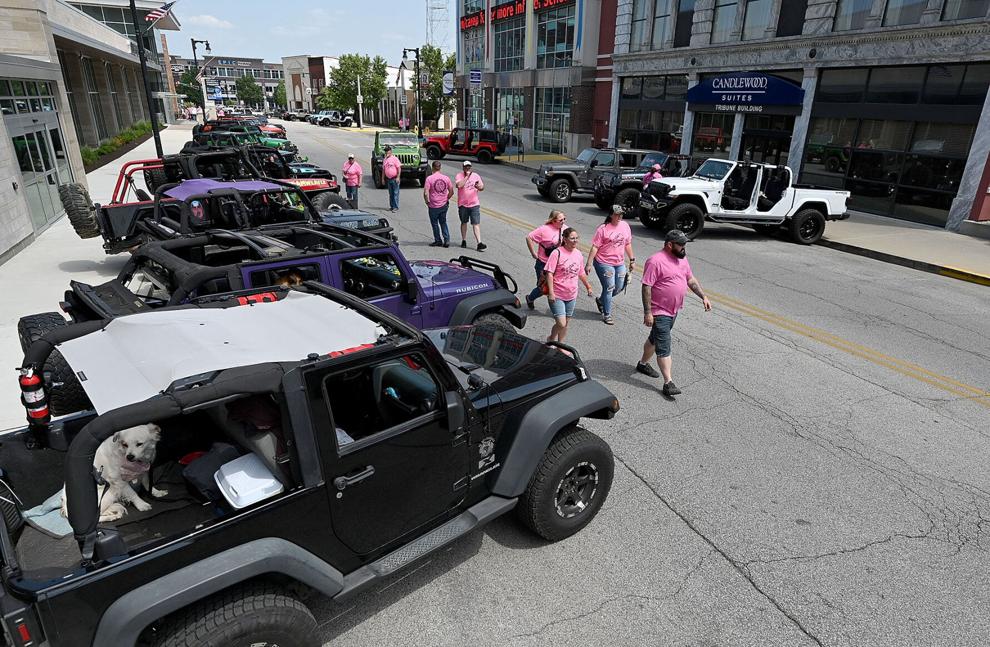 Jeep Junkies hosted a number of events this weekend. The biggest was Saturday's drive to more than 25 different locations serving food and beverages, including a number along Wabash Avenue between 6th and 9th Streets, which was closed off to non-Jeep traffic.
There was also an obstacle course Saturday at Plumbers and Steamfitters Local 157. On Friday, there was a show-and-shine competition and a host of children's events at Plumbers and Steamfitters.
Show and Shine was a family affair for Tim Henderson, his daughter Sophia and his girlfriend Tracy Robertson — all three were polishing and buffing their Jeeps side by side. Henderson had also constructed a wall shelf with a Jeep bumper for the event's silent auction (another notable contribution was a bench with its back taken from a Jeep grille).
Tim got his first Jeep in 2021; Sophia got hers eight months ago.
"I got lucky — all of us got hooked," Tim said. "I had it two nights and all of us registered with Jeep Junkies. We've been hooked ever since. The best thing we like about it is the community, how we all get about and what we do for everybody. We really feel connected to this group."
"We're a very big Jeep family," Sophia added.
It's safe to say that the most psychedelic Jeep in the Show and Shine contest belonged to Paige Pope, who would be going on her first ride with the Jeep Junkies. Named "Hot Mess," Pope's Jeep looks akin to something Jackson Pollack might do to if he had used a lot of pastel colors.
"It's was originally purple, but when the 2023 Jeep Purple Reign came out, I didn't want to be like every other Jeep," Pope explained. "So we decided to do paint splatter cause we're a bunch of hot messes."
Purple and turquoise skeletons sit inside the spare tire affixed to the back of the Jeep.
"It's spooky season year-round at my house," Pope said.
While a number of Jeeps had a row of rubber ducks sitting atop their dashboards, Pope outdid them all, stacking two rows of ducks on hers. She estimated she had at least 120 ducks.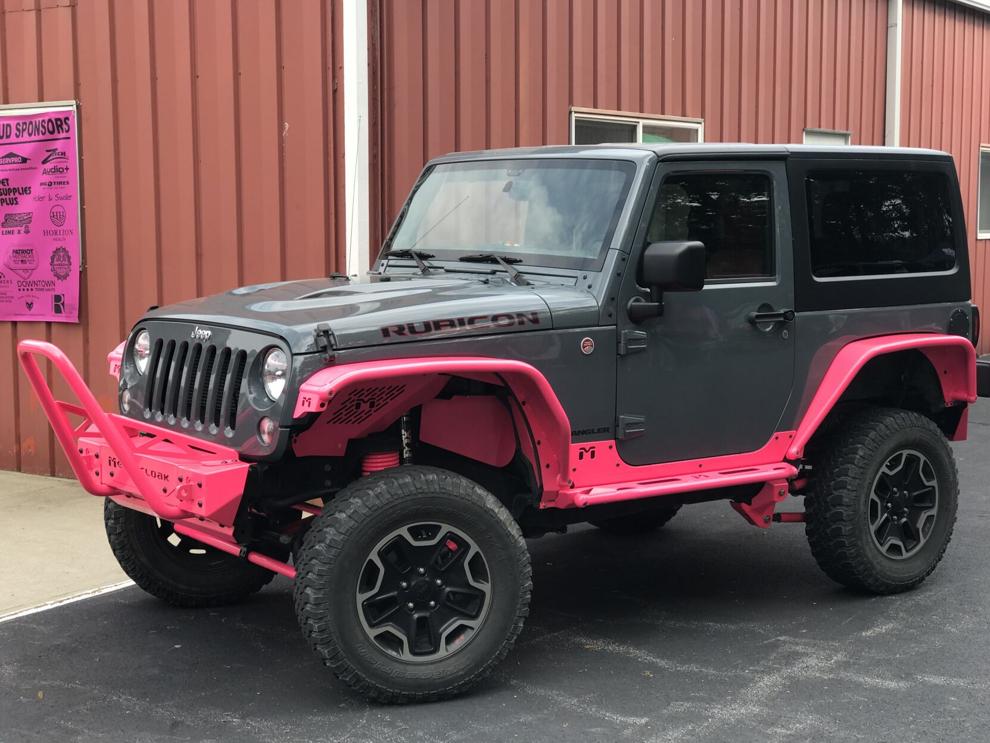 Ah, yes, the rubber ducks. Those who spot a Jeep around town will invariably see a row of the plasticine mallards decorating dashboards. Amie Hay and Karen Billberry explain how that tradition came about.
"If you like that Jeep and like its looks, you go up and duck it with your name on the duck," Hay said. "If you're at the store or somewhere, you always have the ducks with you and you place a duck on it."
Speaking of Pope's double-decker ducks, Hay said, "I don't know how she sees out the windshield to drive."
Billberry elucidated further on the origin of the tradition.
"It originated in Canada from a lady during COVID," she said. "There was a lot of upset and turmoil going on, and so she just wanted to put a smile on people's faces so she started putting ducks on Jeeps. And it just took its own life on here."
On Saturday afternoon, Wabash was filled with people strolling in the street, including State Senator Jon Ford, who spoke to the group before the drive began.
"I'm really trying to support these community events that are helping people," said Ford, who was named an honorary Jeep Junkie for the day. "The appeal for me is that it's raising a lot of money that stays here in the Wabash Valley for women suffering from breast cancer."
Lisa Seaman agreed.
"I'm a nurse, so this is very important to me," said Seaman. "I've had family members, friends, everybody's been affected by this." She was one of those who brought ducks with her to duck other Jeeps.
"It's great to go out and donate money," she continued. "Each place is contributing to that, and I think that's a good thing to donate and help our local community."
Indeed, all the participating locations were kicking in a portion of their proceeds to the cause. And along Wabash, business was brisk at several locations. The Terminal Public House was bustling. Busiest were the Verve and Bar_Botics, the latter of which joined in the festivities with a large inflatable duck decorating its front facade.
"It was a struggle to get it blown up this morning," said Bar_Botics doorman Sam Kigin, who was rewarded for his efforts by receiving three ducks himself.
The Copper Bar also got in on the act, offering pink duck shots — tequila, strawberry Schnapps, a little lime and a little grenadine.
Hay and her husband Mike were at Bar_Botics, enjoying small pitchers of green liquid called Jurassic, a Long Island iced tea with a little dinosaur at the bottom of the drink.
"We've hit all the locations that are 21-plus," Amie admitted, saying it was her first event like this, though they accompanied other Jeep Junkies to Sullivan to offer assistance after the March 31 tornado.
"They go out and help with everything," she said of the group.
Latta, Jeep Junkies' leader, first got a Jeep in 1991.
"My dad told me they were dangerous and that they'd flip and that made me want one even more," he remembered. "I've had one ever since."
He noted a nearby off-road Jeep whose tires cost $1,000 apiece. But every Jeep can pretty much traverse any terrain, Latta said.
"The worst thing you can do is tell somebody in a Jeep that they can't go there because they're like, 'Oh, I can make it,'" he said.
Some of the Junkies explained what differentiated the Jeep driving experience from that of a regular car.
Latta said, "In the summer, when you're just driving and the top and the doors are off and the wind's blowing through whatever's left of my hair, it's a feeling you can't describe. You just feel free."
"The Jeep has a whole different feel to it," said Sophia Henderson. "It drives very differently and it gives you a better sense of freedom. You can take the top and the doors off and it's a whole new experience. It gives you a sense of power."
Her father Tim added, "You know it's gonna drive a little different — it rides a little rougher, but if you're into that you kind of like it. I'm one of those people who likes to hear the tires when I'm going down the road."
"It's pure bliss," Billberry "It's pure happiness. My Jeep is my motorcycle. I'm too old and have too many responsibilities to be on a motorcycle anymore, so the Jeep is my new motorcycle and it just makes me smile."