As father and son, Jack and Mike Strain have a family bond that cultivates their business.
Since April 2014, the two have worked as farming partners as Strain Farms Inc. in southern Vigo County. The business farms 1,500 acres, of which it owns 840 acres of farm land.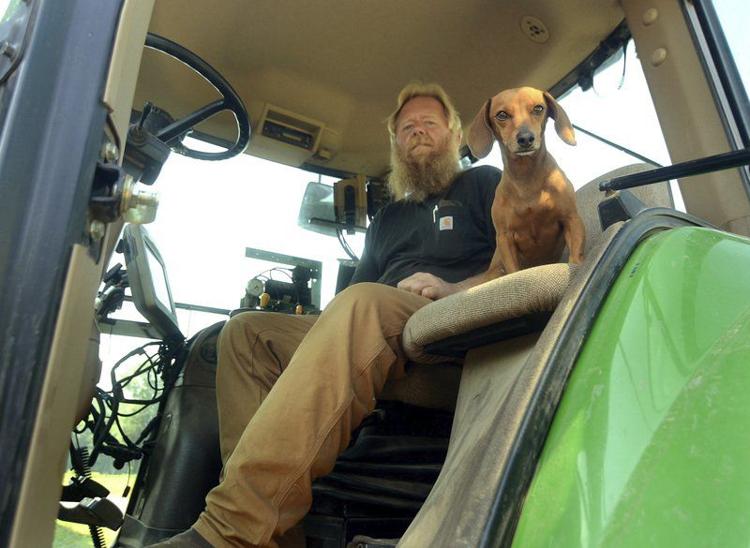 "It can be very stressful," Mike, 49, said, bringing a laugh from his father. "We don't agree all the time. We both think we know what is better."
Jack, 77, agrees.
"He is kind of high tempered just like I am," Jack said, but quickly praised his son as being a conscientious and hard worker. "My lifelong dream has been to get him to farm."
The Strains are among 477 farms in Vigo County in 2017, the most current figure available, according to the U.S. Department of Agriculture's Farm Service Agency.
The number of Indiana farms statewide last year was 56,100, according to USDA.
A farm is defined as any establishment from which $1,000 or more of agricultural products were produced and sold, or normally would have been sold during the year. That $1,000 threshold can be met by any combination of sales and government payments.
Agriculture is a large part of Indiana's economy.
Indiana is the 10th largest farming state in the nation, ranking fifth highest in corn production. Agriculture contributes an estimated $31.2 billion to Indiana's economy, according to the Indiana Department of Agriculture.
While Jack and Mike Strain each grew up amid farming, each also had long-term careers prior to farming full-time.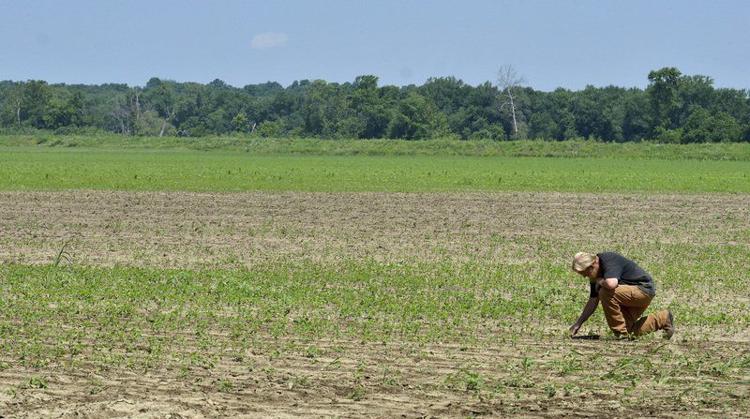 Jack left the former Prairieton High School in 1960 and went into the U.S. Air Force in 1961, where he finished his high school equivalent degree. He was based in McChord Air Force Base near Tacoma, Washington, before going to Vietnam during the Vietnam War from 1963 to 1964.
Upon his return to Vigo County, Jack worked at Bemis (now Amcor) for a year, then worked more than 31 years at Commercial Solvents, which merged or sold several times with names such as International Minerals and Chemical Corporation, Mallinckrodt and Pittman-Moore. A majority of that time, Jack worked as a pipefitter for the companies from 1971 to 1997.
During that time, Jack helped his father farm.
Then at age 55, his opportunity to be a farmer arose.
That's when he bought 40 acres from his father, Elmer, while still working as a pipefitter, before retiring in 1997 to take up farming full time.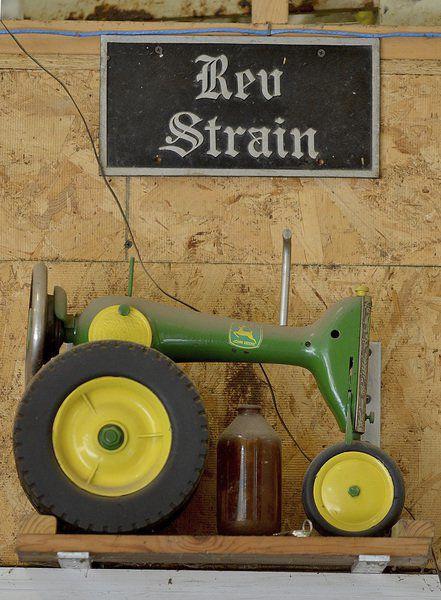 "Dad wanted $30,000 and I said, 'Dad, I am your son, can't I have it for $29,000?" Jack recalled. His dad gave in and sold the land for that price.
Elmer Strain was a farmer "and a [Methodist] preacher," Jack said, adding his father also drove a school bus.
A "Rev. Strain" license plate is hung atop of the office door on the Strain Farms Inc. main work building, about 1/4 mile south of Pleasant Valley Church along Battlerow Place in southern Vigo County.
"That's the reason we don't work on Sundays," Mike Strain said of his grandfather. He and his father only work on a Sunday if there is an emergency.
"Grandpa always said if the ox is in the ditch, we could go pull him out," Mike said. "Otherwise, we don't work on Sundays," he said of his grandfather, who did use animals to farm in the 1940s.
"A lot of people who come into farming, they have the ground given to them," Mike said. "My dad didn't. He had to work for it," adding his father began buying more farm land in the 1980s.
Mike started farming at age 9, often with his grandfather as well as his father.
"I remember the first time I drove a tractor down the road by myself. My feet were not long enough to touch both brakes. I had my clutch in, but I couldn't get my brakes and I ran into the back of the planter," Mike said with a smile.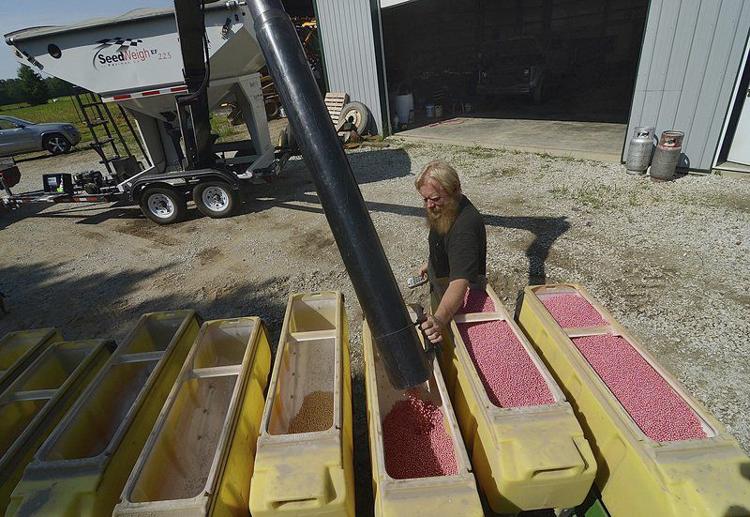 "I knew I wanted to be a farmer. In the summer months, I would stay with my grandma and grandpa, who lived right across the road. He bailed hay and farmed. Between dad and him, I was always on a tractor," he said. "They tried to get me into baseball, but I would rather be on the tractor with grandpa or riding with dad."
Prior to farming, Mike attended Indiana State University for two years, then later worked at Bemis (Amcor), starting in 1994 and continued for two decades, while also working on the family farm. He went full-time in 2014 when he and his father formed their farming corporation.
"I just like going out and working the soil," Mike said of farming. "You are outside and you are your own boss. It is a challenge and it has been a challenge this year."
Strain Farms this season has 317 acres in preventative planting, Jack said, meaning it will be left idle with a crop insurance payment covering the loss. The father/son combo worked earlier this week to replant about 100 acres of soybeans, which failed to take due to spring weather conditions.
"Farming, if you are raised with it, is in your blood," Jack said. "My dad farmed 500 acres when I was a kid, which was a lot back then."
Yet Jack is quick to point out that farming takes commitment and money.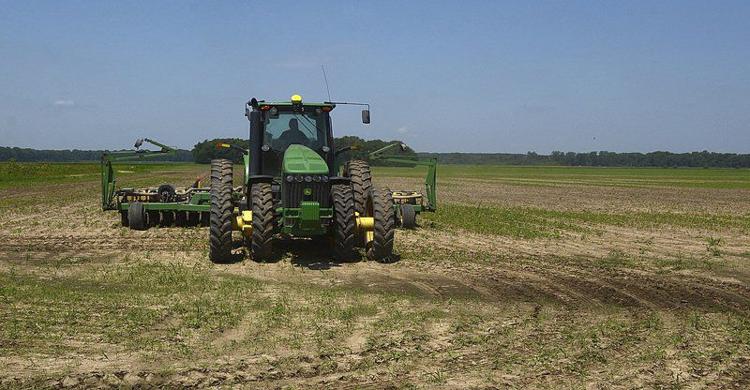 "Everyone who farms 1,500 to 2,000 acres has about $1 million involved, I would think, in equipment, land and expenses," like tenant farm cash rent, insurance and taxes, Jack said.
"One thing about farming is you have to do what you have to do to make money," Jack said. "If the Jones buy a new tractor and combine, that is fine, but if you don't buy [new], that is how you cut costs. Just do your own thing when you farm, don't worry about the neighbor and what he is doing."
Reporter Howard Greninger can be reached 812-231-4204 or howard.greninger@tribstar.com. Follow on Twitter@TribStarHoward.