About 3,000 high school students per academic year enroll in dual credit classes offered through Ivy Tech Community College Terre Haute. Dual credit classes offered at the high schools are free and allow students to earn college credits early.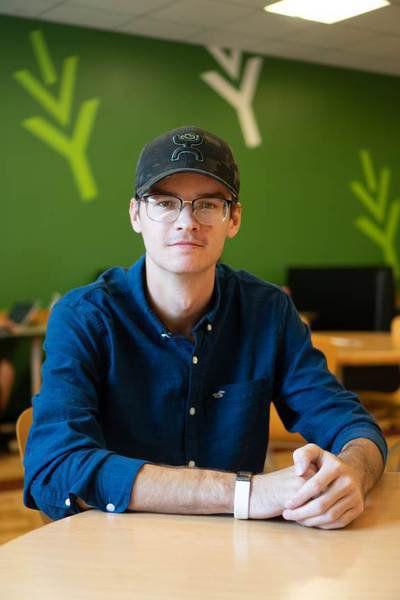 Courses offered vary at the high schools. Some classes fill general education requirements and others are Career and Technical Education courses, which are generally more hands-on. These classes also offer high school students a glimpse into future careers.
"Career and Technical Education dual credit classes, and in some cases industry credentials, provide young adults an advantage over other people when entering college or the workforce," said Doug Dillion, Curriculum Coordinator and CTE Director of the Vigo County School Corporation. "These young adults are able to show that they have proficient skills in specific technical fields and it also saves the young adult and their parents thousands of dollars. Partnerships between secondary and post-secondary institutions are a win for the students."
Maverick Magill took Ivy Tech dual credit classes when he was a student at Terre Haute High School South and earned nearly 30 college credits before he graduated. Taking college classes helped him decide what he wanted to do in his career.
"When I was in middle school, I thought I wanted to do chemical engineering or something like that, but I wasn't sure," said Magill. "So freshman year in high school I signed up for welding and engineering dual credit classes. My senior year, I had three normal classes and all the rest were tech classes. I also signed up for robotics."
Magill ended up liking robotics classes more than engineering. His instructor introduced him to Ivy Tech's Advanced Automation & Robotics Technology program and enrolled in the program after graduating from high school.
"Robotics is more hands-on," he said. "It's more visual and you can see what you're doing."
"Robotics is a super wide field, you can do pretty much anything with it," said Magill. "The demand for jobs is insane and it will get even bigger because everyone is going toward automation."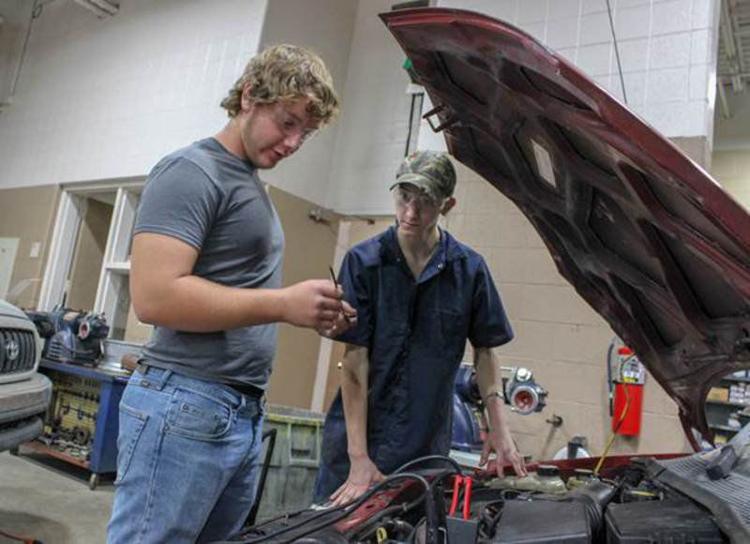 Magill was hired his junior year in high school as an intern and then a CAD intern at BoxUp, a Terre Haute based company that produces custom cardboard boxes. Now he has advanced to work in shipping and production.
After he graduates from the AART program, Magill plans to transfer to Purdue University. He was accepted to Purdue after high school but chose Ivy Tech because he could apply his dual credits toward an associate degree before transferring, to save on college costs.
Eleven students at Sullivan High School are currently taking the Ivy Tech dual credit Basic Automotive Service class. The class counts toward Ivy Tech automotive technology programs.
"The Ivy Tech dual credit initiative is a great way for students to earn college credits while attending high school," Dr. Tara K. Jenkins, Sullivan High School Principal. "Our students are offered a variety of dual credit classes for free, which equates to large savings of time and money when they begin their college careers."
Student Jakobe Jackson is in the class. He plans to join the Army after graduating from high school and wants to be a heavy-diesel mechanic.
"Automotive is doing something new almost every day," said Jackson. "You don't have to look at a book to understand it."
He said his dual credit classes would give him a head start in Ivy Tech's automotive technology program if he decides to go that route.
Junior Ernest Cooley said Basic Automotive Service is the only dual credit class he is taking.
"I like it because you don't sit in class all day and look at a white board," he said. "For three hours a day I'm going out and actually working. If I need to fix something on my vehicle, I can bring it into class."
Cooley already has experience in automotive technology and has built a truck. He said the class is teaching him about the latest diagnostic equipment used in the field.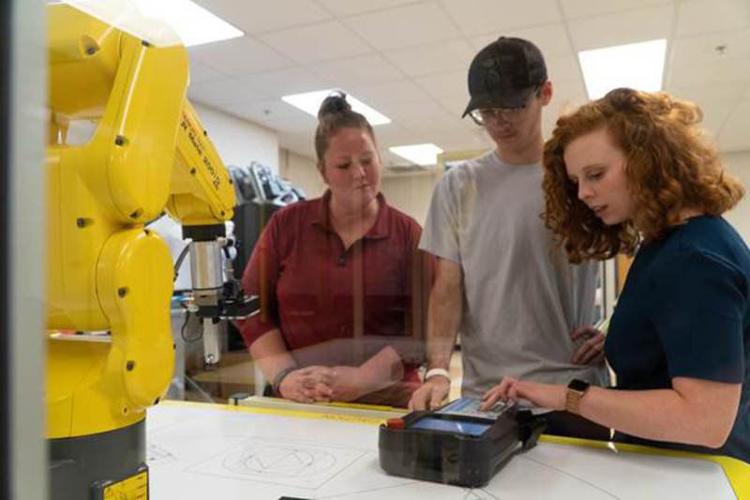 "Scanners and electronics make it so much easier than having to chase problems," he said.
Cooley said he wants to enroll at Ivy Tech after he graduates in either the automotive technology or diesel technology programs and plans to apply when he is a senior."
Senior Lucas Sanders said he brought in a transmission to work on building during class.
"When I first started, it was really hard, now I'm getting a bit better at it," he said. "I like that we can work on our own stuff during school."
Sanders already applied to the automotive technology program at Ivy Tech, and has several dual credit classes that will count toward his degree.
Ivy Tech dual credit offerings vary by school.
In the 2018-19 academic year, more than 100 high school students earned enough college credits to earned a credential from Ivy Tech Terre Haute. Most completed their credential at little or no cost by taking dual credit classes. The credentials they earned include certificates in automotive technology, information technology, industrial technology, and the Statewide Transfer General Education Core.
High school students should ask the college connection coach located at their high school about dual credit classes and learn how to get a jump start on their college degree. For more information visit ivytech.edu/dualcredit.
High school students from Shakamak, Sullivan and North Central High School may also take classes on the Ivy Tech campus through a partnership with Twin Rivers Career and Technical Education Area. Ivy Tech tuition is free for students in the selective admission Twin Rivers program. For more information, visit http://twinriversarea.org/.
— This article was provided to the Tribune-Star by Ivy Tech Community College Terre Haute.