Indiana State University is moving forward with the next steps to make it a fully tobacco-free campus.
This summer, it will remove two smoking shelters, one at the surface lot on Larry Bird Avenue and another north of University Hall between Seventh and Eighth streets.
During summer of 2022, ISU will remove remaining shelters, according to information shared with the campus community.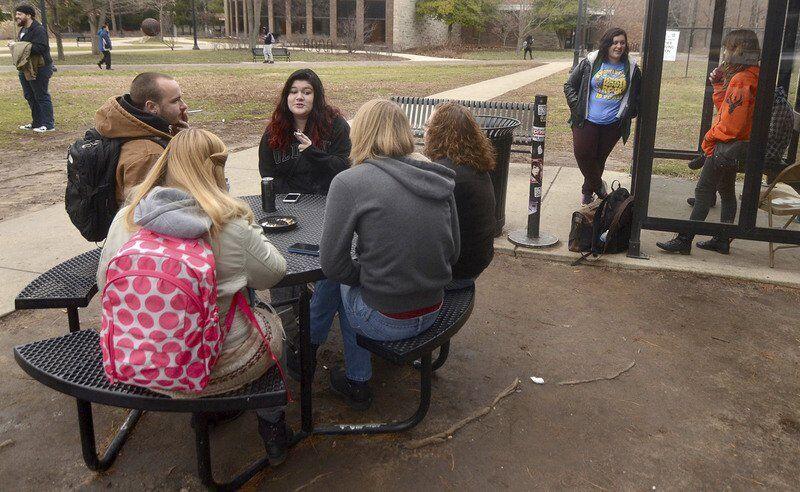 The tobacco policy was approved by ISU's trustees in May 2020 after a task force report and input from across campus. 
Removal of the designated smoking shelters "is the main piece that will get us to becoming a fully tobacco-free campus," said Katie Lugar, ISU staff adviser to Tobacco-Free Blue.
Removal of smoking shelters is being phased "because we want to make sure we give people time to adjust to a new campus environment where there aren't designated areas," she said. If people are interested in quitting, they will have about a year to go through a cessation process or at least get used to the change.
Last fall, two others shelters were removed, one in conjunction with Lincoln Quad demolition, Lugar said. This year, ISU is focusing on shelters on the outskirts of campus, and next summer, on those most frequently used. 
In 2020, the board of trustees approved a revised campus tobacco policy that included a prohibition of vaping. 
The policy is titled, "tobacco, vapor and smoke-free campus." It prohibits use of electronic smoking devices, hookah, smoking and tobacco products on university-owned, operated or leased property. 
Use would still be permitted in "the enclosed cabin" of privately owned vehicles. The policy calls for designated smoking areas to be gradually phased out.
Other exceptions would be limited "to specific university-sponsored research in a controlled laboratory setting or upon approval by the president," according to the policy.
Lugar didn't see much impact from the "other exceptions" provision.
Lugar chairs ISU's Tobacco Free implementation committee. "We've seen a lot of support through our campus partners, and students, faculty and staff for a tobacco free campus. We've been really promoting our tobacco cessation resources on campus and the Indiana Tobacco Quitline," she said.
Mark Alesia, university spokesman, said enforcement focuses on education.
The policy also suggests that violations "may be reported to the ISU police department," with employee violations forwarded to the office of human resource. Student violations would be referred to the dean of students.
Amy Demchak, ISU employee wellness coordinator, said ISU offers several resources for employees who want to quit smoking or using nicotine products. For example, she offers one-on-one coaching, which focuses on behavior modification.
For students wanting to quit, Student Health Promotion distributes "Quit Kits" and also provides the number to the state Quitline. 
ISU employees who use tobacco/nicotine products are subject to a tobacco surcharge that is added to their health plan rates. For employees, it is $50 per month, and if a spouse uses tobacco/nicotine, they also are charged $50 per month. They can avoid the surcharge by participating in a cessation program. 
Sue Loughlin can be reached at 812-231-4235 or at sue.loughlin@tribstar.com Follow Sue on Twitter @TribStarSue.