At age 14, Frida Umuhoza was helped out of a ditch where she had been clubbed, buried and left for dead, along with more than a dozen of her family during the 1994 Rwanda genocide against the Tutsi.
She alone survived, but felt her life, her "right to be a human being was taken from her" as a teen.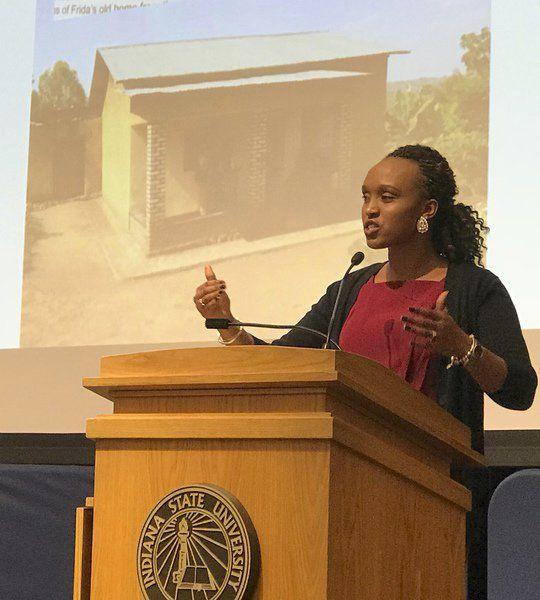 On Tuesday, more than two decades later, Umuhoza told how the power of forgiveness changed her life, presenting during Human Rights Day 2018 on the campus of Indiana State University.
This year marks the 70th anniversary of the universal declaration of human rights, proclaimed by the United Nations General Assembly in Paris in 1948.
Umuhoza said by age 19, after years of suffering, she confronted a man who helped kill her family.
"But understand, that forgiveness is not lack of justice," Umuhoza said. "Just because I forgave him, does not mean he does not have to face justice. But forgiveness is giving up the right of paying back evil for evil. Forgiveness is knowing you gave me harm, but I will give you kindness instead.
"I will choose to be different from what you have done, and I will be different the rest of my life because I was given another chance to live," she said. "You can learn to love through hatred. It is through hatred we know what love looks like," Umuhoza said. "It is through evil, that you know what kindness feels like."
Rwanda was divided among two ethnic groups, the Hutu and Tutsi. The Tutsi had been the ruling class, but the Hutus, after a series of riots in 1959, took over, causing thousands of Tutsi to flee to neighboring countries such as Uganda.
A group of Tutsi exiles later formed a rebel group, the Rwandan Patriotic Front, which invaded Rwanda in 1990, and fighting continued until a 1993 peace deal was reached.
However, the genocide was sparked by the death of the Rwandan president, Juvenal Habyarimana, a Hutu, when his plane was shot down in April 1994. Over a span of 100 days, between 800,000 to 1 million people, mostly Tutsi, along with some other tribes, were killed before the RPF took control of the country.
Umuhoza said she learned as a first-grader that she was Tutsi; her parents had not told her earlier. Instead, she learned from other children.
The importance of her tribal identity became clear in 1993 when her younger sister "got sick and she got killed in a hospital.
"You had no right to report anything. As a Tutsi, death was your portion," she said. "I remember the same year, my father came home one evening and had lost one of his fingers, it was bitten and bleeding. A group of people had stopped him and bit him and told him not to report anything."
Umuhoza showed photographs where in one church, 3,000 people were killed, while in another church, 6,000 people were killed during the genocide.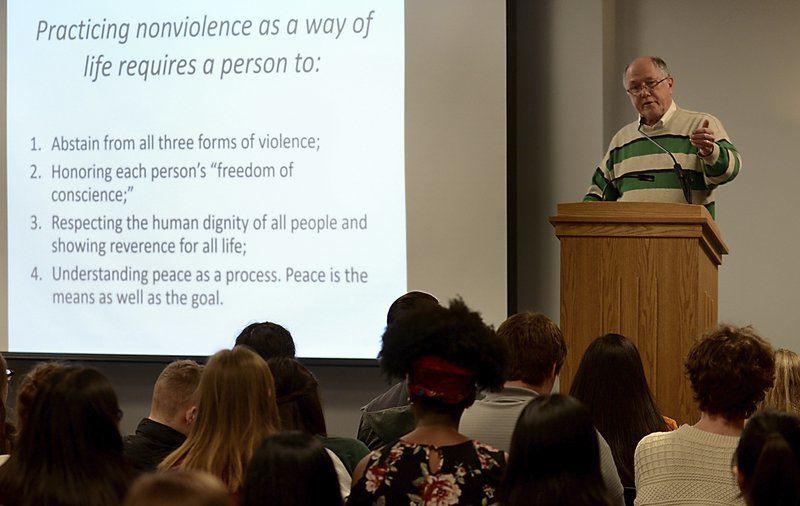 "In Rwanda, 85 percent are Christian, so they believed that if they went into churches, maybe people are not going to kill them in the churches — but there was nowhere to hide," she said.
She recalled the night her family was attacked in her grandfather's home.
"We were then led to a ditch right behind the house. That was where we were given a choice" of how to die, she said. "You had a choice between a machete, a club, a spear, a knife and a big tree with nails. I chose a young man with a club, because I knew they would hit you in the back of the head two or three times and you would be gone."
Her grandfather, who held a Bible, asked why this was happening, but a man jumped in the ditch and hit him, then all off her family was attacked.
"The one image that tormented me for years and years was the image of my mom's neck chopped off," Umuhoza said.
She later regained consciousness while buried. She was pulled from the ditch after a woman heard screams and a young man helped her out.
Umuhoza was adopted by relatives of her mother. She said she regained her faith at age 18, which helped her to move forward.
In 2011, she came to the United States, attending BGSU Firelands, a regional campus of Bowling Green State University. She now works as a social worker in Cleveland, Ohio, where she lives with her family.
Reporter Howard Greninger can be reached 812-231-4204 or howard.greninger@tribstar.com. Follow on Twitter@TribStarHoward.