The skies darkened and some showers came within minutes after it was over, but the sun shone brightly early Sunday afternoon as the Indiana State football team conducted its "March for Justice" at the Vigo County Courthouse and on campus.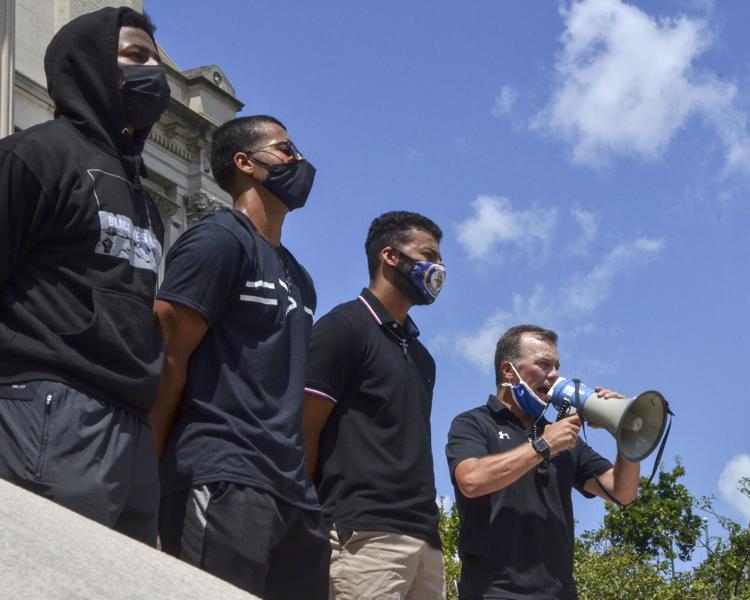 Its organizers might consider that a significant sign.
"I saw when Trayvon Martin died [at the hands of vigilante George Zimmerman in 2012], but I was younger and I didn't have the platform I have now," said defensive back Mekhi Ware, one of three ISU players who organized the proceedings. "It hit me hard [when George Floyd was killed by a policeman in June] and me, [wide receiver] Dante [Hendrix] and [defensive back] Michael [Thomas] wanted to bring some light to it."
Ware spoke to the Tribune-Star as the marchers — nearly 100 ISU football players and coaches, plus players and coaches from men's basketball, volleyball and women's soccer (ISU women's basketball team and staff is quarantined) plus dozens of supporters from the community — were on their way back to the courthouse. The march had started there, continued to the fountain on the ISU campus and also made a stop at the Charles E. Brown African-American Cultural Center.
"We brought our idea to the [ISU] coaches and we have full support," Ware said. "We had four [teamwide] Zoom meetings about Juneteenth, mass incarcerations, Black Lives Matter vs. All Lives Matter and the civil rights movement. And we wanted to march on August 2, not in June, because we wanted to express how this hasn't ended for us."
The three organizers spoke first at the courthouse.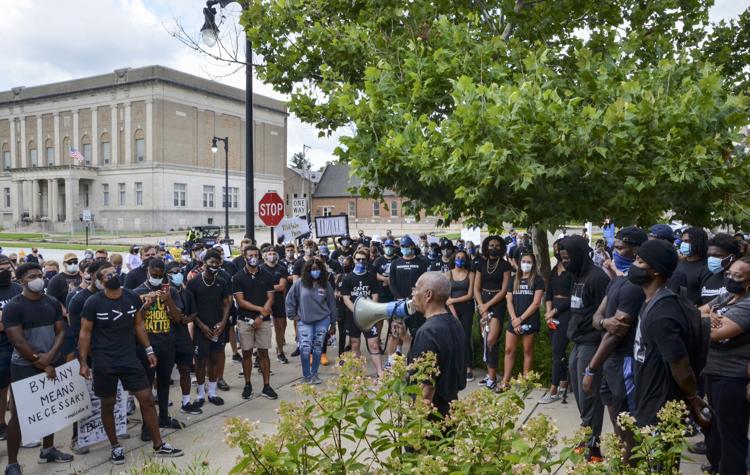 "This is a marathon, not a sprint," Hendrix began. "Freedom is not given by oppressors, freedom has to be demanded."
"Everyone has some reason why they're participating in this march," said Thomas. "My reason is because I'm a Christian."
"I'm tired of being treated like 3/5 of a human being," Ware said. "We are equal, and no one is above the law. We want justice, we want peace . . . we want a new normal and we have to apply pressure, because it's our rights that we're fighting for."
"I'm speaking for my coaching staff about how proud we are of these young men," said head coach Curt Mallory. "Football brings us together . . . but we've still got a long way to go. Today is a day to be visible in a positive way. At the end of every practice we repeat two words: 'All in,' and it's up to us to think about what it really means."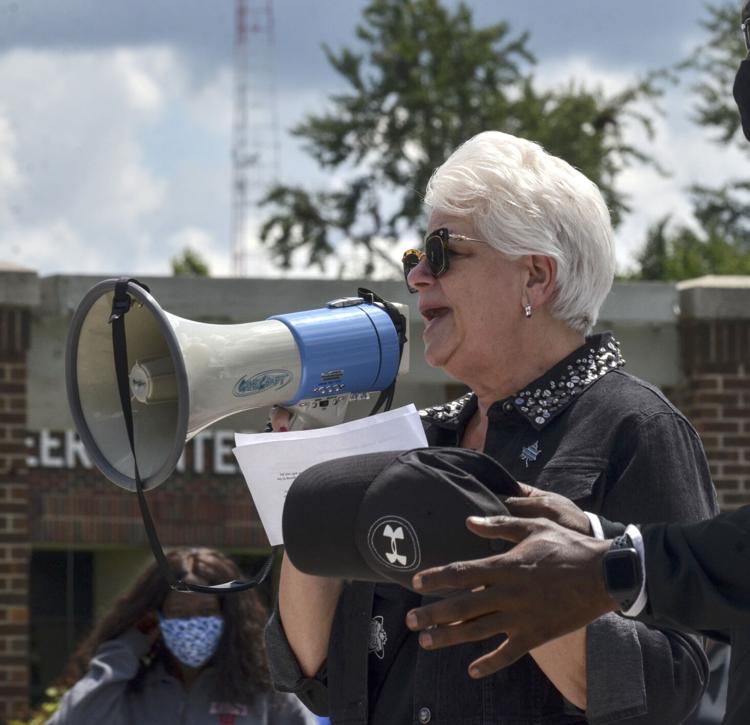 After the short walk to the fountain on campus, the group was greeted by ISU President Deborah Curtis.
Curtis spoke about "three words: courage, commitment and hope.
"We want to address head-on the dangerous culture of racism," she said. In speaking of hope, Curtis called the players "leaders who will go out and make a difference in society."
Three ISU assistant coaches — wide receivers coach Marcus Knight, defensive coordinator Brad Wilson and cornerbacks coach David Stuckman — also spoke at the fountain.
"This is our acknowledgement that there is a problem," Knight said, who urged the students in the crowd to "find out if you're registered to vote."
"As coaches, we like to think we're always out in front of things," Wilson said, "but my wife told me, 'Just listen to these young men.' "
"Racism is one of many foundations this nation was built on," said Stuckman. "Our short-term goal is justice. In the long term, we want reform. It's not enough to be against racism. We have to be activists against it . . . and teach the next generations to be better than we are."
From the fountain, the group marched to the Cultural Center — but with a significant detour past the offices of the ISU police.
"Something African-Americans have dealt with for centuries is police brutality," Ware explained later, but he also acknowledged the cooperation the campus police had provided, among other things keeping the marchers safe from traffic.
"To see [campus police] supporting us in our walks shows we can bridge some of the gap," Ware said, "and we have some open dialogue scheduled with them next week."
At the final stop, Ware admitted his knowledge of the African-American Cultural Center had been acquired just recently, and he regretted having waited so long.
"If you're uneducated, this is the place to be," he said.
Other members of the group were invited to speak, and freshman receiver Johnathan Edwards stressed the need to "be comfortable about being uncomfortable . . . We don't need face activism [limited to social media]." Another receiver, Daijon Collins, added, "Today is nothing, it's tomorrow that will be the solution to this problem, this issue."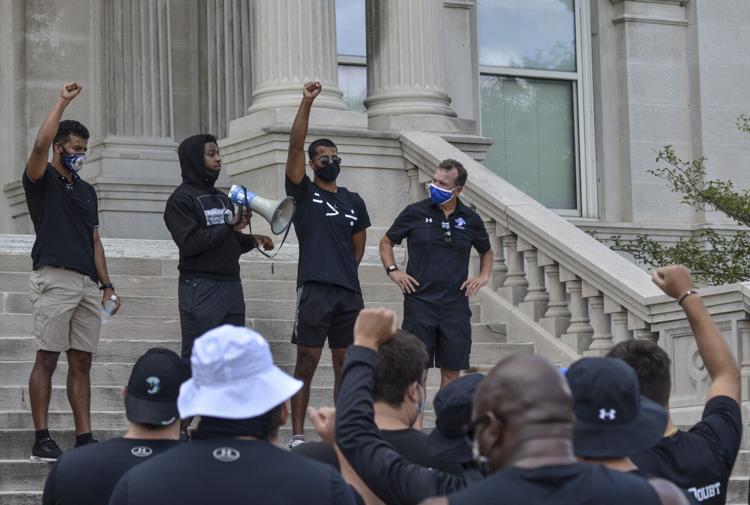 ISU Director of Athletics Sherard Clinkscales spoke briefly, telling the group, "I'm proud of all of your expressing how you believe and how you feel."
The Rev. Terry Clark, who is also an instructor at ISU, wrapped up the list of speakers by saying, "The plantation system has been replaced by the penal system.
"[As a parent], I shouldn't have to be concerned about you for just getting into your car," he continued, and concluded by noting, "You don't have to look like me to be my brother."