As the sun set and a crescent moon shone in the southwest sky, about a dozen people gathered at Indiana State University's Dede Plaza to remember Washington Post journalist and ISU alumnus Jamal Khashoggi on the one year anniversary of his death.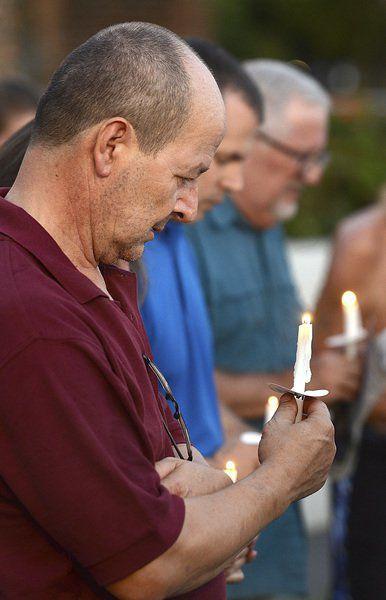 The ISU chapter of the Society of Professional Journalists conducted a candlelight vigil in memory of Khashoggi, a critic of the Saudi government who was murdered on Oct. 2, 2018, after visiting the Saudi embassy in Turkey to obtain marriage documents. His death prompted an international outcry.
Khashoggi attended Indiana State as an undergraduate from 1977 to 1982 and received a business administration degree on May 7, 1983.
Alexa Imperial, ISU SPJ secretary, and Lori Henson, ISU journalism instructor and SPJ adviser, read from a prepared text and also called for a moment of silence.
According to the Committee to Protect Journalists, at least 53 journalists around the world were killed in 2018, Imperial read. At least 34 were singled out to be murdered, including Khashoggi, "a columnist for the Washington Post, a 1983 graduate of ISU, a father, a fiancé, and a fierce advocate for press freedom, democracy and human rights." 
Imperial continued, "We gather to remember him today because he was one of countless journalists around the world who risk everything they have — even their lives — to defend freedom of expression, freedom of the press, and freedom to debate ideas peacefully in a complex world."
After the short program, Henson said the student leaders wanted to remember Khashoggi "because of how much he contributed to journalism and because of the way his murder has invigorated new debates about freedom of the press globally."
ISU is his alma mater and it's important to remember ISU graduates such as Khashoggi and "the great changes they make in the world," Henson said. "We wanted to use this as an opportunity to remember Mr. Khashoggi, but also, to celebrate the sacrifices journalists make and stand in solidarity with them and against governments that would try to suppress free speech and free press."
Imperial, a junior communication major from Las Vegas, believes "it's important to not only remember him but also think about what he symbolize, which is empowering the voiceless. People shouldn't be afraid to actively pursue knowledge and truth and form their own opinions." 
Among community members attending was Carl Bender, who worked many years for the Terre Haute Tribune and later the Tribune-Star. The climate for journalists today is not good, he said. "It's not too surprising that something like this would happen to someone like Khashoggi ...  because of the way [Saudi Arabia] has treated reforms and the press in their country for decades." 
But Bender is also concerned about the rhetoric coming out of the White House and a president who calls journalists "fake" and "corrupt." American journalists have been harmed and even killed before, but Bender worries that with the current climate out of Washington D.C., it could happen again.
Also attending were community members Mechmet Toptsi and Tirzah Popoff. "I went to school at ISU at approximately the same time he [Khashoggi] was here," Popoff said. "I feel like that's the least we can do. It's important journalists be able to do their job without fear of being kidnapped and murdered." 
The ISU SPJ chapter hopes to raise money for a Khashoggi Room Project that would be located in the soon-to-be-renovated Dreiser Hall.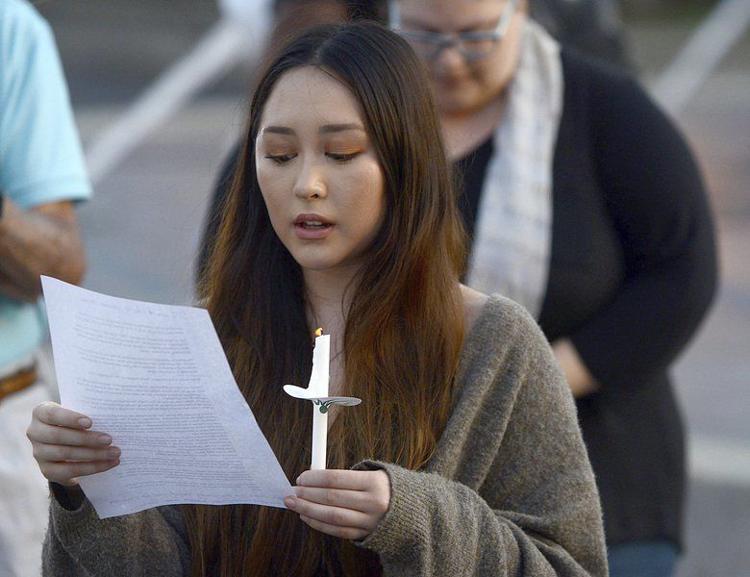 To honor the journalist, the university initiated the Jamal Khashoggi Annual Address on Journalism and the Media. The first speaker was David Ignatius, Washington Post foreign affairs columnist and a friend of Khashoggi's.
ISU will honor Khashoggi Oct. 11 when he receives a posthumous Distinguished Alumni Award.
Khashoggi was among the journalists known as "The Guardians" honored by Time magazine as Person of the Year in 2018 for their pursuit of truth despite tremendous obstacles.
In a recent interview with "60 Minutes," Crown Prince Mohammed bin Salman of Saudi Arabia said he takes "full responsibility" for the killing of Khashoggi because it was committed by Saudi government employees.
But he denied ordering the murder, despite a CIA assessment that found that Mohammed probably authorized it, according to the Washington Post.
Sue Loughlin can be reached at 812-231-4235 or at sue.loughlin@tribstar.com Follow Sue on Twitter @TribStarSue.