As business develops along Indiana 46/U.S. 40 on Terre Haute's east side, it is becoming a new commercial corridor.
The main focus of new development is a proposed $100 million Hard Rock casino from Spectacle Entertainment, pending a referendum in the November election. It's location next to Interstate 70 is a prime area to attract visitors from across the Midwest.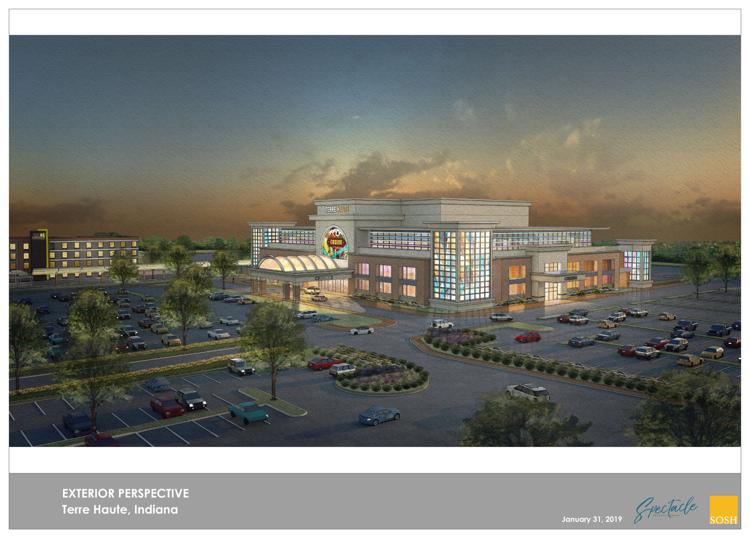 That corridor already boasts a super Walmart, a large Meijer store, a new Aldi's and Starbucks, as well as Sycamore Terrace Shopping Center with stores and restaurants such as Maurices, Pet Supplies Plus, GameStop, Athletico, GNC, Rent-A-Center, Dollar Tree, Monical's Pizza and Real Hacienda. 
It is also near Sycamore Terrace Apartments, which had its first phase constructed in 2011.
A new Culver's restaurant is under construction, as is a new Union Medical Group Eastside Clinic.
On south side of Interstate 70, Rose-Hulman Institute of Technology houses a "south campus" which contains Rose-Hulman Ventures, a product design, rapid prototyping and development firm that utilizes Rose-Hulman students to help provide engineering problem-solving.
All of that development falls adjacent to Terre Haute Regional Airport, which has a vested interest in types of development that can impact the airport, such as building height requirements, as the commercial corridor impacts the landing approach of the airport's main runway. 
Some of that development, such as Meijer, falls into the airport's Tax Increment Finance district. Funds from that district can be targeted for improvements.
The airport's role in development has been strengthened with the 641 bypass, which connects the Vigo County Industrial Park, directly with the airport.
This year, the Terre Haute Regional Airport's board of directors voted to spearhead an Indiana 46/U.S. 40 corridor plan. The board of directors has met with an airport consulting firm and is planning additional meetings.
"We agreed, as an airport board, to lead the strategic plan on the east side here. This is an investment for the airport and property owners along Indiana 46/40," said Rick Burger, a member of the airport's board of director.
Earlier this year, airport board President Rachel Leslie said the "airport is an economic stimulus for our area, so the airport's health relies on the health around us," Leslie said. "Right now, we have people calling and are excited about what is happening on 46, so we want to take advantage of that excitement."
Burger, who is a district manager for Duke Energy, said that company's economic development division will grant $5,000 toward a strategic planner for economic development. "There has been other corporations express interest too. In my opinion, I think we can end up getting half of that back from private corporations," Burger said of the cost of a consultant.
The airport in its 2020 budget included $130,000 for a planner or engineer intended to coordinate efforts for development around the airport.
A 46 corridor plan also presents an opportunity for the airport to work to coordinate planning for future development, especially with utilities, such as water lines. That is one area where the airport faces future challenges.
In May, airport officials passed a resolution acknowledging they have five years to resolve water flow and pressure issues to satisfy fire protection standards. It's a project that will impact future development at the airport, possibly even adding water tall tanks, either at ground level or elevated, to boost water pressure as well.
The airport has Aircraft Rescue and Firefighting (ARFF) on site, and the Terre Haute Fire Department serves as a back up, but improved water pressure and extended water lines are needed.
Yet extending water at the airport could be a $1.5 million project and will require hydraulic modeling from Indiana-American Water Co., said board attorney Scott Craig. That is something that the corridor plan will address, Burger said, while also marketing the airport for future development.
The airport plays a big role on the east side, as it is home to the Air National Guard 181st Intelligence Wing and its 9,020-foot main runway is the fourth longest in the state. The airport has a 24-hour Federal Aviation Administration tower and radar service and is home to Indiana State University's flight school and IU Health LifeLine operates an air medical helicopter from the airport.
Reporter Howard Greninger can be reached 812-231-4204 or howard.greninger@tribstar.com. Follow on Twitter@TribStarHoward.