Nearly 3,000 Special Olympics athletes from around the state will compete at this weekend's Special Olympics Indiana 50th annual Summer Games, and organizers say they can't wait to get the party started.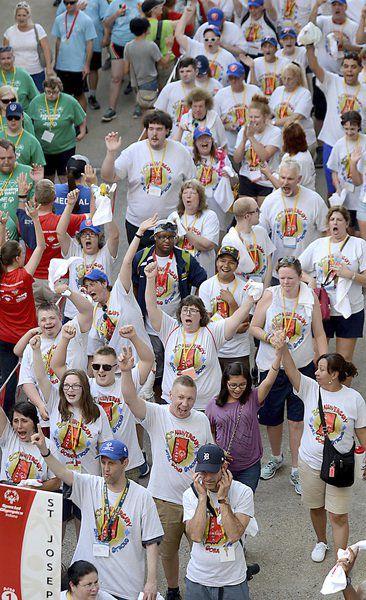 The organization's largest annual event, the Indiana Summer Games features state-level competition in bocce, bowling, cycling, horseshoes, powerlifting, swimming, track and field and volleyball Friday through Sunday at Indiana State University and Rose-Hulman Institute of Technology.
And with 2019 being the games' 50th anniversary, Special Olympics Indiana CEO Jeff Mohler said the focus this year will be celebrating all the athletes and organizers who've made 50 years of inclusive athletics possible.
"You only turn 50 once," Mohler said with a laugh. "But really these Summer Games are going to be a great way for us to reflect on our past and then look making our games bigger and better in the future."
Tom Songster, who, along with Judy Campbell founded the Indiana Summer Games in 1969, is making the trip back to Terre Haute to celebrate 50 years of inclusivity.
Mohler effused praise for Songster and Campbell, saying the pair's idea to benefit people with intellectual disabilities through sport and to open the hearts and minds of the community are still the driving principles with which the games are run today.
And the idea to connect with others through sport, no matter the perceived differences, is an ingenious one, Mohler said. A distance runner himself, Mohler said so much can be learned through athletics.
"For me, I know I learned so much about myself and gained self confidence through running," Mohler said.
"And that's really what drives me, drives us, is that idea of teaching life lessons and instilling confidence by giving this opportunity to people with intellectual disabilities.
"And we with the Special Olympics, that's really what we're trying to be, more than just sports. Sure we put on great competitions and will have a great track meet and swimming and all that this weekend, but if we're successful in what we're doing, we'll open the hearts and minds of the community to those with intellectual disabilities."
The Summer Games begin noon Friday with the first rounds of bocce, bowling, cycling, powerlifting, track and field and volleyball kicking off. And with them will come thousands of athletes, coaches, parents and fans, said Dave Patterson, executive director of the Terre Haute Convention and Visitors Bureau.
But what's more important than the injection of outside monies into the local economy, Patterson said, is the chance Terre Haute gets to reveal how inviting it is to those coming for such a special event.
"Our community really rolls out the red carpet for these folks and give them the best experience possible," Patterson said.
The Terre Haute CVB is giving each athlete a commemorative 50th anniversary medal and a host of local businesses have come together behind an effort by Pat Carney, vice president of employee benefits for ONI Risk Partners in Terre Haute, to give each athlete a commemorative shirt designed by Pacesetter Sports.
"To see all the effort local folks and businesses put into the Summer Games each year, you can't help but think people come away with knowing what a great city Terre Haute can be," Patterson said. "And you can't put a price tag on that."
Reporter Alex Modesitt can be reached at 812-231-4232 or at alex.modesitt@tribstar.com. Follow him on Twitter @TribStarAlex.