Just outside Indiana University's Franklin Hall sits a statue of famed war correspondent Ernie Pyle preparing to type one of his dispatches from the front lines of World War II.
The statue's creator, Tuck Langland, on Friday said the bronze in which Pyle is cast will long outlast the audience at the first National Ernie Pyle Day celebration, the university itself and even the memory of the war that Pyle recorded.
What will last, Langland said, is Pyle's legacy as a champion of the story of everyman.
It was that idea, that legacy of Pyle's, that led Indiana's U.S. senators, Joe Donnelly and Todd Young, to draft a resolution naming Aug. 3 National Ernie Pyle Day. 
It's also why the Ernie Pyle Legacy Foundation put together a day of programming in hopes of teaching young people about one of Indiana's most prominent native sons.
"The legacy of Ernie Pyle is here to stay," said Gerald "Jerry" Maschino, executive director of the legacy foundation. "We know what often happens in history, that time goes on and people forget and, before long, the legacy kind of goes away.
"But our foundation has been set up to continue the legacy of Ernie Pyle for all future generations."
Pyle was born near the small Wabash Valley town of Dana on Aug. 3, 1900. He later joined the U.S. Navy Reserve during World War I before attending Indiana University to pursue a career in journalism.
From IU, Pyle went on to become a prominent correspondent for the Scripps-Howard newspaper chain, traveling the country and sharing accounts of the places he visited and the people he met.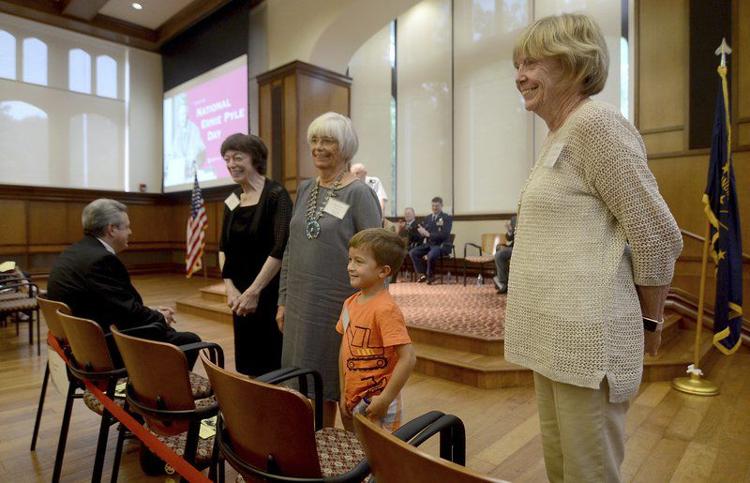 Having made a name for himself as a dogged reporter and vivid storyteller, Pyle was dispatched to follow American troops in World War II. He is often credited as having written the most representative stories of the conflict and the men who fought it.
Pyle was killed in combat April 18, 1945, by a Japanese machine gunner on the small island of Iejima during the battle of Okinawa.
"Ernie Pyle's legacy must continue," Maschino said. "It holds such a tradition and such value that it would be a shame as an asset for anything to ever happen to it.
"We need to pass this from the next generation on down to keep Ernie Pyle's legacy alive and keep it well," he said.
Friday's keynote speaker, retired war correspondent Joseph Galloway, also talked about the need to keep Pyle's legacy alive, especially in a time when journalism is under attack and being hailed as 'fake news,' Galloway said.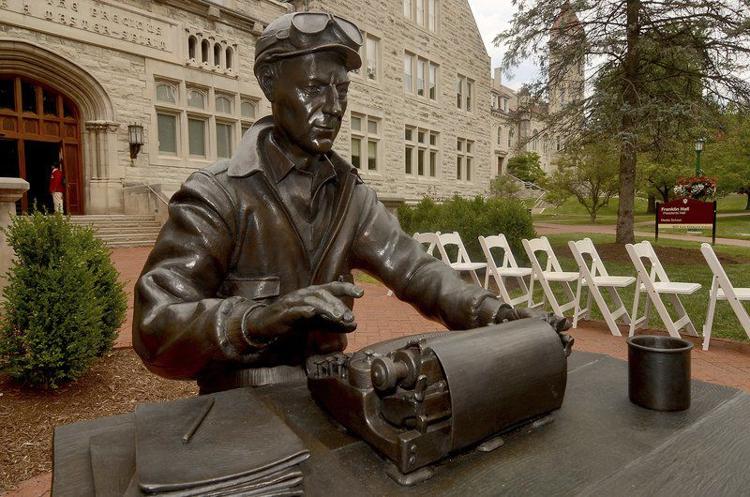 "I really wish this facility was half-full of Millennials, Gen X'ers, people who really need to know who Ernie Pyle was and what he stands for," said Galloway, who covered the battle of the Ia Drang Valley in Vietnam and later wrote "We Were Soldiers Once ... and Young" with Lt. Gen. Hal Moore.
Galloway said it's imperative to teach young people about Pyle and help them understand the importance of his work.
"The kids aren't here, and it's the young ones who need to absorb the story of Ernie Pyle and take it to their hearts, because the underpinnings of our democracy rest in the roots of journalism, reporters, newspapers, electronic media," Galloway said.
"And preserving Ernie Pyle's memory is part of preserving that underpinning of our democracy."
Reporter Alex Modesitt can be reached at 812-231-4232 or at alex.modesitt@tribstar.com. Follow him Twitter @TribStarAlex.