Holiday cheer was big business Saturday in Terre Haute as hundreds turned out to events featuring Santa Claus and Dr. Seuss' famed Christmas curmudgeon, the Grinch.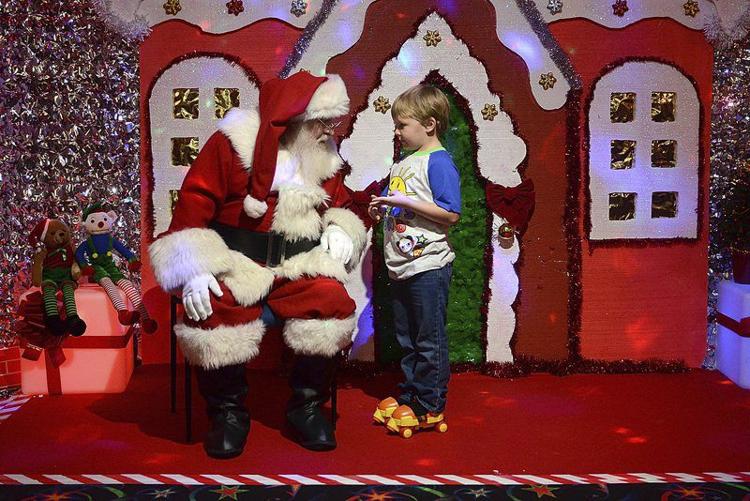 Greeted by a chorus of cheers at the Wigwam roller-skating rink, Santa made his appearance early in the afternoon before heading back north for the big day.
The jolly old elf led the excited group of children through a dance step on the rink before posting up in his chair and making note of any last-minute requests.
Miley Waltrip, a six-year-old kindergarten student at Terre Town Elementary, said she made sure Santa knew she would like a bicycle and a Baby Alive doll.
"Because," she said, "I think they'll be a lot of fun."
Seeing all the children laugh and carry on as Santa made his rounds did Robert Kramer, owner of the Wigwam, well, he said.
"Whenever we put a smile on a child's face, it brings one to our just the same," Kramer said. "We love to get the place all dolled up for events and holidays and feel fortunate when families share their time with us."
Normally a quiet time of year for the rink, Kramer said a visit from Santa is a boom for business.
"Typically the three to four weeks before Christmas we take a tremendous dip in business because people get busy with their shopping and holiday parties," Kramer said. "But something like this gives people a reason to come skate."
A little later in the day Christmas' antihero, the Grinch, brought his trademark scowl and more than 600 visitors to The Meadows Shopping Center on Terre Haute's east side.
The line to see the cheer miser at times stretched from the Meadows Cafe storefront to near the entrance of Stein Mart.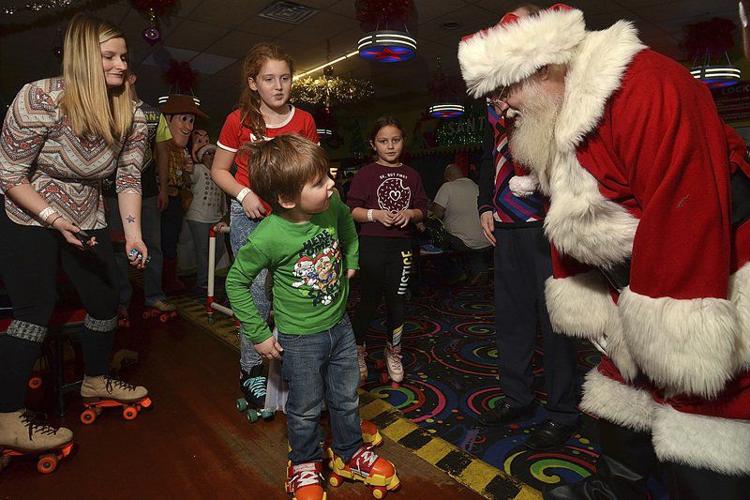 Meadows Cafe owner Danielle Henderson said the Grinch's outlook on Christmas mirrors her own, and thought children and parents would want a break from the traditional visit from Santa.
"People are tired of Santa," Henderson said.
"And how many pictures of kids crying on Santa have you seen?" interjected Christine Niemeyer, owner of the Lili Pad in the lower level of The Meadows. "I think they're maybe more familiar with the Grinch movie and feel like they already know him."
"And it wasn't just kids, either," Henderson said. "We had an older woman cry because she was so excited to see the Grinch."
And while offering families an opportunity to get out of the house and celebrate the holiday season together, Niemeyer said it also serves as great exposure for the cafe and The Meadows.
"This event is so well received," Niemeyer said. "I didn't expect when we put this out on Facebook that it would be as huge of a response as it has been."
The pair said they expect to host the event again next, and maybe offer multiple nights.
Reporter Alex Modesitt can be reached at 812-231-4232 or at alex.modesitt@tribstar.com. Follow him on Twitter @TribStarAlex.