Superintendent Rob Haworth on Monday presented a blueprint to guide the Vigo County School Corp. through the next five years and beyond.
The plan, which covers areas including facilities, technology, fiscal accountability, student services and more, received a first reading, with the board expected to act on the plan at its Feb. 24 meeting. It outlines vision, mission and values, critical challenges, key initiatives, goals and actionable items.
The 2020-25 plan, titled, "Team Vigo: Our Community, Collaborating for our Children," is posted on the district website at www.vigoschools.org and at www.tribstar.com.
The board wanted the plan to be community and team-focused, "running our schools not in isolation, but openly and in concert with our community," Haworth said during a brief presentation. He encourages the public to go online and review the plan.
The plan addresses critical challenges, including a shrinking enrollment that studies indicate will continue to decline over the next several years. For the first time, district enrollment dipped under 14,000, it was learned during the Feb. 3 count.
To provide some historical perspective, Haworth said last school year, Terre Haute North graduated 333 students, while South graduated 342 students — numbers much lower than when the schools first opened.
Other challenges include deficit spending and a teacher shortage.
The hope is that the strategic plan, and collaboration with community groups, will help Vigo County turn around that declining population and enrollment, Haworth said after the meeting. Instead, the hope is "that we can be one of the eight or nine communities that will begin to grow in the state of Indiana. I think that comes through collaboration with our local officials, with higher education, with our business leaders."
The district is having its first business/education roundtable meeting on Wednesday.
The plan states in part: "Simply reacting to declining enrollment and funding is not acceptable. We must find innovative ways to evolve our school corporation into a leader in the state of Indiana while ensuring that our practices are sustainable as we address our challenges."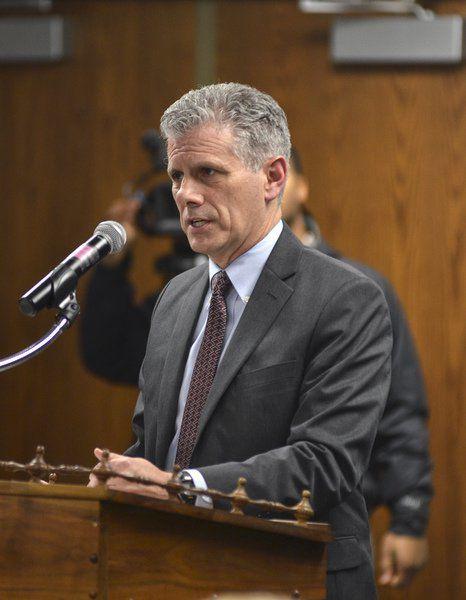 On Thursday, Haworth introduced some of the major initiatives, including eight concepts for high school facilities and Chromebooks for all students by 2023, during his State of the Schools presentation. The plan paves the way for the district to become "technology rich," he said.
A timeline calls for the school board to act on a facility plan in winter 2020-21, with a facility referendum in May 2021. Community meetings will be announced soon that provide information on the eight concepts as well as costs and tax impact. Haworth hopes to narrow the eight options to four by May, and from four to one by December.
Haworth said the intent is to have an eight-year facility plan that includes not just high schools, but addresses needs of middle school and elementary school facilities as well.
The plan also outlines goals and actionable items in several areas:
• In academics, district goals include: meet or exceed IREAD-3 state average; increase student engagement with technology use in all classrooms; meet or exceed graduation rate state average; increase percentage of students in career/technical education programs; increase percentage of children earning post-secondary and/or industry credentials.
• Under student support, the district wants to maintain and stabilize VCSC enrollment by using virtual education; on Thursday, officials announced that Vigo Virtual Success Academy will expand to elementary and middle school students next school year and go beyond Vigo County.
The district also wants to explore new school schedules, and it is reviewing the current high school trimester system.
• Under communication, the district plans to implement "a new accessible, usable website" this summer and have a new brand/logo that better tells the school district's story.
• Under student activities, the district seeks to increase the number of participants in visual and performing arts; increase the number of participants in athletics by improving the quality and number of programs; increase the total number of student activity offerings.
• Under resource management the plan seeks to maintain a balanced budget and cash reserve equal to 10 percent of operations and education approved budget; all employee groups will have a completed evaluation and an end of the year meeting to discuss the results of the evaluation before July 2020; increase recruitment of diverse employee candidates.
• Under transportation, goals include improving route efficiency and creating a separate transportation department; a recent outside review shows school bus transportation is running "pretty efficiently," Haworth said.
Under school nutrition, the plan calls for creating more nutritious options for students and reducing waste.
The district will use "dashboard measurements" to measure its success in meeting goals and actionable items.
The district began the planning process in fall 2018, and more than 90 community meetings took place. Committees also were involved, and the school board conducted eight planning meetings.
Sue Loughlin can be reached at 812-231-4235 or at sue.loughlin@tribstar.com Follow Sue on Twitter @TribStarSue.