The Vigo County School Corp.'s cash balance is declining significantly, and Superintendent Rob Haworth is proposing a combination of $4 million in budget cuts and an operating referendum of $7 million to be placed on the ballot this fall.
The $7 million operating referendum would help support safety, security, health, wellness and transportation. The $4 million in budget cuts would start immediately and be implemented over the next two years.
The reason, Haworth told the school board Monday, is that the cash balance has been declining significantly in recent years and is expected to drop about another $7 million to $8 million this year.
He will seek board approval next month to proceed with the operating referendum. Also, a series of community meetings will begin next week to gather community feedback; dates and times will be announced this week.
"We have a challenge before us. I believe this community is ready to rise up to that challenge," he said in concluding his presentation.
The operating funds referendum does not address capital, or building, needs. It is separate and distinct from a capital referendum expected for spring of May 2021.
Monday's presentation was an introduction to the community "in regard to our current financial situation," Haworth told media. Details will be further broken down during community meetings.
The district still has a "strong base" and "we are not acting out of desperation," he said. "We believe we have some plans to put in place and we look forward to taking those plans to our community to see what their reaction is."
Dwindling cash balance, increasing costs
The district ended 2016 with a nearly $30 million cash balance. By the end of this year, it's expected to be about $12 million to $13 million. If nothing is done, it will drop even more in 2020, Haworth said.
The reasons for the cash balance decline includes decreased state funding, inflation, decreased federal funding and enrollment declines; with enrollment, state funding follows the student.
State funding is not keeping pace with inflation, Haworth said.
Another factor, he said, is that the district has lost 1,292 students over the past 10 years, with enrollment currently at 14,295.
The general fund also has been used to subsidize the tax cap impact on transportation, which was about $1 million in 2018, and it's also has been used to subsidize textbook fees [at least $2.2 million over the past five years].
Other reasons for the cash balance decline relate to "decisions made for a better VCSC," he said. After the Sandy Hook school shooting in 2012, the school district made a significant commitment to safety, health and wellness.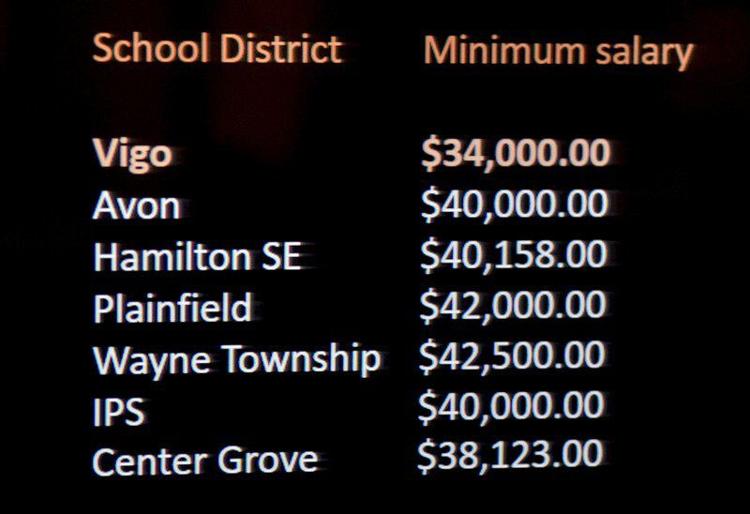 The district has increased student protection officers, counselors, behavior interventionists, nurses and educational assistants. Every school now has a school protection officer, the number of school nurses has doubled and counselors have increased by 40 percent.
Haworth said his goal is to maintain those needed positions through an operating referendum, which also is needed to help the district attract and retain the staff needed to continue to provide an excellent education for students.
The cash balance had grown for five years after a series of cuts that began in 2010 in response to state funding cuts. The number of employees went from about 2,243 in 2009-10, down to 2,078 in 2013-14 and now it is approaching 2,200 again.
Potential taxpayer, staff impacts
An operations referendum must be approved by voters, and it would be funded through property taxes and in place for eight years. It would be outside of tax caps.
Haworth gave an estimate of how it might impact taxpayers. A $7 million operating referendum would be 16.2 cents on the tax rate for 8 years; a taxpayer with a gross home value of $100,000 would pay $53 per year. With a gross home value of $200,000, the homeowner would pay $158 per year.
The operating referendum "will significantly impact the capital referendum," he said. He proposes the capital referendum be on the ballot in May 2021.
As far as $4 million in cuts, ways to accomplish that may include restructuring buildings, reducing staff, wage freezes, buyouts, restructuring of staff compensation and reduction in transportation services.
The district has already begun "watching every hire we make," he said in an interview, and some restructuring of business office staff is underway.
"The goal is to not lay off anyone," he said in the interview, but instead, reduce staff by not filling vacant positions.
As far as the referendum, "Ultimately the community decides," Haworth said. "We wouldn't be asking unless we thought it was necessary."
During his presentation, he said, "If we want to maintain or compete for statewide population, I believe our schools must stay committed, to safety, security, health, wellness and providing excellent staff."
Haworth also said the district will start its own virtual school for 2019-20 and work on that project has been underway for several months. If it could generate 150 students within two years, the district would generate about $1 million per year, he said.
After the meeting, School Board president Jackie Lower said, "In order to keep going with the quality we have, we're going to have to do something."
She believes an operational referendum "is necessary" and would be "minimally hurtful to our taxpayers" monetarily.
Now, the district wants to hear from the community, she said, and Lower urges citizens to attend the upcoming meetings to "express their views, concerns and questions."
Mark Lee, Vigo County Teachers Association president, noted that Vigo County taxpayers already are paying more taxes for a new jail and convention center. Now, they are being asked to pay more property taxes to operate schools.
"Does this hurt the proposed [capital] referendum for 2021?" Lee asked. "I would wonder why we are waiting for 2021 with the facilities we have."
Sue Loughlin can be reached at 812-231-4235 or at sue.loughlin@tribstar.com Follow Sue on Twitter @TribStarSue.