A host of officials Friday marked the importance of a new convention center for downtown Terre Haute in a ceremonial ground breaking.
Brian Kooistra, chief operating officer at Garmong Construction Services, said Terre Haute has hometown talent and capability to build the convention center.
The construction management team, Kooistra said, all reside in Vigo County and all are graduates of either Rose-Hulman Institute of Technology, Indiana State University, St. Mary-of-the-Woods College or Ivy Tech Community College.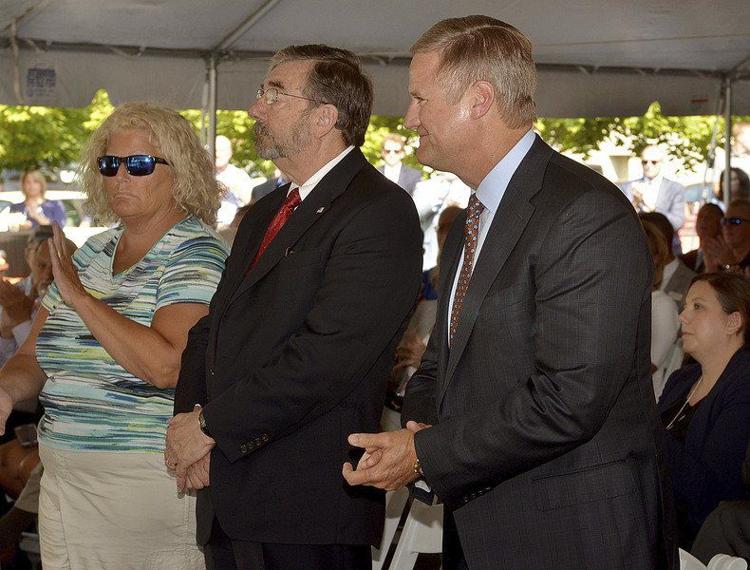 "And when I looked at the over 100 trade men and women from our community who will labor on this site for the next 21 months, it became apparent that they represent every one of the building trade unions within our area," Kooistra said. "When I consider the countless materials and equipment necessary to accommodate the construction process, I noticed that they will largely be provided by Terre Haute suppliers.
"When I looked at what subcontractors will be involved in this project, I saw that over 60 percent of them are businesses located in Vigo County," Kooistra said, adding it "is the people and businesses that call Terre Haute home" who will build the new convention center.
U.S. Rep. Larry Bucshon, R-Newburgh, called the convention center project "transformational" for the city.
"Terre Haute has a bright future. With a new community plan, the opening of the new historical museum and a freshly renovated Hulman Center to go along with a new convention tie everything together," Bucshon said.
 "Communities cannot thrive by government action alone," the congressman said. "It takes private investors to believe in their community and invest right here at home," he said.
Clyde Kersey, a former state representative who voted in the Indiana General Assembly to adopt a Vigo County food and beverage tax to support operation of the convention center, called the project "the last piece in the puzzle. Downtown is such a great place compared to what it used to be, with new hotels, with arts and the renovation of the Hulman Center. This to me is the last piece of that puzzle to bring people downtown."
Terre Haute Mayor Duke Bennett said the convention center has been a project in the works for "about five years now. It goes back to working with Indiana State University and I want to acknowledge what they are doing across the street with Hulman Center, which is a really important part of our downtown area, where they are spending over $50 million and this private/public partnership here is going to be another $50 million, so a $100 million investment being made in downtown Terre Haute is more than significant to celebrate," Bennett said.
A new Courtyard by Marriott is to be built on the site. An existing building, which now serves as a state government office building, is to be expanded into Eighth Street for the hotel. A construction plan for the remodeling and an addition to create a 150-room hotel is under review by the Indiana Department of Homeland Security. The plan was filed Aug. 30 by Terminal Hotel Partners LLC.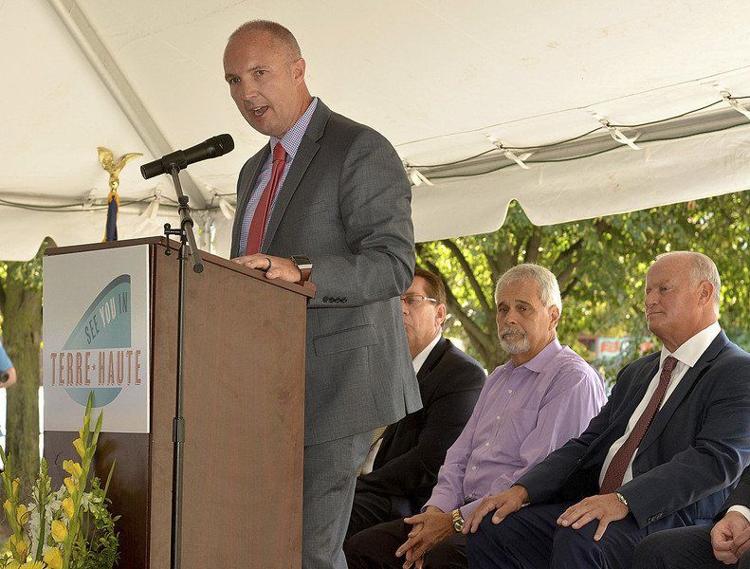 "Having a convention center, kind of puts us on a playing field with many other Indiana communities and all across the Midwest that have facilities that are functioning very, very well and this one will do just the same," Bennett said.
The overall project budget is about $32.1 million. However that does not include property acquisition costs for land east of the Hilton Garden Inn, which is owned by Terre Haute Hotel Partners LLC.
The maximum construction cost for the convention center is $24.63 million. The new food and beverage tax is to pay for annual costs and maintenance of the facility.
The city of Terre Haute and Vigo County have committed $20 million ($10 million each from Economic Development Income Taxes); with the Terre Haute Convention and Visitors Bureau to pay $5 million from an increase in the county's innkeeper tax to 8 percent from 5 percent; and $3 million from the Terre Haute Redevelopment Commission. Additionally, the Terre Haute Redevelopment Commission is to seek to issue a $4.5 million TIF bond to help with construction of a parking garage.
Brad Anderson, president of the Vigo County Board of Commissioners, said the benefits of the new facility will impact the entire county.
"Although this project is in the middle of Terre Haute, it means a lot to the county. It represents something much bigger than just downtown, this project will benefit our county, our region," Anderson said. "Being part of the Capital Improvement Board and president of county commissioners, it makes be proud to see what we are doing in this community and everybody has come together to do this.
"I think that citizens in our county will not only see the benefits of this convention center, but also experience the benefits of tourism, bring more visitors to our community, which will increase our revenue and make our community a better place to live."
David Patterson, executive director of Terre Haute Convention and Visitors Bureau, pointed to several events that attract visitors to the county. He stressed running events, noting the county this year for the 13th time will host the NCAA Division 1 national cross country championship. 
Next year, the county will do something "unprecedented, through Rose-Hulman Institute of Technology," will host the NCAA Division 3 indoor national track championship, the outdoor track national championship and the cross country championship, Patterson said.
"The convention center investment is vital to continue that success," Patterson said. 
Steve Bauer, vice president of construction services for the Nation's Group, said the groundbreaking is "the culmination of a lot of work, but we still have an awful lot of work going forward. We will keep you updated as we can on the progress. You will see changes in the downtown on this very property and those changes will result in something that I think this community will be extremely proud of and used for many years to come."
The convention center will have the ability to accommodate 1,000 people for annual events. The project includes a small outdoor walkway and sitting area; a two-story open space Larry Bird museum, which will be considered an auxiliary space for additional events; multiple opportunities for smaller conferences and break-out meetings; and a new large parking garage
Reporter Howard Greninger can be reached 812-231-4204 or howard.greninger@tribstar.com. Follow on Twitter@TribStarHoward.