For more than an hour Tuesday evening, independent candidate for Terre Haute mayor Pat Goodwin outlined his position on everything from city finances to a projected loss of population in the coming years.
In the second of three mayoral candidate forums sponsored by the Tribune-Star and moderated by the newspaper's editorial board at The Meadows Conference and Banquet Center, Goodwin used the hour to explore in more detail his plans if elected mayor.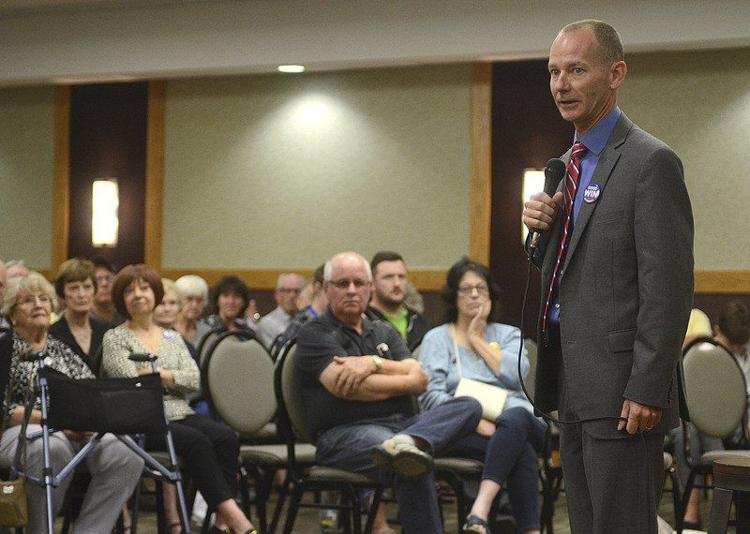 When addressing the city's finances and its ongoing fight to reduce operating deficits and short-term borrowing, Goodwin said it's frustrating to see revenues continue to grow and little being done about outstanding debts.
"To me it's a little disingenuous to say the finances are fixed when you're still taking out short-term loans," Goodwin said. "I'm disappointed right now we're not making more progress because the revenue has increased significantly over the past few years."
Goodwin said those increased revenues, most coming from new or increased taxes on Terre Haute residents, should have been used to address debts while simultaneously looking for ways to streamline city government and making it more cost effective.
In short, he said, leaders have to get away from the idea that in order to improve the city they have to spend more and more money each year, or spend money as soon as they get it.
"We have to start at zero and starting the most important things in first, the things you know we need to have," Goodwin said. "... You also have to set an upper limit. I'd look to end the short-term borrowing next year. We're going to get those loans paid off and that's going to be it. No more."
Goodwin said the same approach of addressing root problems can, and probably should, be taken with the city's police and fire departments.
Goodwin has taken heat from both Republican candidate Mayor Duke Bennett and Democrat candidate Karrum Nasser on the idea of "cutting" public safety spending, but Tuesday he said it's not about spending more on the departments themselves more than it's about addressing the problems those departments constantly face.
In a conversation with members of the fire department, Goodwin said they told him that some 50% of the fires they respond to are in abandoned homes and buildings.
And sure the city could buy more fire engines and hire more firefighters to enhance the department's response time and overall effectiveness, but why not just take care of the buildings and homes themselves, Goodwin supposed?
"We spend $36 million on the police and fire departments, but we only spent $400,000 on demolishing the buildings that account for half of our fires," Goodwin said. "This is what I'm talking about in prioritizing our money. How much more should we be spending on demolishing buildings? I would say enough to keep caught up."
Goodwin went on to say spending on preventive measures is often a worthwhile investment.
"In my mind, an ounce of prevention is worth a pound of cure," Goodwin said. "It's way less expensive to tear down that house than have it catch fire, have to put it out and deal with all the consequences and potential risk to human life."
And if a study from the Indiana University Kelly School of Business projecting a population loss of near 6% in the next 30 years holds true, Terre Haute could see even more empty homes and buildings.
So how then can Terre Haute become a place families want to live, work and play? Goodwin said city's leaders have to stop looking to the past, stop looking to land the next Columbia House and start planting seeds of success, even if they know they'll never be around to see the seed's maturation.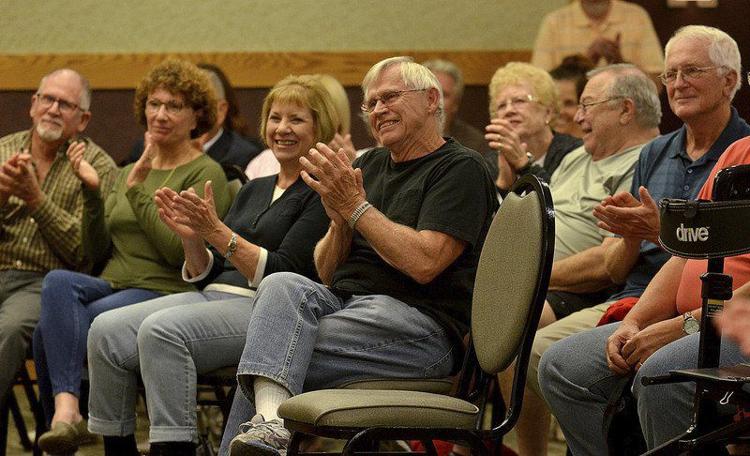 "We're declining because we spend too much time looking backward and our government isn't looking long term and working together for long-term solutions," Goodwin said. "... We've got to look at doing everything differently and make sure we leave no stone left unturned. We've got to make investments that payoff in 20 years.
"... There's an old saying about the best time to plant a tree was 20 years ago. The second best time to plant a tree is today. Why don't we get started on the things now that will pay off in 20 years."
The third mayoral forum featuring Terre Haute Mayor and Republican candidate Duke Bennett is 7 p.m. Thursday at the Meadows Conference and Banquet Center.
Reporter Alex Modesitt can be reached at 812-231-4232 or at alex.modesitt@tribstar.com. Follow him on Twitter @TribStarAlex.