Wabash Valley Goodwill Industries board, staff, co-workers and community leaders celebrated the legacy of William "Bill" Tennis, president and CEO during his retirement celebration Wednesday after a half century of service.
"I've dedicated over 74% of my life to Goodwill Industries," Tennis said. "Just when I'm starting to catch on, my time's up!"
Tennis said his best memories are of working with people who had significant barriers to employment and helping them create opportunities for themselves.
"Goodwill Industries employs over 200 people throughout the Wabash Valley, so my successor has a great team already in place to support her efforts to continue the mission," he said.
Meredith Osburn has worked with Goodwill Industries for more than 10 years and will become the Wabash Valley's Goodwill's fourth president and CEO in the organization's 94-year history. She said it's an honor and privilege to be selected.
"I've got some big shoes to fill, but I'm looking forward to the challenge of keeping people employed and the mission healthy," she said.
Osburn had asked the board and staff to submit words and phrases to describe Tennis.
Using items of clothing that had been donated to Goodwill, local artist Valerie Funk created two quilts using words such as true, servant leader, smart, funny, fair, advocate, patient, loyal, kind, admired, devoted, empathetic, coach, understanding, mentor and respectful. One of those quilts, with those words and his image, will be on display at the main office in Terre Haute. The other was given to Tennis.
"We'll always remember your 'Bill-isms,' and we'll continue to remind each other of your stories of encouragement on the days when things aren't running 100 percent smoothly," said Osburn.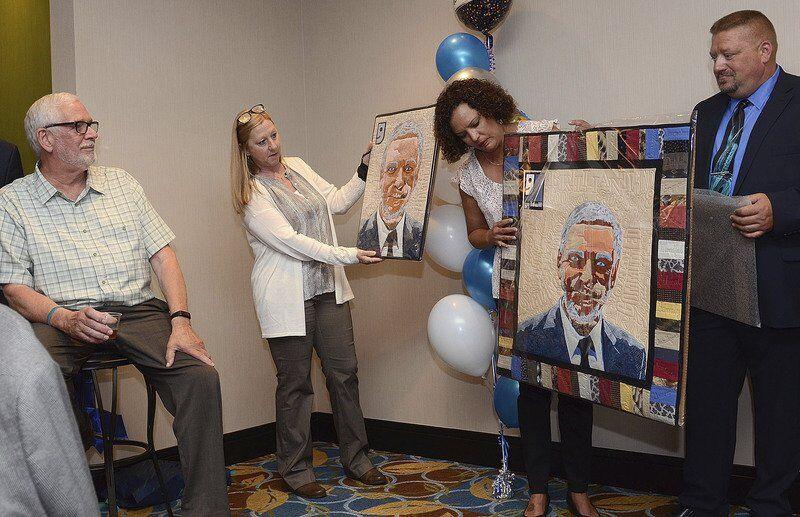 Also presented in his honor was a Tennis Avenue street sign that will be hung at the newly paved back entrance to the main office.
Troy Helman, chairman, Wabash Valley's Goodwill Industries, said that Tennis grew the industry and affected thousands of lives. On behalf of the board, he gave a small donation to the Wabash Valley Community Foundation in Tennis's name.
Beth Tevlin, executive director of the Wabash Valley Community Foundation, said Tennis is a phenomenal leader and has accomplished much during his years of service.
"Bill is the epitome of what all executive leaders hope to do for their organizations, which is to become self-sufficient," she said.
Terre Haute Mayor Duke Bennett was there to recognize the many years of service Tennis has devoted to the community. He said when he first started to pay attention to the all the things going on in the area, he noticed how Tennis had brought job growth and expanded opportunities to Goodwill Industries.
"There's a buzz in the room from all your fans and friends," Bennett said. "Your legacy speaks for itself."
Kristin Craig, president of the Terre Haute Chamber of Commerce, said Tennis has been a great community partner and longtime volunteer.
"I'm sad to see him leave, but I'm so happy that he will be able to enjoy a much-deserved retirement," she said.
About his retirement, Tennis said, "I'm just going to piddle around on my 8-acre farm, travel and take it easy. After 50 years of serving others, I'm looking forward to some free time."
Michele Lawson can be reached 812-231-4232 or michele.lawson@tribstar.com. Follow her on Twitter @TribStarMichele.