Vigo County School Board candidates addressed questions about parental involvement in curriculum, referendums, book banning and critical race theory during Tuesday's candidate forum at the Vigo County Public Library.
A packed house attended the session, sponsored by the League of Women Voters of Vigo County. Co-sponsors were the library, Terre Haute Tribune-Star, the Greater Terre Haute Branch of the NAACP and Vote Vigo.
Thirteen of 14 candidates attended, with District 1 candidate Eric Graves unable to attend due to a prior commitment.
One question stated that while most districts welcome parental involvement, recently some districts have been asked to give up control of curriculum to parents. Candidates were asked their views.
District 2 candidate Craig Enyeart responded, "Our teachers went through training and they are the experts in their classroom and in the field they got their degree. They should be treated like the experts in their field." His response drew applause.
But parents should be involved, and curriculum should be transparent so parents can have conversations with their children, Enyeart said.
District 5 candidate Mike Kuckewich responded, "Our teachers are all highly educated professionals who do a great job. We don't need to be micromanaging them." If parents have a concern, they should take those concerns to the teacher, he said.
District 5 candidate Darrell Summerlot commented, "We need to give the power back to the teachers."
All candidates were asked to respond yes or no on whether they would support future referendums.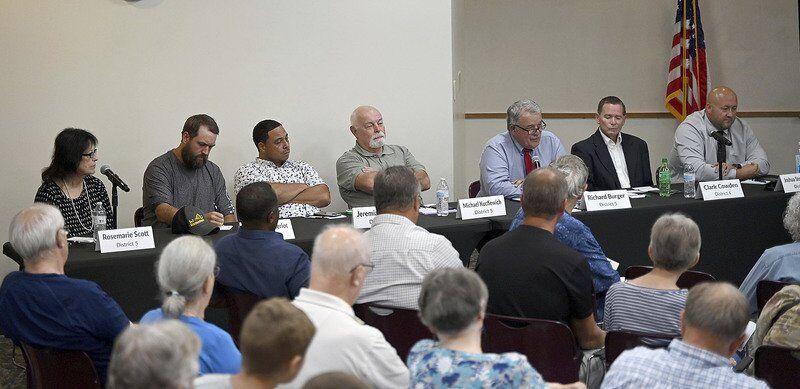 Carey LaBella, District 1, said she did support the May referendum, "and I will support future referendums" to address high school facilities.
Enyeart supported both the operational and facility referendum. In terms of high schools, "We have to do something and it is going to take money." But with future referendums, the district must make sure it's not putting family farms out of business or hurting small business.
Dillon Moss, District 2 candidate, opposed the facility referendum because of its long-term impact on property taxes. The school district should have had a Plan B, he said.
District 2 candidate James Skelton said he voted no to the facility referendum. "Moving forward, I want another referendum we can vote yes on. We all know something has to be done with the current situation we're in with our schools."
But the district must look at options that would alleviate some of the tax burden on taxpayers, Skelton said.
District 2 candidate Jim Bell said he voted no on the facility referendum because "you have to have trust in your school board. There is not trust in this school corporation and school board." For future referendums, "We've got to gain the trust back in this community."
District 4 candidate Ken Warner voted yes for the operating referendum and no for the facility referendum. He voted no on the second because "I thought it was the wrong referendum at the wrong time."
It was the wrong time to take on an expensive facility referendum when there is 40-year high inflation, labor shortages and supply chain issues, Warner said. "That is a recipe for financial disaster."
"We need to plan for the next 50 to 70 years, not the next 10 years," Warner said.
Joshua Stonebraker, also District 4, voted no on the facility referendum. "There is no transparency with the school board or school corporation," he said. "We need to know where our money is going." The district must show it is fiscally responsible.
If elected, Stonebraker said he will work to rebuild trust and show people "where the money is going."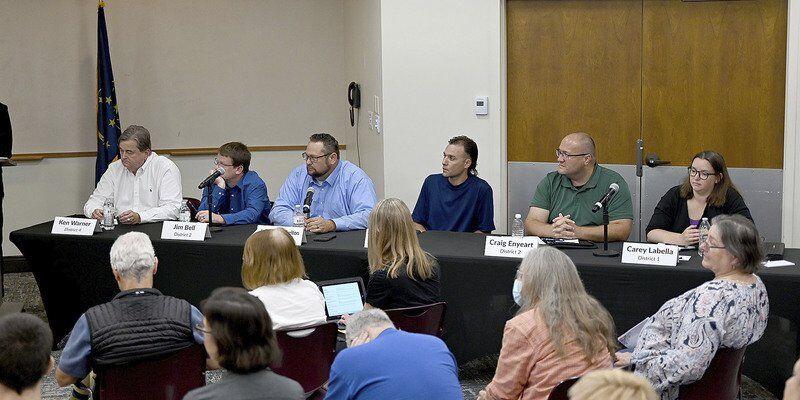 District 4 candidate Clark Cowden said some companies have chosen not to move here "because our school buildings are in such bad shape" and some families also have chosen not to move here for the same reason.
He voted in favor of the facility referendum because "doing nothing is not an option," Cowden said. The key to future success is collaborating, listening to the community and finding out what people are willing to do and pay for.
Rick Burger, District 5, supported the facility referendum "but we did learn some things from that. I think this community knows we need to do something ... What that is, I think we need to go back to the drawing board and work together."
Burger said he's a farmer and understands farmers' concerns. "I think we all need to come to the table to see how we can make these solutions happen," he said.
Kuckewich voted no for the facility referendum "basically because I have a lack of trust and I haven't seen the credibility built up in the corporation. That and I got my assessment like two days before the vote."
The high schools do need to be replaced, but "don't ask me for a big bucket of money. Explain to me where it's going," Kuckewich said.
District 5 candidate Jeremiah Menke said the district does need better schools. But he also pointed out, "We've had the FBI here, we've had people locked up ... There is no community trust," he said. "For me to vote yes, absolutely not. Do I want to vote yes, absolutely."
Summerlot voted no on the facility referendum because what was proposed "made no sense to me," he said. He agreed with candidates who said, "There is absolutely no trust in the Vigo County School Corp." Those running are hoping to gain the public's trust, he said.
District 5 incumbent Rosemarie Scott was part of the board that voted to put the facility referendum on the ballot. "What we say isn't what really matters. What matters is what the voters said," according to Scott. Voters said, resoundingly, no.
Was it the perfect plan? No, she said. She had suggested a staggered building program, rather than taking on a construction program for all three high schools at the same time.
Candidates were also asked their position on banning books.
Warner said he's generally opposed to banning books. "I think we should have age appropriate materials for our kids," he said. But in the age of internet, it's difficult to stop kids from accessing certain materials if they want access.
"That comes from the home deciding what they should see," Warner said.
LaBella, a public librarian, works with the Indiana Library Federation to protect information access. Parents should retain the right to what their kids read, and parents should be involved in what their kids read, "but we want the access to be there for everyone."
If parents are upset about a classroom assignment or a book in a library, they should ask their child to select a different book or ask a teacher for an alternative book, LaBella said
Scott commented, "I'm sitting here thinking to myself, what year is this? We're talking about banning books?"
She added, "Everyone knows we want what is age appropriate ... But the fastest way to get a kid to read something you don't want them to read is to ban it."
Candidates were also asked about funding of their campaigns and funding that comes from "dark money groups." That prompted several candidates to say they are self-funded.
Others pointed out there are requirements as far as campaign finance reports identifying the source of campaign contributions.
Candidates were also asked about critical race theory. Menke said it does get a lot of attention on a national level. In Vigo County, "If it comes to a point we have to talk about it, we'll talk about it," he said. There has to be conversation and communication.
Kuckewich said he didn't believe CRT is being taught here. But some people want to leave the ugly parts out of history. "That's kind of frightening, because what you should learn from history is that some of it is bad. We need to learn that so we don't repeat the same mistakes."
All school board members are elected at-large by voters throughout the county; voters will cast ballots for all four district seats. School board elections are non-partisan.
Rondrell Moore of WTHI-TV 10 was the moderator at Tuesday's forum.