The National Weather Service was nearly spot on with the winter storm warning it issued Friday.
It predicted 5 to 7 inches of likely snow for Terre Haute between midnight Friday and 7 a.m. today.
By about noon Saturday, Terre Haute had recorded 5.2 inches, and another inch (or even a bit more) was possible as Saturday moved into Sunday.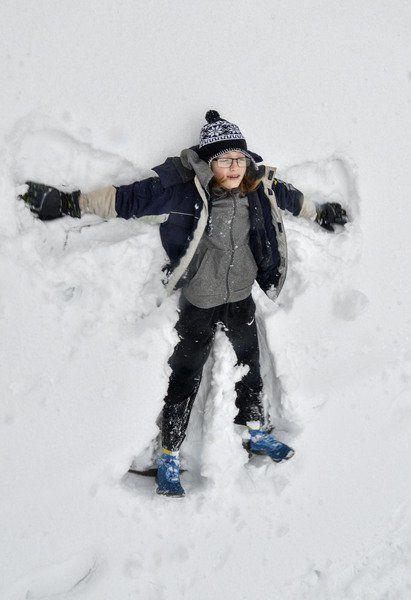 "Accumulation in central Indiana was fairly consistent at around 3 to 5 inches or slightly more," said National Weather Service meteorologist Joseph Nield. "Those numbers on the low end were from fairly early this morning [Saturday], though, so I'd say those are actually on the low side."
Terre Haute's 5.2 inches was recorded right around noon on the north side, Nield said.
"We do have a little bit more coming," he added in reference to Saturday night snow, "maybe an inch or possibly even two in some spots." 
The wet, heavy snow, which did begin about midnight Friday, caused the problems one would expect, but not as many as it might have.
Indiana State Police at Putnamville had extra troopers on hand and handled 41 calls for service, with 20 of those being road runoffs, said Senior Trooper B.J. Patterson. Auto accidents included eight with property damage, but none with injury.
Master Trooper Matt Ames said two of the road runoffs involved semis, one in Clay County and one in Putnam County. By 11 a.m. Saturday, accident and run-off calls had slowed to about normal, he added.
City police handled nine auto accidents, one with minor injury, and three run-offs, said Sgt. Mike Ellerman. All in all, people seem to slow down and handle the snow well, he said.
Snow was expected to end by this morning, with today's high hitting 34, according to the weather service. Temperatures are expected to drop into the high teens again tonight, with Monday bringing a daytime high around 32 and nighttime low of about 19. 
Temperatures will start ticking upward Tuesday, perhaps hitting 40 degrees or slightly warmer by Thursday. 
However, Thursday also brings some likelihood of rain or snow, with the chance of precipitation around 20 percent in the daytime and 30 percent at night.
Closures and cancellations were abundant Saturday, with many organizations extending those into today. 
The Vigo County School Corporation, for instance, canceled activities and closed its buildings for the weekend. Several churches announced cancellation of services and/or religious education classes today. Also canceled for today was brunch at O'Shaughnessy/Sisters of Providence.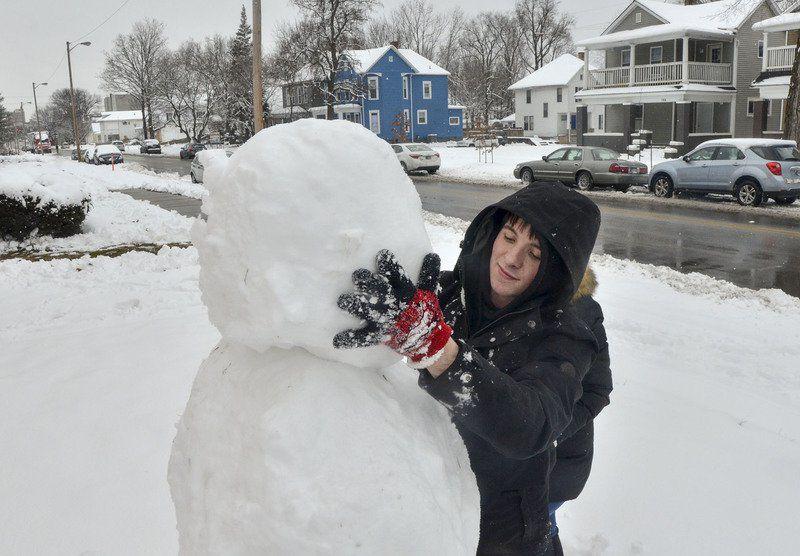 Snow play was a big hit on Saturday, this being the first substantial snowfall of the season. Deming Park was among the popular spots for sledding.
Snowmen also popped up all over town.
"It was just ... really good snow," said Brianna Atwood, who built one with Blake Wise near Seventh and Deming streets. "We came out to take out the trash and and it just fell right together, so we made a giant snowman."