Spread among four floors of the former Hulman & Co. building in downtown Terre Haute rests a collection of generations of Hulman family antiques, collectibles, books and furniture.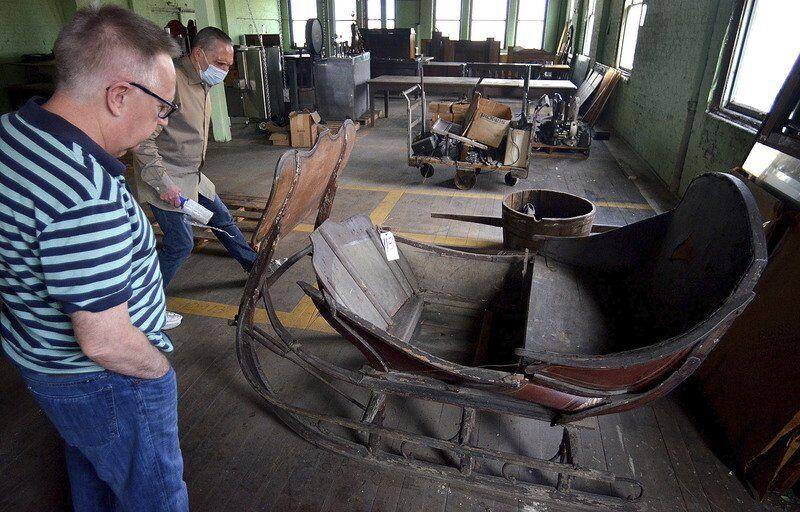 It's a family history stretching dating back to the 1800s; a history with deep roots in the city that brought Hulman & Co. and Clabber Girl.
Many of the items are part of the estate of Mary Antonia "Mari" Hulman George, the daughter of Anton "Tony" Hulman Jr. and Mary Fendrich Hulman. Mari George was the chairperson of the Indianapolis Motor Speedway from 1988 to 2016, and also of Hulman & Co.
After her death on Nov. 3, 2018, the collection was cataloged for tax purposes, and after a family decision, will now go up for auction.
"It will be an in-person-only auction" staged at the Wabash Valley Fairgrounds on June 11 and 12, said Robert J. Brown, who heads the Indianapolis-based Robert J. Brown Appraisal Services. Doors will open at 8 a.m. with the auction starting at 10 a.m. in the exhibition hall at the fairgrounds.
"We have things that were stored for years and years on the various floors" of the former Hulman & Co. building at 9th Street and Wabash Avenue, Brown said. "We made the fourth floor our main floor (for cataloging) and we hired 12 high school kids to help bring things down. We would photograph it, we would clean it and then we boxed. Everything has been boxed. It took an entire summer to do this," Brown said.
It's an eclectic collection of furniture, books, signs and family history.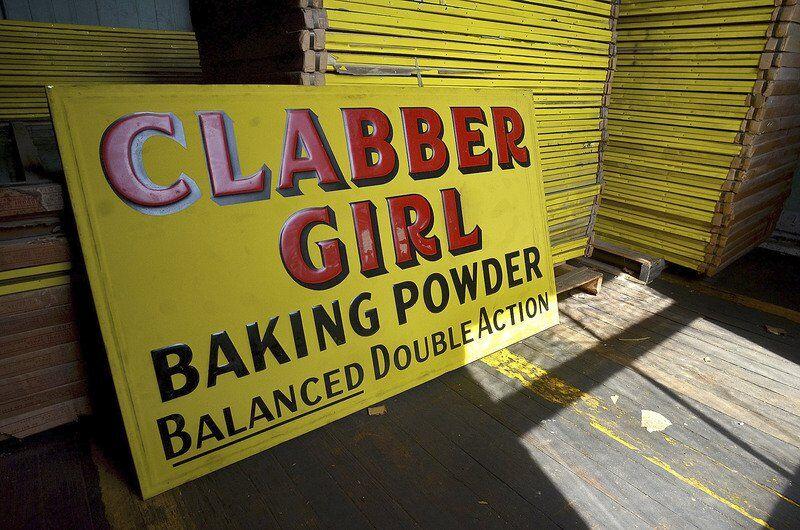 "I think the public will find it to be a fascinating look into history. It is really kind of a once in a lifetime generation to acquire some of these things that have been in the family," said William C. Metzger, the executor of the estate of Mari Hulman George.
Part of that history up for auction includes unique items such as a seven-piece Oshkosh steamer trunk luggage set with initial A.H. Jr. or with "Anton Hulman Jr. Terre Haute, Ind." Another set of luggage has a blue, white and red sticker that says "France, Transatlantique Cunard Line" for Mrs. Anton Hulman Jr. marked March 29, 1962 registered to Cabin S-16, with a final designation of South Hampton.
A lighted beer sign for F.W. Cook Brewing Co. Evansville, Ind, which started in 1853. Tony Hulman bought controlling interest of the brewery in the early 1950s. After workers went on strike in 1955, Hulman ceased operations, with the brewery closing in 1957.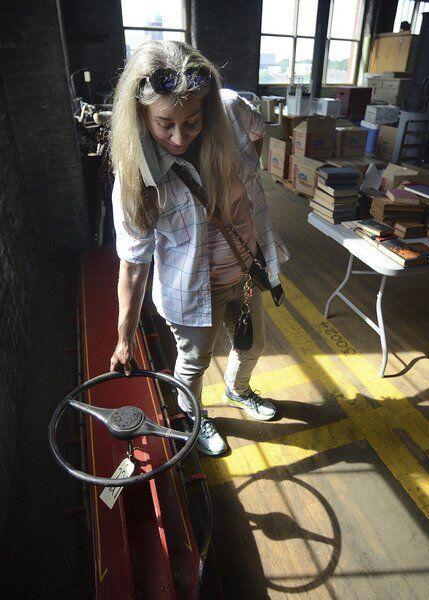 There is a 1953 Cook's Beer Goldblume calendar featuring a signed Jackie Robinson photograph. The calendar uses the slogan "America's Favorite Flavor." And there are boxes of Cook beer fishing lures.
The signature auction item is a large, hallow sterling silver greyhound in a seated position. It weighs about 32 pounds and was in Mari George's home in Terre Haute, along U.S. 40/Indiana 46. Mari George loved greyhounds, even rescuing some animals from racing. Two other cast greyhounds are from a home in Florida.
"Those greyhounds were mother's. They were outside the house in Ocala, Florida. I remember seeing them," said Josie George, the third child of Mari George, as she browsed through items Friday in the former Hulman & Co. building, now owned by Terre Haute businessman Greg Gibson.
Josie George said the family, which includes siblings Nancy, Tony and Cathi as well as other family members, "had a process, so we all got a fair chance of looking at things," which would not go up for auction.
"You just go through it and look at things one by one. I like the family history stuff," Josie George said. "I am going through books and trying to select a few for myself out of many. There is history, a lot of poetry and some very old school books from the 1800s. There is a lot to go through."
Josie George then stepped over to a long red wooden toboggan. Sitting down on it, she placed her hands on a round steering wheel.
"This is what Tony Hulman liked to do with us in the winter," she said.
"This was a toboggan that we would take to Deming Park and load all of our friends on it. Of course this doesn't steer, but it's just to hold onto for dear life," George said. "We would put lots of kids on here. I think we retired it because it probably hit a tree or two. It's got a pretty good bumper on it.
"I think we have five or six generations of people's belongs here. Unfortunately this is the end of the road for that," she said, referring to the family selling off Hulman & Co., Clabber Girl and the Indianapolis 500.
George, who lives in Indianapolis and in Wyoming, then fingered through a box of cookbooks, some owned by her grandmother.
"There are a lot of favorite recipes, some of which I know by heart now," Josie said. "My grandmother had a wonderful cook for many years. She didn't cook, but my mother did."
The collection will take 20 truckloads on 26-foot long trucks to haul the items to the fairgrounds, Brown said.
That includes an antique wine press, coffee grinders, plus an antique white enamel over metal Westinghouse Automatic electric stove. "It was one of the first electric stoves. And what makes this unique is the Westinghouse clock on the top. I would say 95 percent of the stoves you find like this are missing the clock," Brown said.
Lamps from brass, ceramic to figurine, plus tables, chairs and large metal signs for Clabber Girl, to hand-painted Dauntless Tomato Juice and Farmers Pride signs, as well as Rex Coffee and a Chicago & Easter Illinois Special Railroad sign. Also a collection of small metal racing cars used for advertising, plus unused tickets to the Indianapolis 500, pit badges, and parking passes.
"The racing cars were used for advertising. The old front engine roadster cars and there are boxes and boxes of them," Metzger said. 
Other items include a collection of fishing rods and reels; wooden telephone box with bells; sets of top hats from John Cavanagh, New York plus 10 fur coats belong to Mary Fendrich Hulman; a large Toledo scale; bear skin rug, plus mounted Elk and ram; and a ship anchor possibly from the Hulmans' yacht named Marmot.
 "We just don't know for sure on the anchor," Metzger said. "But we have an anchor."
There's also an elaborate table with an inlaid design and carved wooden legs from the 1860s or 1870s; horse drawn sleds, with a larger red sled in good condition, from 1910 to 1920, Brown said. Also a pot belly stove, Smith Premier adding machines, and original Webster Electric record players with built-in speakers.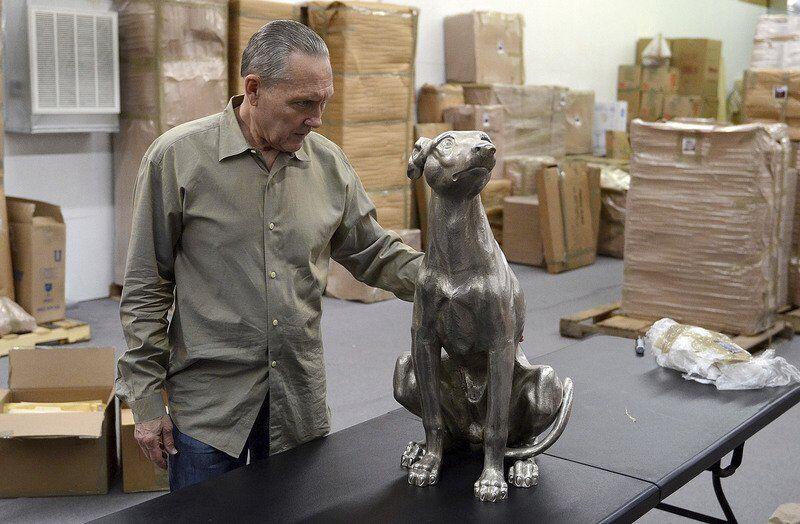 "We found these wrapped in paper on a top shelf on the 7th floor" of the building, Metzger said.
The seventh floor contained a print shop with multiple printing machines. "What they did was they printed their own catalogs. Hulman & Co. sold a variety of things, from food, parts, all kinds of things," Brown said.
"There is skid after skid of printing plates advertising Clabber Girl, advertising Cook's beer. They are anywhere from 2-by-2 to 8-by-12 metal plates. We have hundreds upon hundreds of them. Some are copper, some are brass and some are base metal. That is what was used to make the catalogs," Brown said.
"For people who are really interested in collections and antiques, there is a lot to see," Metzger said.
Reporter Howard Greninger can be reached 812-231-4204 or howard.greninger@tribstar.com. Follow on Twitter@TribStarHoward.