At age 14, Ashton Cuffman worked as a sales associate in her first job.
By age 29 she's with the same employer but now oversees 60 people as district manager for Once Upon a Child, Plato's Closet, Style Encore in Terre Haute, as well as a Style Encore in Greenwood.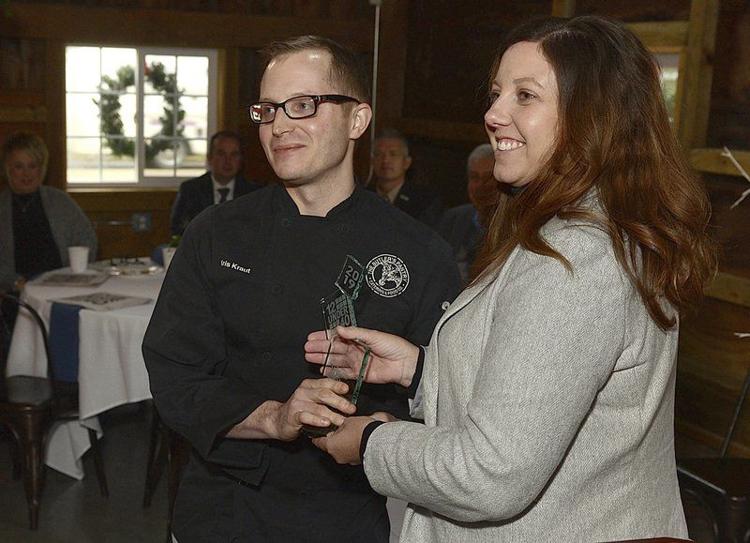 "When she walked in the door when she was 14, I didn't realize how lucky I was getting. Her sister [April] worked for me and we needed people starting a business. You don't normally hire a 14-year-old, but I thought she could do a little for us within the [work place] guidelines," said business owner Marnie McKnight.
Now Cuffman is in integral part of McKnight's franchise business.
"'No' is not in her vocabulary, because every time I say, 'Hey, want to do this,' she is like 'Yes, I will give it a shot.' She has a really positive attitude, is a good leader to staff and she cares about what she does, which is I think why I am excited about this award," McKnight said of Cuffman being a recipient Wednesday of 12 Under 40, a community award in its fifth year of recognizing young professionals for their contributions to the Terre Haute community.
"She tries to get involvement in the community and does special events like toy drives, fashion shows in nursing homes and working with CASA kids program," McKnight said.
"I feel really honored," Cuffman said prior to receiving the award Wednesday morning at the Red Barn at Sycamore Farms. "We recently partnered with Covered with Love, a local diaper pantry, and I'm really excited about that. We look for opportunities to get out into the community."
There were more than 50 nominees, which were then narrowed to the 12 recipients through the Terre Haute Chamber of Commerce and the Tribune-Star.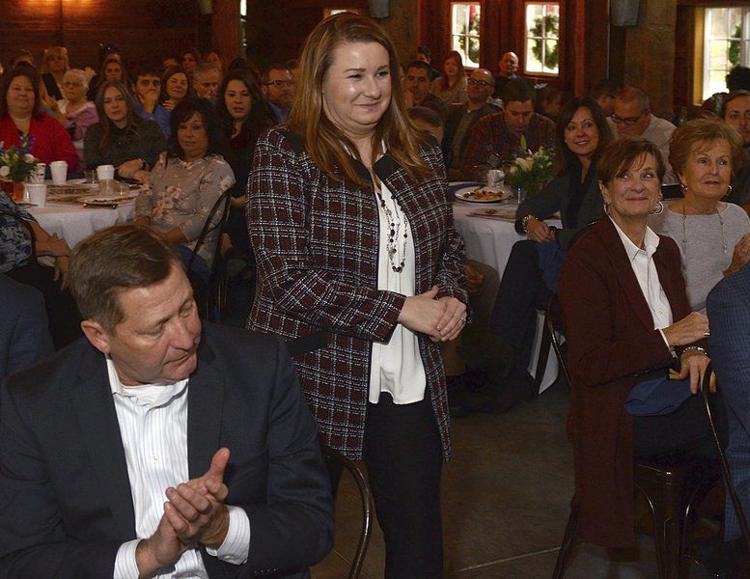 "I think this award spurred from the fact that we have four higher education institutions, we have a great K-12 system, we have a lot of young leaders in our community, and finding a way that we can recognize those people, and to tell their stories to the entire community," said Kristin Craig, president of the Chamber of Commerce.
"We have great people who have overcome great challenges and who have achieved great success in their own careers, and it is nice to spread that word," Craig said.
Doug Dixon, advertising director for the Tribune-Star, said award recipients are selected for personal and professional contributions and civic engagement.
At age 24, John Michael Major was elected to the Vermillion County Council in 2018 and, in 2019, he became the council's youngest president at age 25. He is also project manager for his family business, MSI Construction Inc.
"It was started in 1957 by my grandpa, Irvin M. Major, as The Major Lumber and Construction Company," John Major said. In 1994, the company was renamed MSI Construction by the founder's two sons, John V. Major and Irvin A.(Tony) Major, the second generation of builders and contractors.
"I am happy I can work for our family and continue on our legacy," he said.
"It's pretty crazy," Major said of winning the award. "It is a heck of an honor to be 12 Under 40 with people like Rachel Leslie (2015 when at St. Mary-of-the-Woods College), Kristin Craig (2016) and Ryan Jenkins, my former middle school teacher who got the award last year" as principal of Central Elementary in Clinton, Major said.
Lance Gassert worked as an intern in 2002 for Garmong Construction Services until graduating from Rose-Hulman Institute of Technology with a degree in civil engineering in 2005. He then moved to Tampa, Fla., joining Turner Construction, one of the largest construction management companies in the U.S. He was soon named to a senior management position, the youngest to do so in company history.
Then in 2012, Gassert made a decision for his family, becoming vice president of Garmong Construction Services.
"I want to thank my wife, Brianne, as literally without her and her support, I would not be here today," Gassert said. "I was driving home from Miami, I will never forget it. I got home and walked in the front door and I literally looked at her and said 'I've got an idea.'"
His wife, who now is a teacher at Otter Creek Middle School, asked what that idea was.
"Let's sell the house, let's pack up the kids and move back to Terre Haute, a place she never lived or been and a place I had only been in college," Gassert said. "But it was a place when I was here I knew would be a great place to raise a family. There is no better honor for me than to build in a place that I live, a place where I can be at work and be close to my children."
Other 12 Under 40 winners are:
• April Cash, Wabash Valley Health Center, outreach and enrollment specialist.
• Christina Crist, Team of Mercy, executive director.
• Hilary Duncan, Indiana State University, annual giving director.
• Heather Fortune, Wolfe's Terre Haute Auto Auction, chief financial officer.
• Kris Kraut, The Red Barn at Sycamore Farm & The Butler's Pantry Food Co., executive chef and owner.
• Mandy Lynch, Providence Health Care at Saint Mary-of-the-Woods, president and CEO.
• Cari Rohrmayer, CRMH Architecture & Commercial Interiors, president and principle interior designer.
• Nathan Vooys, Terre Haute Regional Hospital, chief executive director.
• Jenifer Wright, REX Baseball, director of human resources.
Reporter Howard Greninger can be reached 812-231-4204 or howard.greninger@tribstar.com. Follow on Twitter@TribStarHoward.