After providing an hour-long glimpse into a pioneering career in serial homicide investigation, author and retired FBI agent John Douglas had some simple advice Monday night for the nearly capacity crowd at Tilson Auditorium, many of them Indiana State students:
Find some balance.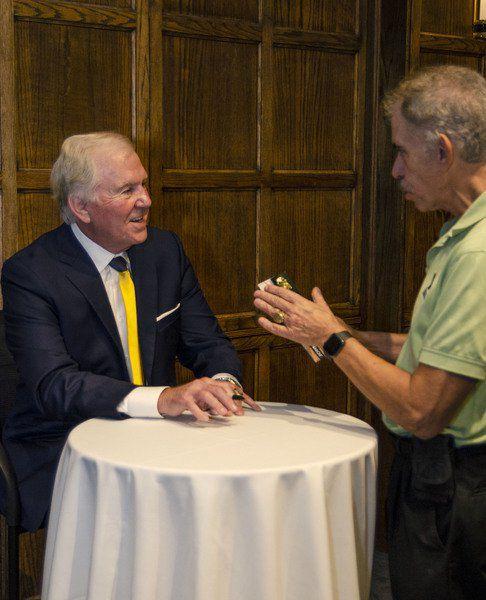 Whether it be today as a student or later in a career — find some balance, said the legendary criminal profiler, now 74.
There came a time, Douglas said, when his work was consuming him and was putting everything — family, friends, religion — a distant second.
"Look at me," he said half-jokingly. "I'm a visual aid for stress."
The humble advice, though, came after sharing pieces of life's work by he and others in the FBI's Behavioral Science Unit that revolutionized the understanding of serial killers and rapists, how to identify them and how to put them in prison.
Douglas' work has been reflected in crime dramas such as "Criminal Minds" and "CSI." He was reportedly the inspiration for the Jack Crawford character in "Silence of the Lambs." Douglas' award-winning book "Mindhunter," based on his life, was recently made into a Netflix series.
Douglas on Monday evening had some fun pointing out some of the "Mindhunter" show's breaks from the real story.
For instance, he said, he hardly ever used a tape recorder for in-prison interviews. The violent offenders that he and his partner, Robert Ressler, were interested in were just too paranoid to go for it.
And although Douglas, Ressler and Dr. Ann Burgess at the BSU did develop a 57-page protocol for the study of serial offenders, the agents did not take that protocol into interviews with them, he said. The self-involved and paranoid criminals would become suspicious of it.
Instead, Douglas said, he memorized details of the killers' crimes "upside down and backwards."
"These guys will test you within the first few minutes," Douglas said.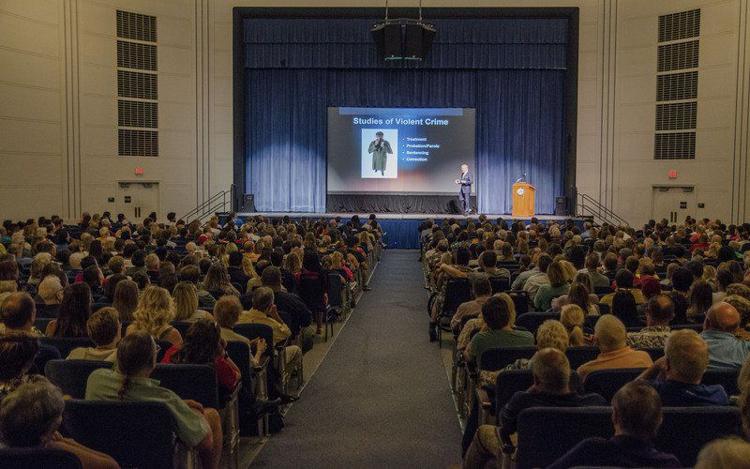 The killers want to know if the interviewer really know the case. They'll also lie and intentionally throw in false details for their own reasons, including to see if the interviewer can spot the falsehoods.
(And the real Dr. Ann Burgess, by the way, is personally nothing like the Dr. Wendy Carr character on the "Mindhunter" series.)
One killer Douglas did indicate some empathy for was Edmund Kemper, the so-called "Co-Ed Killer" who is serving eight life terms in a California prison.
While he expressed no doubt of Kemper's guilt nor any belief Kemper should be anywhere but prison, Douglas did say he believed Kemper was shaped by a horrific, abusive childhood.
"I really gotta believe if it had not been for his upbringing this never would have happened," he said.
While proud of his work and its results, Douglas made it clear criminal profiling is not a substitute for a thorough and well-planned investigation.
"It's another tool in the toolbox," he said.
Still, Douglas said, properly applied, that tool can focus an investigation, narrow the suspect pool and reduce lost investigative hours.
Douglas returned several times to the idea that good investigation relies on careful study of evidence and discernment of fact. And theory, he said, cannot be allowed to direct investigation.
To illustrate, he cited work he did on the film "West of Memphis," which probes the questionable 1994 conviction of three teenagers in the killing of three 8-year-old boys.
Confessions were tainted, "expert" forensic testimony was shown to be highly inexpert, the credentials of some of the original prosecution witnesses were sorely lacking, and much of the physical evidence was shown to be farcically interpreted, Douglas said.
Good investigation, he said, is driven by factual evidence, not over-theorizing and not desperately reaching.
Contact Mark Fitton at 812-231-4333 or mark.fitton@tribstar.com.