An FBI investigation that saw agents spend much of the day at Terre Haute's wastewater treatment plant Wednesday appears to target one undisclosed individual, Mayor Duke Bennett said.
Agents removed more than 30 boxes of items displaying dates back to 2013.
Agents working at the wastewater administration building had no comment, but Chris Bavender, FBI public affairs specialist in Indianapolis, confirmed what she described as "investigative activity in the area" but said she could not disclose the nature of any investigation.
Tim Horty, spokesman for Josh Minkler, U.S. attorney for the Southern District of Indiana, said he could not comment.
"From what we're told, it was broad-based [and)] ... we have cooperated fully with them," Bennett said of the FBI raid. "It would appear at this time, based on conversations we've had and what little information we've received, this is targeted at an individual."
The mayor said he is "pretty confident" the investigation does not involve general operations of the wastewater utility, nor a discarded plan to turn sewer sludge into diesel fuel, nor recent sewer rate increases.
But, he added, city officials, are not aware of the specific nature of the investigation.
Terry Modesitt, attorney for the Terre Haute Sanitary District Board of Commissioners, said the board would also provide any records or other information requested.
Bennett praised city staffers who work at the facility.
"We've got some great employees at the wastewater treatment plant; the whole plant operates at a very high level," he said. "I've always been very happy about what we do down there."
But he added that the city will begin its own internal investigation "so maybe we can find something maybe even quicker than they do. I want to make sure that we're as proactive as we possibly can be by looking into this same general area, leaving no stone unturned."
So far, the city has taken no disciplinary action against any employee, Bennett said, but he promised action if and when it is warranted.
"I hold everybody to a high standard – every single employee, every action that we take – and we're going to make sure that if there is anything that's not right it will be fixed," he said.
The FBI is "not telling us everything," Bennett said. "Our search is going to have to be broader. We want to look at anything and everything related to those operations."
City Council President Karrum Nasser said the investigation "has cast another dark cloud over the city and that is unfortunate. I hope for a quick resolution."
Mark Thompson, superintendent of the utility, could not be reached for comment. He was not at the plant Wednesday morning when reporters were there and did not return a phone message seeking comment.
VCSC case
Wednesday marked the second time in 14 months the FBI has raided offices of a local government in Terre Haute. A June 2016 search of Vigo County School Corp. records has led to charges against two school district employees.
Frank Shahadey, a former sheriff's deputy and school liaison officer, has agreed to plead guilty to wire fraud and theft of government funds in connection with a kickback scheme federal prosecutors say cost the school district $80,000.
Co-defendant Franklin Fennell, former director of school facilities, is awaiting trial.
It is unclear whether there will be additional defendants in the school corporation case, with federal prosecutors having said little more than "the investigation continues."
"In this case I think it's a bit more targeted," Bennett said of the FBI's wastewater treatment plant investigation. They've only went to one location; they've only asked for information related to the wastewater treatment plant."
But, "it's so broad-based it's hard to tell," he said. "We don't know exactly what they're looking for."
Big investment
Terre Haute has invested heavily in its sewer treatment facilities in recent years.
It devised and won EPA approval in 2012 for a long-term control plan to deal with combined sewer overflow problem. The plan consists of five phases at a total cost of $260 million to $270 million, with work on the final phase beginning in 2028.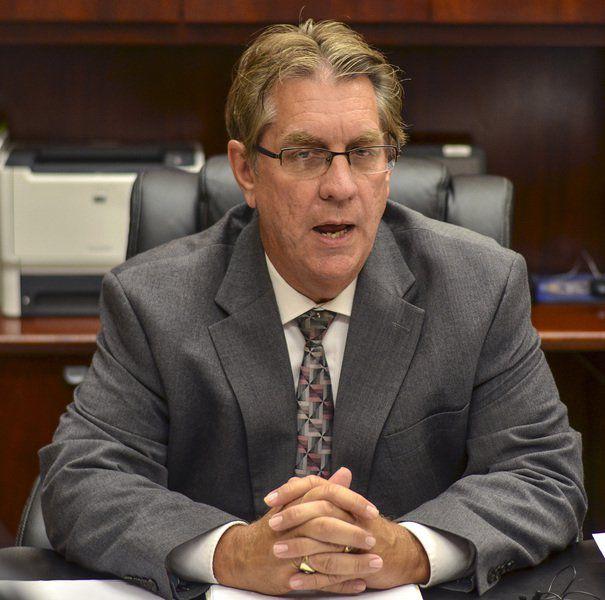 The first phase is largely complete and cost roughly $170 million; it includes the new treatment plant.
The combined sewer overflow plan is largely covered by sewer rate increases and property tax revenue.
In 2012, the city approved sewage rate increases that were to be phased in over three years — 2013, 2014 and 2015, which was a 52 percent total increase.
Then, in 2016, the council voted to raise sewer rates again, by 21 percent, in two phases over 14 months.
The city's previous wastewater plant was built in 1962, using technology that sent a "rotten egg" smell – hydrogen sulfide – into the air from the points where sewage entered the system and was stored for processing.
Dave Taylor can be reached at 812-231-4299 or dave.taylor@tribstar.com. Follow him on Twitter @TribStarDave.
Tribune-Star reporters Howard Greninger, Sue Loughlin and Lisa Trigg also contributed to this report.