While many families in the Wabash Valley gathered Thursday around the dinner table or around the TV to watch the day's slate of games, hundreds of people gathered near Regional Hospital in Terre Haute to celebrate a life ended too soon.
Cade Frey, a 2020 graduate of Sullivan High School, made the decision Tuesday to take his life. He has been on life support since then as doctors determined he qualified to be an organ donor, per Cade's wishes.
It was befitting then, that Cade was taken on Thursday, Thanksgiving, to Indianapolis to make the most of a tragic situation and give of himself so that others might live.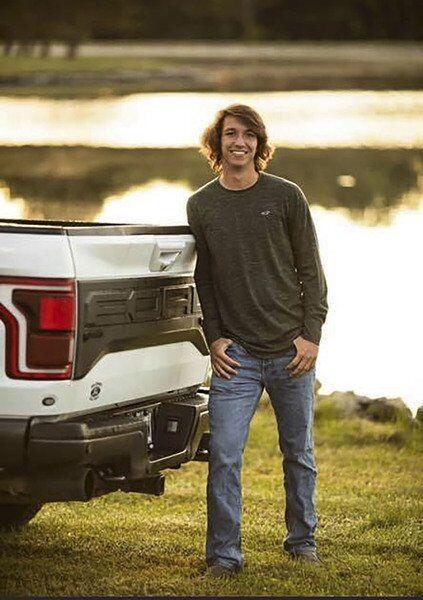 "Think of all those families today that are also crying because now their loved ones are going to get better," said Mike Frey, Cade's father, to the crowd that turned out with signs and that lined the road and honked and revved their engines as the ambulance passed by.
After the short procession, many of Cade's friends and family gathered in the parking lot near Best Buy to share memories, to grieve and celebrate.
Cade was or had been active in racing quarter midgets, riding dirt bikes, in 4-H and Beta Club. He was the light in every room he entered, family and friends said.
"He was a very active young man," Mike Frey said. "He didn't know a stranger anywhere. He had a great smile and he loved everybody and they all loved him.
"You can see that in the great words people said on Facebook or the pictures. He was an awesome kid."
Mike Frey also made an impassioned plea for other parents to "love your children, watch your children, know what is going on with them."
"His life was taken unexpectedly at his own hand, and I am not ashamed to say that," Mike Frey said. "It's an issue and it's something that needs to be talked about more.
"He had everything going for him, he was an amazing kid, he didn't have want for anything and no one ever saw this coming. But it did."
According to the Centers for Disease Control and Prevention in 2018:
• Suicide was the 10th-leading cause of death overall in the United States, claiming the lives of over 48,000 people.
• Suicide was the second-leading cause of death among individuals between the ages of 10 and 34, and the fourth-leading cause of death among individuals between the ages of 35 and 54.
• There were more than two and a half times as many suicides, 48,344, in the United States as there were homicides, 18,830.
But while the Frey family grieves for the loss of their son, brother and friend, they've found solace knowing that Cade's organs have been matched with people around the country needing a life-saving transplant.
"We've sat in the hospital the last few days with him on a ventilator for this moment," Mike Frey said. "He's on his way to Indianapolis right now (to complete the donation). In the last few days, they've found recipients all over the United States.
"I hope one day I can meet these families and tell them about him and what an amazing kid he was."
According to the Health Resources and Services Association, more than 109,000 people were awaiting organ transplants as recently as September.
And with 17 people dying each day as they await a donation and a new person added to the list every nine minutes, Cade's donation means that much more to those who will benefit.
It's in that frame of mind that family hope Cade will be remembered, as someone who wanted to help others, despite his own tragic end.
"Please don't forget him," Mike Frey asked his friends and family on Thanksgiving.
"I know I won't." 
Reporter Alex Modesitt can be reached at 812-231-4232 or at alex.modesitt@trisbtar.com. Follow him on Twitter @TribStarAlex.