Nursing and criminology students from Saint Mary-of-the-Woods College and Ivy Tech Community College put their education to the test Friday afternoon as they sorted through the mock carnage of a mass casualty drill.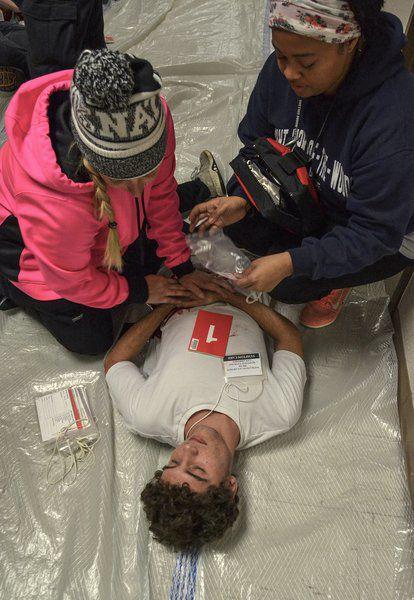 In a simulated shooting in SMWC's Hulman Hall, students worked through what its like to respond to a mass casualty event and how they can best help by working together and communicating.
Joined by officials with the Vigo County Sheriff's Office, Vigo County Emergency Management Agency and Sugar Creek Fire Department, students were tasked with navigating the scene and determining what courses of action were best based on the condition of the role players.
The event kicked off with a simulated shooting in Hulman Hall, with role players from the sheriff's office serving as the shooters.
After the shooters were neutralized, students began working through the "dead and wounded" to determine what they could and should do.
Greg Ewing, SMWC campus security director and former Vigo sheriff, said bringing professionals and students together offers each an opportunity to sharpen their skills.
"It helps us determine everything from the first officers on scene knowing what their role is going to be to the students and what their response should be," Ewing said. "Should something like this happen, they need to know what to do, be it run, hide or fight.
"By bringing this in with all the players on campus, it gives us an opportunity to get together and finalize our plan as best as we can."
Marchia Miller, Department of Nursing chair at SMWC, said Friday's exercise is months of schoolwork and planning in the making.
"We've been preparing for this for some time, but they didn't know what the disaster was going to be," Miller said. "And one of the interesting parts of it overall is that we've brought together nursing students from Ivy Tech, other students from Ivy Tech and nursing students from Saint Mary-of-the-Woods.
"And so we've brought together these different groups that have to work together, most of whom have never met before. And we think that's a really valuable part of this."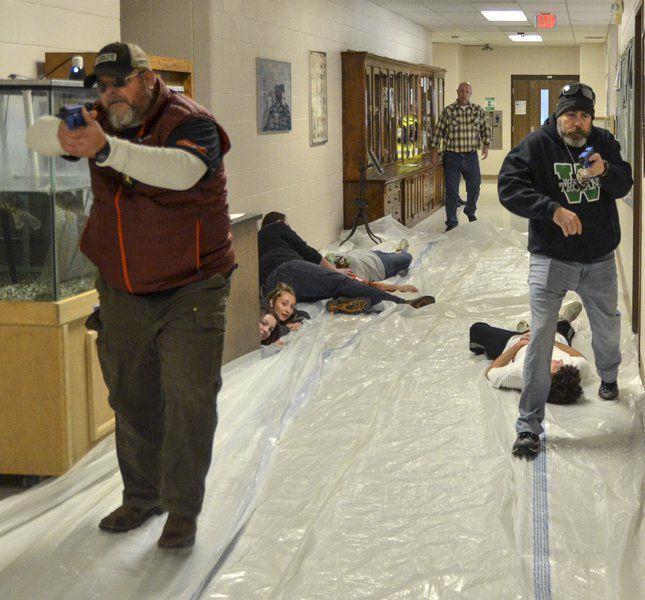 And what it requires, Miller said, is constant, clear communication between all the agency's at work.
"Communication, communication, communication," Miller said for emphasis. "It's the most important part of all this, without it won't work out."
Reporter Alex Modesitt can be reached at 812-231-4232 or at alex.modesitt@tribstar.com. Follow him on Twitter @TribStarAlex.