Students at Honey Creek Middle School saw the heart of Gene Griffin — and were invited to walk a few steps in his shoes — when he shared Friday morning what Veterans Day means to him for the school's annual program recognizing the service and sacrifice of America's veterans.
His son, U.S. Army Sgt. Dale Griffin, died in Afghanistan nine years ago.
On Veterans Day 2009, Gene and Dona Griffin buried their son at Highland Lawn Cemetery following a funeral attended by more than 1,000 people.
"Veterans Day will never be the same for Sgt. Dale Griffin. It will never be the same for me, my family or my friends," Gene Griffin said. "I hope and pray that it will never be quite the same for you."
Griffin said he never served in the military himself. His father was in the Navy and his father-in-law was in the Marine Corps. But until his son entered the U.S. Army, he said, he did not have a full appreciation for military service.
"Our son Dale walked these very halls and played football out of the field just outside your doors here," Griffin told the students. "After leaving Honey Creek, he attended and graduated from Terre Haute South and went on to receive a full-ride scholarship for wrestling at Virginia Military Institute."
His son was much like the young people who now attend the middle school, Griffin said.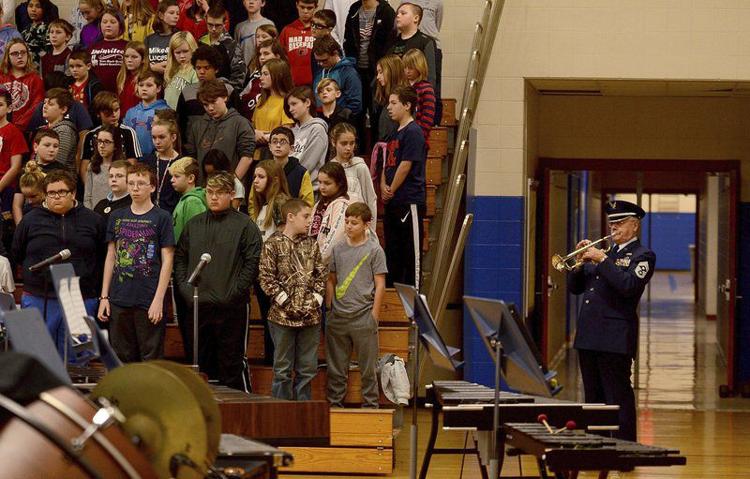 At age 25, Dale joined the Army, telling he family he felt he could "make a difference" through his service.
In July 2009, just before his 29th birthday, Dale visited his family in Terre Haute before deploying to Afghanistan.
"We had an incredible time together and took one of the best family pictures we ever had," Griffin said.
In October, Gene talked on the phone with his son in Afghanistan, and learned Dale was planning to come home for Thanksgiving.
But on Oct. 27, Gene and Dona Griffin were woken by a knock at their door, and received word their son had been killed in the line of duty.
Griffin shared his family's grief of the next few days as they went to Delaware for the arrival of their son. They were consoled by President Barack Obama, who watched and mourned with them.
The Griffins were also consoled by hundreds of people who went to Hulman Field for the arrival of their son's body on a military flight.
"The streets were lined with hundreds of people waving, crying and holding their flags to welcome their veteran and hero home," Griffin said.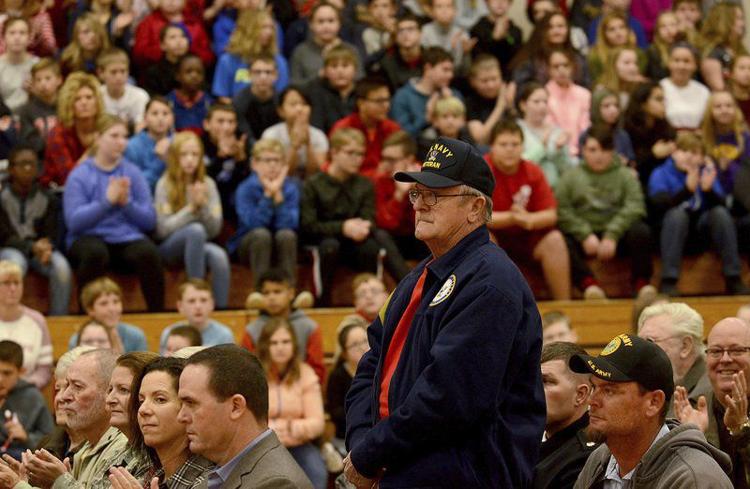 The annual Veterans Day parade in Terre Haute was turned into a funeral procession for Sgt. Dale Griffin, and the special message given at the VFW Post was very personal for the family.
He called it a "life lesson that landed squarely on my heart."
To honor their son's memory, the Griffins built an award-winning bike park in southern Vigo County that recognizes the service and sacrifice of veterans.
Griffin encouraged the students to show their respect for veterans by walking, hiking, running or biking in the park.
"And while you're at it," he said, "have a good time and remember the reason why you can have this experience — because every day is Veterans Day at Griffin Bike Park."
Friday's program was the 21st consecutive year the school has paid tribute to veterans, as well as current military, firefighters, law enforcement officers and rescue workers.
The Indiana State Police Color Guard presented the nation's colors. Student speakers led the program, and student musicians and vocalists added to the patriotic messages of the day.
Student Kyle Kennedy presented a donation from the school to the Griffins for the Griffin Bike Park.
Superintendent Robert Haworth, and Principal Michael Cox also shared their personal understandings of Veterans Day. They noted Vigo County schools will be closed Monday in observance of Veterans Day.
A video created by media specialist Karen Webb featured members of the 181st Air Guard Intelligence Wing based in Terre Haute, as they talked about their military experiences. A slideshow also displayed photos submitted by Honey Creek staff and students of loved loves who have served or who are serving in the military.
The program was organized by social studies teacher Daniel Tanoos Jr., who invited local veterans, service people, police, firefighters and first responders to the program.
Special guests also included state Sen. Jon Ford, state Rep. Bob Heaton, and a representative of Congressman Larry Bucshon.
Lisa Trigg can be reached at 812-231-4254 or at lisa.trigg@tribstar.com. Follow her on Twitter at TribStarLisa.