The Wabash Valley Crew raised money Saturday for a boathouse in Fairbanks Park with a series of events and competitions at the Vigo County YMCA.
Things started off with a 10-person celebrity race, with those celebrities racing on individual rowing machines.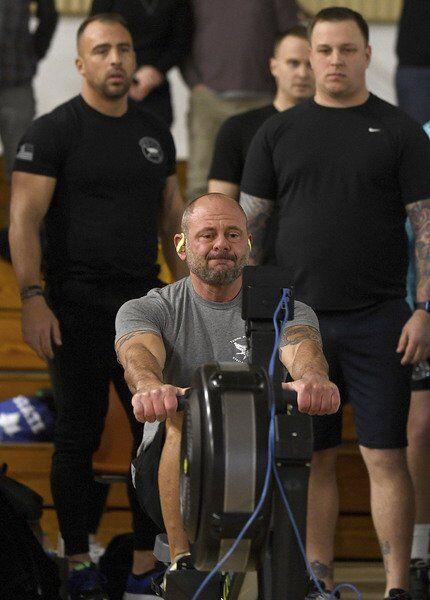 Participants were Terre Haute Mayor Duke Bennett, Vigo County Commissioner Chris Switzer, Vigo County School Corporation Superintendent Robert Haworth, Terre Haute Chief of Police Shawn Keen, Tim Sanders of WTWO, Rondrell Moore of WTHI-TV 10, RiverSCAPE President Michael Shaw, First Financial Bank's Jim Winning, "Dancing with the Terre Haute Stars" 2021 winner Michelle Hein and Tribune-Star reporter Howard Greninger.
Next up was the Corporate Race, in which five rowers from the Terre Haute Police Department, Union Health, Garmong Construction, Hannig Construction, Sycamore Engineering, Epic Insurance, B&S Plumbing, Heating and Cooling, Milestone and RJL Solutions competed. Rowers took turns for a total of 30 minutes to see how far each team could go.
In the celebrity challenge, Rondrell Moore took first place.
In the corporate challenge, the Terre Haute Police Department rowed 30 minutes in just under 10,000 meters.
A youth race followed.
Arshay Cooper, who wrote "A Most Beautiful Thing: The True Story of America's First All-Black High School Rowing Team" and also appeared in the documentary film adaptation, also appeared.
On Friday, Cooper appeared at Sarah Scott Middle School to be part of the ribbon-cutting on a pilot Ergometer Education rowing machine program. Sarah Scott Middle School received a donation of $10,000 from the Clara Fairbanks Foundation and the Wabash Valley Crew for the equipment.
Cooper's book was nominated for an NAACP Image Award and, more recently, the chosen title for Steph Curry's Book Club. Cooper was amazed when he received a call from the Golden State Warriors' shooting guard, who recently set the NBA record for 3-point shooting.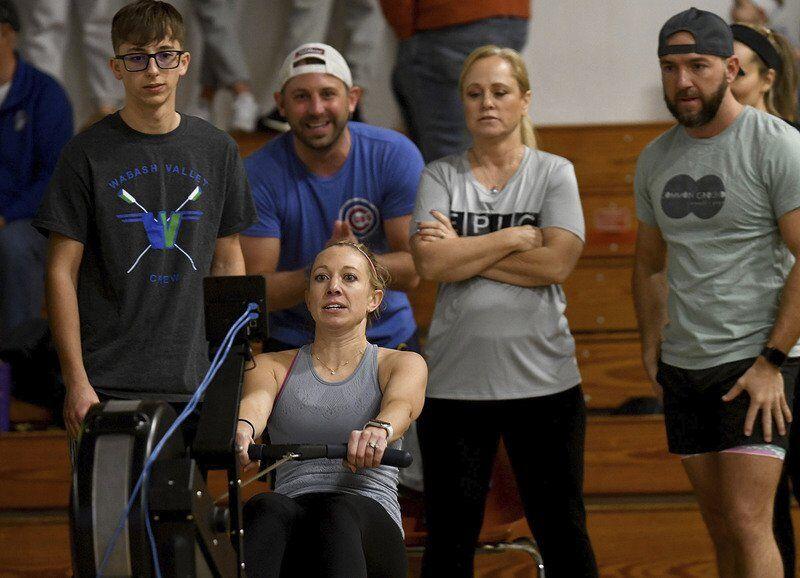 "I just wanted to put my story out there and then I got this call — it was probably bigger than publishing my book — Steph Curry wants to make my book his book club [selection]," Cooper said. "He loved this book. It was awesome to have Steph choose to have my book and to have the world hear this story."
Currently, the cost for the boathouse is a "moving target," said Jim Owen, co-founder and president of the Wabash Valley Crew. Mayor Duke Bennett is working with a company out of Indianapolis over seven different possible scenarios. The cost is expected to be in the neighborhood of $500,000, and the boathouse will be accessible to the public.
The Wabash Valley Crew's mission is to "promote all human water sports, to promote health and well-being and quality of life," Owen said. Likewise, he wants to "promote one of the area's most valuable and underappreciated assets, the Wabash River."
The river's width and straightness in Terre Haute makes it ideal for Olympic-style crew racing.
"Rowing is inherently open to anybody," as opposed to other sports that demand certain skill sets or immersion at an early age. "Rowing crew is the purist form of teamwork — there's no quarterback; you cross the finish line together at the same time, which is unusual."
Cooper agreed. "There's eight kids in a boat, and the biggest lesson I learned from rowing is, I can't do the work of eight, I need eight to do the work of one," he said. "We'll get there so much faster. You learn that lesson inside the boat and outside the boat — to truly accomplish anything in our community, we must all move as one. It's all about the magical rhythm that you learn while pulling for each other that matters."
As part of its 30th Anniversary celebration, the Wabash Valley Community Foundation has established a challenge grant through Dec. 31, 2023, which will match every dollar donated, up to $150,000, toward the funds needed.
The Wabash Valley Crew began in 2016 as a local youth rowing club and team, and also helped establish the first collegiate rowing team at Saint Mary-of-the-Woods College. Owen said he would additionally like to team up with Indiana State University and Rose-Hulman Institute of Technology, the latter of which could design and build boats. "How cool would that be?" he asked.
David Kronke can be reached at 812-231-4232 or at david.kronke@tribstar.com.