Teacher pay and K-12 public education dominated discussion Saturday morning at the year's first Legislative Crackerbarrel session at the Vigo County Public Library.
A standing-room only crowd of nearly 100 people were given the opportunity to discuss concerns with local legislators Tonya Pfaff, Bruce Borders and Bob Heaton after the first week of the 2020 legislative session.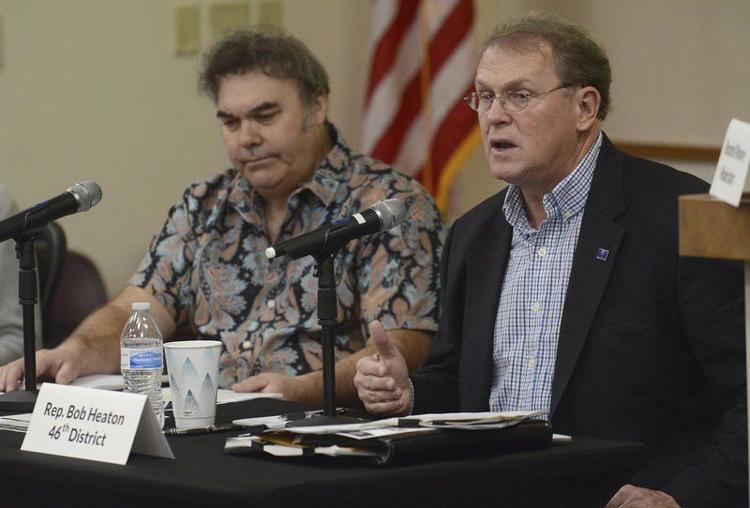 And while some asked about construction jobs and homelessness, much of the conversation centered on the state of education in Indiana.
Charlie Williams, of Terre Haute, asked the legislators their perception on where the legislature is on teacher pay and if they had a sense on how quickly the general assembly could reach a consensus on what to do about it.
Heaton, R-46, said he has little interest in seeing the state do much more than appropriating money to the various school corporations and letting them and the teacher's collective bargaining units hash out the details from there.
"You don't want the state of Indiana to start saying, 'OK, Richmond, Indiana, your teachers are going to get paid this and this teacher is going to get paid that,'" Heaton said. "We don't want to go there.
"And when I talk to my colleagues about it, we want to leave it up to the individual school district and elected school boards to make those decisions, not state legislators."
Borders, a staunch fiscal watchdog, said that unless taxpayers want to see property taxes uncapped and again be a burden to the average Hoosier, funding increases should be carefully considered, despite public education's unquestioned importance.
"We have to be careful not to go back to the same scenario we had in the past where we were basically raking taxpayers over the coals," said Borders, R-45. "... On the same token, I think we have to be cautious for the taxpayers."
Pfaff, D-43, said it's a problem easily solved if the majority party actually wanted to see it solved.
"If they saw this as a crisis it would be dealt with," Pfaff said.
She said much the same when asked about teacher shortages across the state and school corporations' inability to fill critical positions fast enough.
"I have an idea, it's about money," said Pfaff, a math teacher at Terre Haute North Vigo High School. "You can listen to all the talk about, 'We give 60% of our budget to education,' but you have to get into the weeds to find out where that's going.
"I have four children myself, and not one of them will be a teacher. It's the reason I ran. In 2010 we lost our bargaining rights, we lost our steps and a lot of us went without a pay increase for five years. How am I supposed to tell my child that's going to graduate with $40,000 in debt, 'Hey go and take a job where you're going to make $35,000 to work for an entire year?"
Heaton said he didn't have an answer, but offered that teacher shortages aren't unique to Indiana.
Eileen Prose, a retired Vigo County teacher, asked if there was an effort in this legislative session to do away with the controversial externships required for teacher re-certification.
To her delight, Heaton said House Bill 1003, authored by Jack Jordan, R-17, would change the externship language of the current professional growth experience program for teachers from a "must" requirement to a "may" option.
Reporter Alex Modesitt can be reached at 812-231-4232 or at alex.modesitt@tribstar.com. Follow him on Twitter @TribStarAlex.