Farrington Grove Elementary students eagerly eyed the items they hope to be able to "purchase" at the Tiger Attendance Store through points they earn each day by going to school.
The items included balls of every kind, backpacks, notebooks, school glue, books and even a virtual reality headset. Students will have to save up for that last one, which is 100 points.
Third-grader Jameson McCracken would like to go for the virtual reality headset, or maybe a remote control car, which is only 30 points. Asked if the stores encourages kids to go to school, he responded, "Pretty much."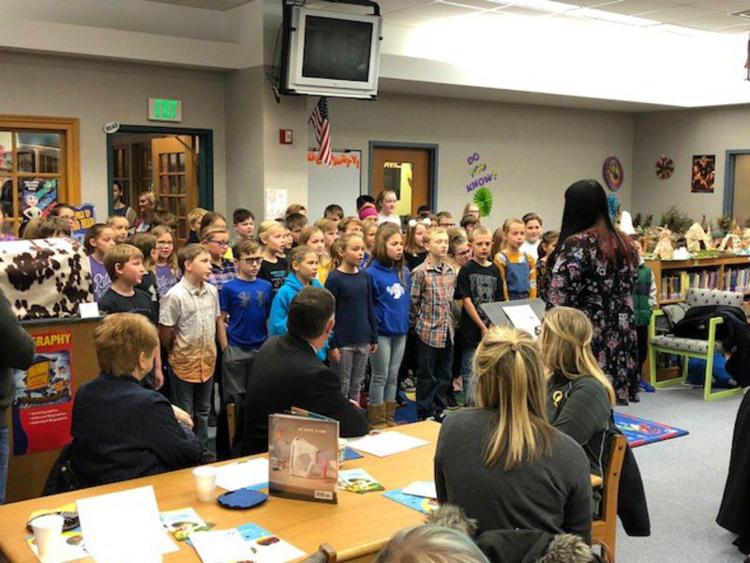 The school was one of 19 to benefit from school-wide grants given out by the Vigo County Education Foundation Friday morning during a Business and Bagels program at Riley Elementary.
The grants ranged form $1,000 to $3,000, and nearly $40,000 was distributed, said Jane Nichols, foundation executive director.
The programs could potentially impact more than 8,700 students, or about 9% of the VCSC student population.
The projects cover nearly every curriculum content area, she said.
"We have school-wide theatrical programs, language arts programs and Ben Franklin Elementary has an audio book program," Nichols said.
Riley Elementary has a literacy project called, "When Food and Fiction Collide," based on an author — Terry Border — who creates characters based on food items. Later in the school year, students will create their own characters using food items and other objects, and they'll write their own stories.
Honey Creek Middle School and Terre Haute North Vigo will use grants for makerspace projects. At North, a makerspace in the media center will give all students access to advanced technology, including a 3D printer and green screen technology.
Makerspaces are areas where students go to explore, build, create and tinker.
"It gives students opportunities to do more out-of-the-box thinking, collaborative projects and hands-on learning," Nichols said.
The grants allow schools "to do projects they wouldn't be able to do without foundation funding," she said.
It's also a year of celebration for the foundation, with 2019-20 representing the 35th year it has been awarding grants and enriching learning opportunities for Vigo County students. "At the end of this fiscal year, by June, we will have granted $3 million back to our Vigo County schools since 1984," Nichols said.
At Farrington Grove, the Tiger Attendance Store motivates children to want to go to school, said Jennifer Pike, school counselor.
"Every day they are at school they earn a point. They have to be here all day. They can't come in late and they can't leave early," she said. They save those points and then, at the beginning of the next month, they get to shop.
"The students love this. They frequently ask, 'When are we going to shop. Is it attendance store week?' They really look forward to it," Pike said.
At the conclusion of Friday's Business and Bagels, Superintendent Rob Haworth thanked those who support the foundation and its work, including donors and businesses. The $40,000 granted Friday will help children grow and learn.
"It takes them from wherever they are at and moves them forward. We are immensely thankful for that," he said.
He also made reference to last week's referendum.
"On the heels of a successful referendum, we could be joyous. We could be intoxicated with victory, but that wouldn't be right," Haworth said.
"That referendum which will help children immensely has stretched our community financially. So today, on the heels of that referendum, I think it's fitting and proper that as a school community, we solemnly, and humbly, and with a sense of gratefulness and gratitude, with one heart, thank our community for helping us and establishing this bridge for us."
Sue Loughlin can be reached at 812-231-4235 or at sue.loughlin@tribstar.com Follow Sue on Twitter @TribStarSue.