Acclaimed singer, songwriter and former America's Got Talent contestant Mandy Harvey on Tuesday inspired a Tilson Auditorium audience as part of Indiana State University's Speaker Series.
Deaf at 18 and her passion for music and singing at a crossroads, Harvey told those in attendance that, while difficult at times, not being able to hear what she was playing or singing wasn't going to stop her from finding her voice in a world without sound.
A self-described awkward kid that kept to herself and didn't talk to anyone she didn't have to, Harvey said her mother put her in a vocal course for adults at age four.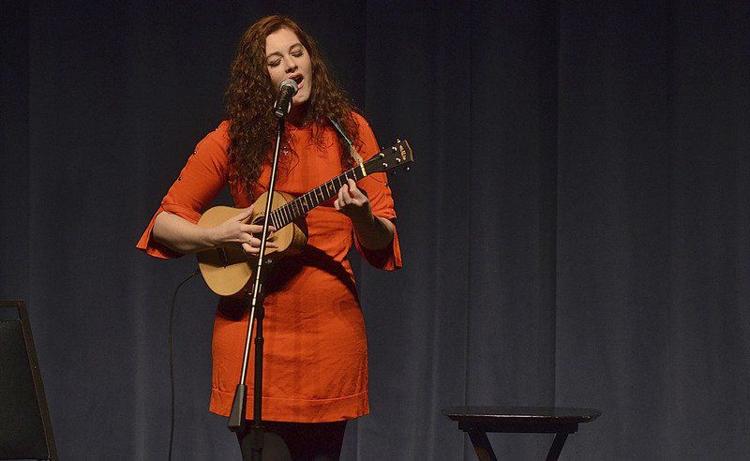 Harvey said it was in that vocal ensemble she found a group of people that only cared about making music and working together to put forward the best performance possible.
"There was never a discussion of skin color, how much money we had in our pockets, about our politics or political beliefs, it was always just working together as a team to create something beautiful," Harvey said.
"I loved that sense of community and that sense of us being a unit."
She made the choice early to make music, in at least some capacity, her life's work. Harvey said she joined every choir she could growing up, and even served as the mascot for the men's choir in high school.
Harvey decided before heading off to college she wanted to be a vocal music major, as the thought of performing in front of a crowd turned her stomach.
"However, you don't always know what you're going to do 10, 20 years in the future," Harvey said. "... I had this dream and every step of the way was planned. But when I started school, I started having difficulty understanding my teachers talking."
The effects of Ehlers-Danlos syndrome, a connective tissue disorder that sometimes leads to deafness, were rearing their head. Harvey underwent numerous surgeries to try and correct the loss of hearing and eventually turned to hearing aids, which she named Hope.
Those aids were the only hope she had in continuing her pursuit of music, she thought.
But the effects only worsened in her first year at Colorado State University and eventually the aids were of no use.
She was dropped from the music program.
"But I had made a serious mistake, that I tell you in the hope you don't make the same," Harvey said. "... I had attached my entire identity to a single dream, being a vocal music major, in this order, exactly this way.
"And so when that died and didn't work out the way I though it should, I lost myself in it. I didn't even know who I was. I had to start completely over in a world that didn't make any sense."
She credits her father in helping find a way back into music.
He asked her to sit and play the guitar with him, something they'd done throughout her childhood but now seemed distant considering the hearing loss, Harvey said. She obliged only because it was her father, she said.
"Pretty soon I stopped being pissed off that I was there and started paying attention to that when I went like this [strumming her guitar] I could feel the vibrations of the instrument through my fingertips," Harvey said.
"... The music didn't die, I just stopped paying attention."
He then convinced her to learn to sing a song, which led Harvey to covering half her body in permanent marker to note where she felt the most vibration for a given note when pitched against a tuner.
Her father was also one of her confidants that convinced her in 2017 to give America's Got Talent a try, she said.
"They asked, 'What do you want to do with your life?" Harvey remembers those close to her asking when deciding to pursue her prime-time opportunity.
"I want to encourage people. I want to show a different side of what a disability looks like and say that there is nothing wrong with being different. That we're not broken, we're just different. It doesn't matter if you have an obvious disability or different ability, every person, every single person has a barrier they're trying to get past.
"Every single person has a dream they're not sure they can accomplish or they give up on or failed at. Every single person struggles in some way. We have a responsibility to push each other forward instead of tearing each other down and stepping on each other."
In performing her original song "Try," Harvey was sent through to the live show portion of the show by Simon Cowell, who used his one golden buzzer vote of the season on her.
She finished fourth in her season.
Reporter Alex Modesitt can be reached at 812-231-4232 or alex.modesitt@tribstar.com. Follow him on Twitter @TribStarAlex.