For the second time in as many years, a semi driver on Interstate 70 inadvertently killed a fellow motorist and faces but a traffic violation that carries a potential $500 fine.
Indiana State Police say Pierre St. Jean, 70, of Saint-Charles-Borromee, Quebec, is responsible for the March 16 wreck on Interstate 70 that killed a 20-year-old Reelsville man, Morgan Johnson.
St. Jean has been charged with driving too fast for conditions, a Class C infraction that carries a maximum $500 fine but no jail time.
Police said they and a local wrecker service were working to pull a tractor-trailer that had blown a tire from the median near mile-marker 10 just after 9 a.m. March 16.
The effort caused traffic to back up, police said. St. Jean approached the backup but failed to recognize the slowed/stopped traffic and barreled into the rear of a sport utility vehicle that was towing a recreational trailer.
St. Jean's semi continued into the passing lane, striking Johnson's car. The force of the collision pushed the car into a stopped semi.
Upon impact with the stopped semi's trailer, Johnson's car caught fire.
In all, two semis and five passenger vehicles were involved in the accident.
Vigo County Prosecutor Terry Modesitt said the accident was thoroughly investigated by state police and that nothing St. Jean did constituted a criminal act.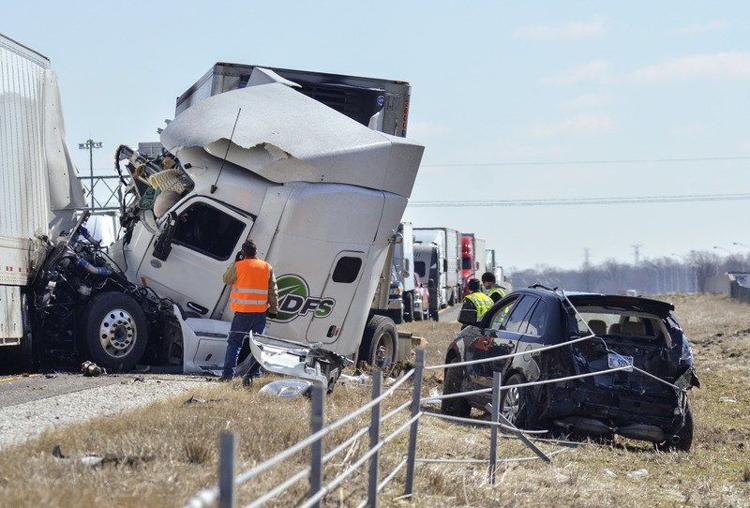 "As he approached the accident he was going about 62 miles-per-hour before slowing down to about 41 miles-per-hour when the accident happened," Modesitt said. "So, essentially, we couldn't prove that he did anything out of the ordinary other than just being negligent."
And while gross negligence can in some instances amount to a criminal act, Indiana's Supreme and Appeals courts have ruled that criminal negligence while driving a motor vehicle is only found when there have been gross deviations from the traffic code — such as ignoring traffic signals at a high rate of speed or intentionally crossing the center line without a legitimate reason.
Not paying attention to what's ahead or driving distracted do not qualify as gross deviations, previous court decisions have decided.
"We are governed by the laws of Indiana. And in this case there's not anything specific enough that met what exactly happened in this accident that would constitute a crime," Modesitt said. "The laws have given us a fairly narrow scope to work in this area. Unfortunately, accidents as bad as this one happen where no one committed a crime."
The accident involving St. Jean and Johnson caused a miles-long backup that stretched back to the 17-mile marker where a second fatal accident happened.
Semi driver Joe L. Robinson Jr., 49, of Indianapolis, dropped his sandwich, bent to pick it up and failed to recognize the backup at the 17 mile marker.
He tried to avoid a collision by swerving into the left lane. By that point it was too late, police said, and the semi struck the rear of another semitrailer driven by Michael A. Workman, 30, of Glendale, Arizona.
The fuel lines of Robinson's semi ruptured, causing the cab of that truck to become engulfed in flames. April Robinson, 45, of Indianapolis, was in the sleeper berth of Robinson's tractor-trailer during the accident and was pronounced dead at the scene by the Clay County Coroner's Office.
In that same wreck, Charles T. Tolbert, 52 of Yuma, Arizona, received severe neck and back injuries and was flown to a hospital in Indianapolis. His injuries were non-life threatening, police said.
Tolbert was located in the sleeper berth of Workman's tractor-trailer and received serious neck and back injuries from the impact of the accident.
The drivers of both semi tractor-trailers were not injured, as both were wearing a seatbelt at the time of the accident, police said.
Modesitt's decision to file an infraction against St. Jean mirrors the decision recently made by Clay County Prosecutor Emily Bookwalter Clarke in a 2017 crash that killed two children.
Clarke charged Amritpal Singh, a semi driver from Quebec, Canada, with a pair of infractions for following too closely and driving too fast for the conditions. The charges stem from a July 2017 accident in which Singh failed to slow for backed-up traffic near the 16-mile marker on I-70, according to Indiana State Police investigators.
Singh struck the rear of a van driven by Christina Bereda, of O'Fallon, Illinois. His semi was going approximately 62 mph at the time of contact, police found.
The impact killed Brennen Bereda, 5, and Finley Bereda, 16 months. Mother Christina Bereda and son Jorden, 3, were severely injured.
Singh is scheduled to appear at 9 a.m. June 10 in Clay County Superior Court.
Reporter Alex Modesitt can be reached at 812-231-4232 or at alex.modesitt@tribstar.com. Follow him on Twitter @TribStarAlex.