If there is a race between Terre Haute and Danville, Illinois, to see which city will be first with a casino, Danville is in the lead, a member of that city's casino steering committee said.
"As far as the timing perspective, I think so," said Vicki Haugen, president and chief executive officer of Vermilion Advantage, a business and economic development organization.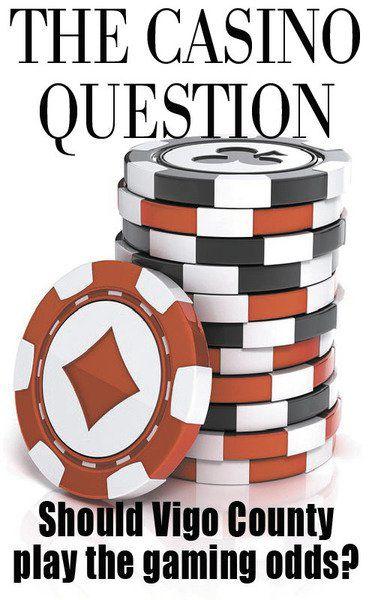 Haugen cited the requirement for Vigo County voters to approve a Nov. 5 referendum before any casino plans can move forward. Illinois has no such requirement.
But Terre Haute officials downplay the idea of a "race." Mayor Duke Bennett said the city is in a good position for a casino and industry observer Ed Feigenbaum, publisher of Indiana Gaming Insight, agreed.
Solicitations of interest to prospective operators of a Danville casino went out Wednesday and responses are expected in about a month. An operator selected by the city must then apply for a state gaming license by Oct. 28.
A sweeping expansion of gambling in Illinois, signed into law last month by Gov. J.B. Pritzer, contained such a tight timeline largely for one reason — the state needs money, Haugen said.
While the Illinois Gaming Board can take up to 12 months to act on a license application, "the generation of revenue is going to be at the forefront of all involved in making those decisions," she said. "Hopefully that will translate into an expedited timeline without compromising the due diligence that must go on."
About a half dozen operators have expressed interest in a Danville casino, Haugen said. She said she could not identify the operators and declined to categorize them by size or experience but said "the real big guys, the Harrah's [and] the Bally's" will focus on Chicago, which is in line for a downtown casino.
Danville casino size?
Feigenbaum suggested the Illinois Gaming Board will be "overwhelmed" by the extent of gambling expansion and will look first to OK new licenses in larger markets, such as Chicago and its suburbs.
Danville and Chicago are among six Illinois communities in line for new casinos while gaming is to be added at horse racing tracks. Sports wagering is being permitted, slot machines have been approved for Chicago airports and additional gaming terminals are in store for other businesses and organizations.
Such a major expansion means "the market may well be saturated," said Feigenbaum. "If you get a casino in Danville at all, without even looking at what's happening in Vigo County, it's going to be a very small facility."
Indiana law requires a minimum investment of $100 million in a Vigo County casino. Terre Haute officials have estimated such a facility would create 500 construction jobs and 300 to 400 permanent positions.
Danville is also eyeing a $100 million facility, but with a projected 400 construction jobs and 700 to 800 permanent jobs.
Feigenbaum called the Danville job numbers "pretty optimistic," saying, "You're really not looking at a destination complex."
The massive gambling expansion in Illinois may result in less interest in both Danville and Terre Haute, Feigenbaum said.
While acknowledging Terre Haute's entry into the casino arena changes things, Haugen disagrees with Feigenbaum's characterization.
"There's still a viable market and [Danville] is a good location to create a destination center."
Danville officials have identified a site very near Indiana state line — at the Lynch Road exit off Interstate 74 — as the best location for a casino. More than 500 hotel rooms are available at that site.
Possible Terre Haute advantages
At Terre Haute, local businessman Greg Gibson, vice chairman of Spectacle Entertainment, identified a location near the new Home2 Suites by Hilton hotel near Interstate 70 and Indiana 46 on Terre Haute's east side for a possible casino.
Spectacle is expected to apply for the Vigo County casino license as part of a plan that reduces the number of licenses in Gary from two to one.
Full House Resorts, operator of the Rising Star Casino and Resort in Rising Sun, Indiana, also repeatedly has expressed interest in a Terre Haute operation.
Both Spectacle and Full House already operate in Indiana and are known to state regulators, Feigenbaum said.
"Our gaming commission is not going to be preoccupied with trying to license casinos in [other cities]. There's just one casino on the table," he said.
Mayor Bennett said he has already spoken with the commission.
"They are being both thoughtful and strategic with their timeline, understanding the most recent moves Illinois has made," he said in an email. "Pending a positive outcome on the referendum, I believe we will be ready to be aggressive with our timeline and ready to partner with the state … and the chosen casino operator to move forward quickly."
The Terre Haute Chamber of Commerce provided a statement from President Kristin Craig saying, "The plan for Terre Haute remains the same, no matter what is happening elsewhere.
"We will continue to educate local voters on the benefits of the project, successfully pass the referendum locally and then work with the Indiana Gaming Commission to finalize the details of the project."
Following passage of a casino bill, the chamber has slightly shifted its focus, Craig said.
The organization will be reaching out to members and the general community "on the many economic benefits of a casino and how it can help grow business in not just Vigo County but throughout the region," Craig said.
Dave Taylor can be reached at 812-231-4299 or dave.taylor@tribstar.com. Follow him on Twitter @TribStarDave.
Jennifer Bailey, a reporter with the (Danville) Commercial-News, contributed to this report.