A COVID-19 emergency response team, created in April through the Terre Haute Chamber of Commerce's West Central Indiana Business Hub, will soon survey businesses once again, seeking to determine if revenues and employment has improved amid the global pandemic.
The business hub first assembled results of a survey in June.
Indiana Lt. Gov. Suzanne Crouch was briefed on the efforts in a visit to Terre Haute on Tuesday.
"I haven't been made aware of other COVID-19 response task forces in other communities. I would suspect that there are some but probably needs to be one in every single community in the state," Crouch said. 
"Again, Terre Haute is rising to the top and being proactive and taking the initiative and not waiting for people to come and fix the problem, but they are coming together to determine how can we best help people in this very challenging time."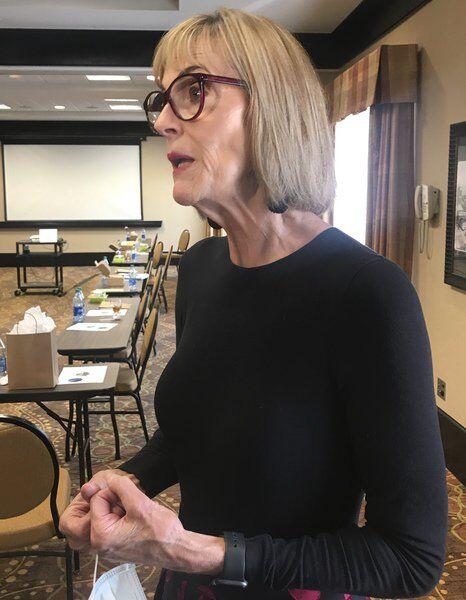 The hour-long meeting included Terre Haute business leaders as well as Mayor Duke Bennett and state Sen. Jon Ford, R-Terre Haute.
Crouch asked how the state could help business and asked if the number one issue is money for recovery.
"Money is an important part of it," said John Collett, president of  Wabash Valley Asphalt and a board member of the Terre Haute Chamber of Commerce.
"But, from a business standpoint, all these businesses need the ability to be let go (to fully operate) as soon as they can be ... then you will really see things improve, not just hobbling along," Collett said.
Crouch said the state, facing a 25 percent reduction in general fund revenues, cannot directly provide money, as the federal government did with a payroll protection program. Rather, Crouch suggested the group seek ways that the Indiana General Assembly, "with the governor, can roll back regulation.
The West Central Indiana Business Hub COVID-19 Emergency Response Team's most recent survey report was June 3.
In that survey, 66.7 percent of surveyed businesses said they had to lay-off employees or reduce work hours of employees. Of those, 18.2 percent said 11 to 25 full-time workers were impacted, while 11.4 percent said 26 to 50 full-time employees were impacted, with 2.3 percent reporting that 51 to 100 full-time workers were impacted.
The survey also found that 68.2 percent of businesses had less than 10 full-time employees impacted.
The estimated revenue loss due to COVID-19, according to that survey, had 15.4 percent estimating $25,001 to $50,000; 6.2 percent estimating $100,001 to $200,000; and 26.2 percent at more than $200,000. However, 20 percent said it was too early to determine revenue loss; while 21.5 percent estimated revenue loss was $5,001 to $25,000; and 7.7 percent estimating revenue loss at less than $5,000.
That survey also asked that without financial assistance, how likely is it that a business would permanently close due to COVID-19. The survey found 4.7 percent of businesses said it was very likely they would close without financial assistance, while 9.4 percent stated it was likely they would close; 31.3 percent stated they were not sure; and 54.7 percent of businesses stated they were not likely to close.
Additionally, 16.7 percent of businesses estimated it would take six to 12 months for them to return to business to pre COVID-19 sales and staffing; while 21.2 percent thought it would take up to three months; 25.8 percent stated it would take three to six months; and 19.7 percent estimated one to two years. Another 16.7 percent were not sure, according to the June survey.
Kristin Craig, president of the Terre Haute Chamber of Commerce, said another survey will soon start.
The goal behind the COVID-19 response team, Craig said, "was to really assess what is happening in our community. We did a lot of work initially when the pandemic really was hitting our business community hard - in March, April, May and a little bit into June. Some things we were trying to access was workforce, are you having to lay off employees, and what does that look like. Also, do you have revenue loss, and what does that look like," Craig said.
"Now after a few months, we are going back to those businesses, asking them to complete that survey again so we can compare it to where we were at a few months ago, but also learn what businesses are still experiencing several months into this crisis and help us be able to plan for the future for a year, or at least two years," Craig said.
Craig said the federal payroll plan was essential in helping many businesses through the pandemic, "however, now we are looking at the long term. What is consumer confidence going to look like in the long run. Are people going to want to return to restaurants in masses like they did before? It is a little too early to answer that question… but I think we will find businesses are hanging on, but may have to change a few things."