A proposed plan for the first major improvements to the Vigo County Industrial Park in 20 years calls for more than $2.6 million of upgrades.
However, improvements could top $3 million after additional improvements were suggested from members of the Vigo County Redevelopment Commission, which overseas the industrial park, as well as the Vigo County Industrial Park Phase II, which includes the former Pfizer property.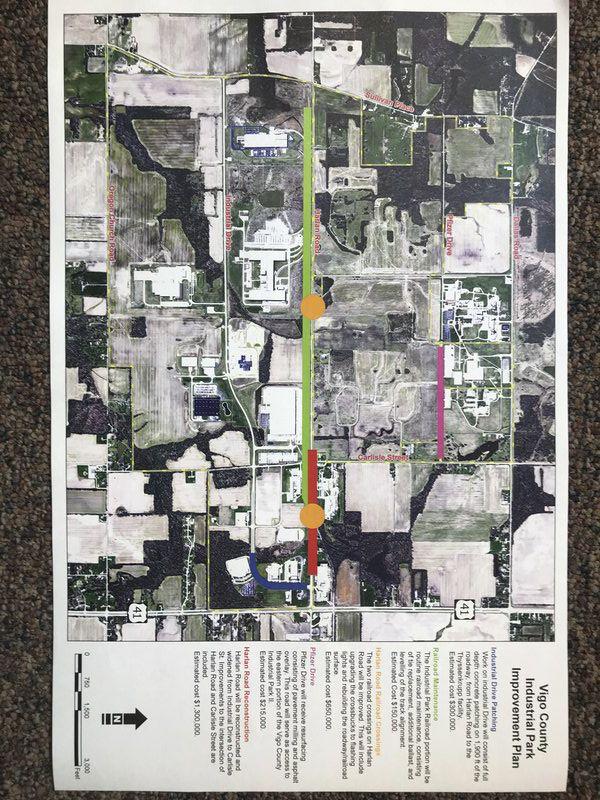 Since 1999, the Redevelopment Commission has accumulated nearly $3 million in available funds from a number of Tax Increment Finance (TIF) districts established for companies such as Heartland Steel, now Steel Dynamics Heartland after a 2018 purchase; Thyssenkrup; and CertainTeed, now Allura.
Dave Pluckebaum, engineer with the Corradino Group, recommended five major improvements. They include:
• Full depth concrete patching, about 10 inches deep, on 1,900 feet of Industrial Drive, from Harlan Road to the Thyssenkrupp facility. This will cost an estimated $300,000.
• Routine railroad maintenance consisting of rail tie replacement, additional ballast and leveling of track alignment for the industrial park railroad section, costing an estimated $150,000.
• Improve two railroad crossings on Harlan Road, including upgrading crossbucks to flashing lights and rebuilding the roadway/railroad surface at an estimated cost of $650,000.
• Resurfacing asphalt pavement with milling and asphalt overlay of Pfizer Drive. This road will serve as access to the eastern portion of the Vigo County Industrial Park II, which is the former Pfizer property. This has an estimated cost of $215,000.
• Reconstructing Harlan Road and widening the road from Industrial Drive to Carlisle Street. Includes improvements to the intersection of Harlan Road and Carlisle Street. This has an estimated cost of $1.3 million.
Commissioner member Rick Jenkins suggested additional study on costs be made to include drainage under the full depth concrete area as well as adding water lines along Carlisle Street. 
Commission President Rick Burger suggested tearing down of an industrial park sign, saying it is no longer needed and the area needs to be cleaned up. A potential new lighted sign could be added in the future, Burger said.
Jenkins also recommended the commission's attorney look into forming an industrial park association. Steve Witt, president of the Terre Haute Economic Development Corp., said there are about seven to eight different subdivisions in the industrial park, all of which have slightly different covenants that each state an association could be formed by the Redevelopment Commission.
Witt suggested contacting companies in the industrial park to gauge support.
Jason Semler, accountant for Baker Killy Municipal Advisers, said industrial park captures about $10 million of assessed value. The Redevelopment Commission, however does pass through about $6.5 million in assessed value on a Staple TIF, as bonds for improvements made to attract that company are paid. 
If the commission did not capture the $10 million in assessed value, it would result in about a 1 cent reduction on various tax rates in the county.
However, Semler said the county would be required to use income taxes or a property tax bond to make the now needed improvements to the industrial park. The TIF districts allow the Redevelopment Commission to make needed improvements without additional taxes, Semler said. The TIFs currently collect more than $1.2 million annually to pay off bonds for improvements made to attract companies to the industrial park.
Reporter Howard Greninger can be reached 812-231-4204 or howard.greninger@tribstar.com. Follow on Twitter@TribStarHoward.