Construction of the new downtown Terre Haute Convention Center remains on track and slightly under budget.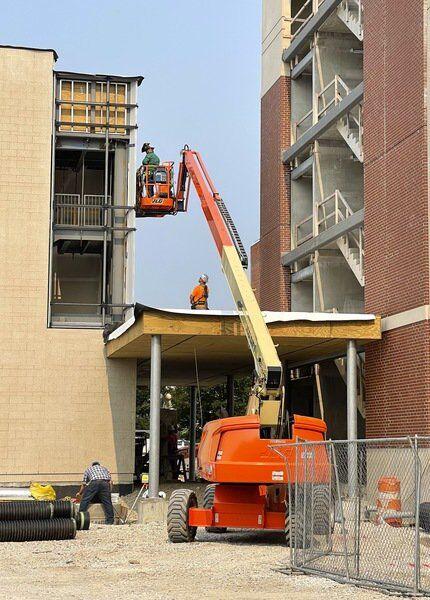 Brian Kooistra, chief operating officer at Garmong Construction Services, said that while a completion date of April 27, 2022 remains, the convention center project could be completed sooner, however, he told the board he is holding off on any new completion date until closer to the end of this year to ensure some building materials arrive as scheduled.
For the convention center, interior limestone has been installed in the pre-function area, which is along Wabash Avenue, Kooistra said. Glass installation is about 90 percent complete, with glass now being installed for the Larry Bird Museum section. Also, elevator installation is 50 percent complete, Kooistra said.
Three large temporary air conditioners have been installed to keep down any moisture buildup as the building becomes more enclosed.
"We brought them in to dehumidify the space and get it under temperature control without having to run the permanent units," Kooistra said.
For the adjacent parking garage, "We are days away from being 100 percent with pouring all the concrete. Floors five through two are all poured and we are working on the ground level now. We had a lot of progress and been able to pour a lot of concrete this month," he said.
Roof installation over stair towers and elevator shafts is underway, "with two elevators in the parking garage, with that material arriving (earlier this week) so that installation will start," Kooistra said.
"In the next month, the exterior of the building will be getting substantially complete," he told the board. "Drywall finishing has begun and we will install temporary doors at the front entrance and rear entrance to start to really enclose the building and secure it and allow the building to acclimate temperature and humidity-wise," Kooistra said.
"Probably later this week, exterior improvements are going to begin. We will start on an area between the convention center and the Cooper Bar with underground storm drainage to put in, grade that area, sidewalks and pavers," he said. "Also, next week, we will start on the connector (along Wabash Avenue) to the Hilton Garden Inn."
Money matters
The project's guaranteed maximum price has increased $296,269 due to a construction change order. That price is now $26,535,109. Jason Semler of Baker Tilley, an Indianapolis accounting firm, said the change order cost is covered in the project's contingency budget.
Semler said the county had its strongest month in July for collections for its food and beverage tax. "So for the same seven month period for 2021 compared to 2020, you about $200,000 more in collections than last year," Semler told the board.
The entire project cost, which in addition to construction includes design and professional fees, plus furniture, fixtures and equipment as well as costs for utilities and a Larry Bird Museum, remains at $34,891,153, which is unchanged since the start of the project, Semler said.
The project is about $213,000 under budget, but Semler said he expects other monthly miscellaneous expenses to reduce that amount. The project started with a $710,472 contingency budget and has more than $414,000 remaining to be spent if needed.

New logo, sign plans
Additionally, the Vigo County Capital Improvement Board approved a new logo to be used to market the facility.
"It is an architectural rendering that really showcases the facade of the building, a lot of integrate details there, but will also transfer nicely into embroidery pieces which Spectra [Venue Management] intends to use for a lot of their clothing and hats," said Vittoria Meyer, vice president of communications for RJL Solutions, which worked on the logo design.
The logo color is navy blue.
"I believe, and Spectra as well, that this will compliment the interior of the building understanding that the warm tones will probably fit nicely with the interior," Meyer told the board.
Mayor Duke Bennett said next month he has asked that a presentation be made to the CIB on signage to direct the public to the convention center.
"For a couple of a years now we have been working on a broader picture," the mayor said after the meeting.
"The (Indiana) 46 corridor kind of came in first because of the strategic planning out that there is going on, but it fits into this overall way-finding project that we are doing," the mayor said.
"I have asked the committee to present to the CIB for signs that will have some connections to (Indiana) 46, but also on Third Street and I-70 that will direct people to ISU, the Children's Museum, the convention center etc. — so bigger signs. Then there will be smaller signs as you get closer to these venues."
Other progress
Tennille Wanner, general manager of the convention center for Spectra Venue Management, met with an official at Indiana State University, saying the university has 3,000 rooms available during the summer from empty dormitories for conferences "which is really fantastic....that is a welcome inventory there," she said of available housing.
"They have single units and doubles and shared facilities and individual rooms with private bathrooms, so that offers the ability to house 3,000 people during the summer for more conferences," Wanner said after the meeting. "So when the hotels here downtown are full, we have overflow on the university."
Wanner also told the board the Spectra plans to hire a director of operations by next week for the convention center.
Todd Shaffer, senior project manager for the Nations group, said because the existing Indiana State Office building at Eighth and Cherry streets will not be converted into a Marriott hotel as originally proposed, a redesign of that exterior as a plaza will be submitted to the board next month as a change order in the project.
"It all flows and brings in people from (Indiana State University) campus and will be able to access the parking garage from the north side of the convention center, so it is an integrated design now," Shaffer said.
The CIB next meets Aug. 18.
Reporter Howard Greninger can be reached 812-231-4204 or howard.greninger@tribstar.com. Follow on Twitter@TribStarHoward.