The first day of March 2022 is the new projected completion date for the downtown Terre Haute Convention Center.
And the convention center already has five potential events that could generate $250,000 in gross revenue in the next two years.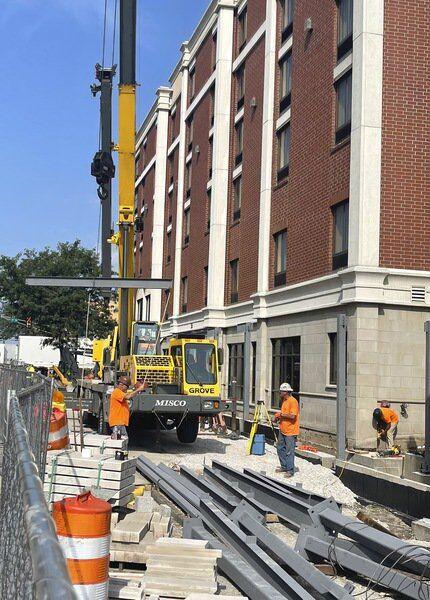 "We feel we are running about two months ahead of schedule and are comfortable moving that [substantial completion] date up to March 1, 2022," said Brian Kooistra, chief operating officer of Garmong Construction. The original completion date had been April 27, 2022.
"Things are definitely moving as planned or better than planned," Kooistra said.
And while construction continues, marketing events are already underway.
"We have five events that we are working on that we have got in our funnel. Two events are for 2023 and three for 2022," said Tennille Wanner, general manager of the Terre Haute Convention Center for Spectra Venue Management.
"These are prospective events still, but I have issued proposals to them, so they are not in a contractual phase yet," Wanner told the Vigo County Capital Improvement Board (CIB).
However, one of the conventions, Wanner said, "does look very good. We have the Professional Fire Fighters Union of Indiana that is looking pretty strong for us," Wanner said. "Out of the five events, we have almost 2,000 room nights that are associated with the five events and nearly $250,000 in gross revenue.
"So that is pretty exciting for still being quite a bit a way from opening and we have a small [event] funnel going," Wanner said.
There is also a temporary web site now functioning, at www.terrehautecc.com and a booking software is expected to be in place within 30 days, Wanner said.
Additionally, Wanner said Spectra has hired Brady Kearns as its director of operations. He starts in the position on Aug. 30. Kearns has worked as a lead technical services assistant at Hulman Center and Tilson Auditorium facilities with Indiana State University and has experience in venue management, stage management and event support and audio and video experience. He has 17 years experience at ISU.
Spectra also expects to hire two more positions — a sales manager and director of finance — for the convention center within the next two months, Wanner said.
In other business, the CIB approved its first budget for 2022. The more than $5.2 million budget estimates the board will spend the exact amount as its revenues for a balanced budget. Jason Semler of Baker Tilley, an Indianapolis accounting firm, said some construction cost savings for the convention center will leave a cash balance of more than $1.5 million in 2022, which could be used for unanticipated costs on the convention center if needed.
Semler said the CIB still has more than $13.7 million of its more than $34.8 million construction budget remaining to be spent.
The proposed budget next goes before the Vigo County Council for approval.
The CIB also approved its finance committee proceeding with requests for proposals for sponsorships and naming rights for convention center areas such as the main hall, board room and signage. It will also issue RFPs for a banking facility with ATM. The proposals will be presented to the full board for review.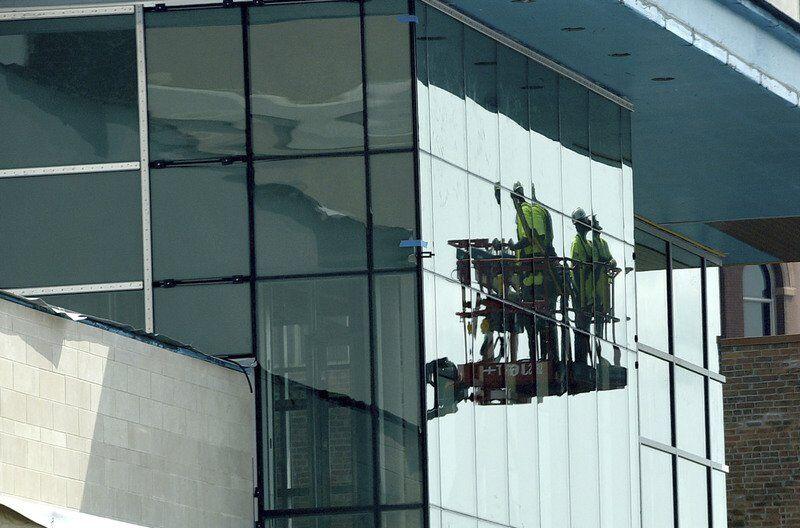 Construction progress
Workers on Wednesday began installing steel for a covered connecting walkway between the convention center and the Hilton Garden Inn, Kooistra told the CIB. Also, glass installation for the convention center is substantially complete.
Soffit installation is underway and gutters and downspout installation has begun. Additionally, painting in the interior pre-function area has started.
A kitchen exhaust hood has been installed and installation of the front and rear entrances is underway. Additionally, a limestone sign installation at the main entrance has been started.
In the convention center parking garage, electrical installation work is underway.
"The electrical room has equipment being installed and electrical conduit for lighting is being run throughout" the garage, Kooistra said.
Also, stair handrails are being installed and the "slab on grade will start up next week. All that remains is the ground floor of the parking garage to be poured," he said.
Other work includes installing a roof over the parking garage stairs and elevator shafts.
On exterior work, "you will see a lot of work taking place over the next couple of months in terms of finished grade, sidewalks, pavers, asphalt paving, curbs. We are really in a sprint to get all of that work done, with a goal of the end of October. That gives us a little bit of leeway into November if we need it," Kooistra said.
"We are definitely in a push to get all of the side work, including landscaping, done this season," Kooistra said.
Reporter Howard Greninger can be reached 812-231-4204 or howard.greninger@tribstar.com. Follow on Twitter@TribStarHoward.