Facing a health care crisis unlike any in past 100 years, the medical community in the Wabash Valley rose to new challenges this past year, maintaining quality while also handling surges of the COVID-19 pandemic.
"We are fortunate to have outstanding health care in the Wabash Valley," said Steve Witt, president of the Terre Haute Economic Development Corp. "Local hospitals have been stretched to the limit in regard to COVID-19, and we can see how vital it is to have high quality health care available."
Care systems are not only vital to public health, he said, but also to the economic and social health of a community.
Union Health, Terre Haute Regional Hospital and Hamilton Center Inc. are all big employers in the Wabash Valley, Witt said. And, together with more than 300 other health care and social service agencies, they provide services across west-central Indiana and eastern Illinois.
"And with physician practices and other health care facilities like Wabash Valley Health Center, health care is an integral cog to area and local economy," he said.
"Having health care facilities that are readily available, and the professional physicians and nurse practitioners and others who comprise the universe of health care employment, are vital to our economic development efforts," Witt said.
Also, the health care industry includes many well-paying careers, which leads to income locally spent on goods and services.
During the past five years, the health care and social assistance sector has gained about 450 jobs, having the highest average employment by any sector. Among physical locations, health care has more establishments than any sector other than retail trade.
Growth in the local health care community was also evident during the past year with expansion of services in already established facilities and practices, and in the addition of a new medical clinic for veterans on the city's east side.
"Taking care of our veterans is not only an honor, but is essential," Witt said. "And being able to do that in our community is important. In the past, veterans had to go to another geographic location for some treatment, and now will have folks coming into our community to take advantage of our new facility."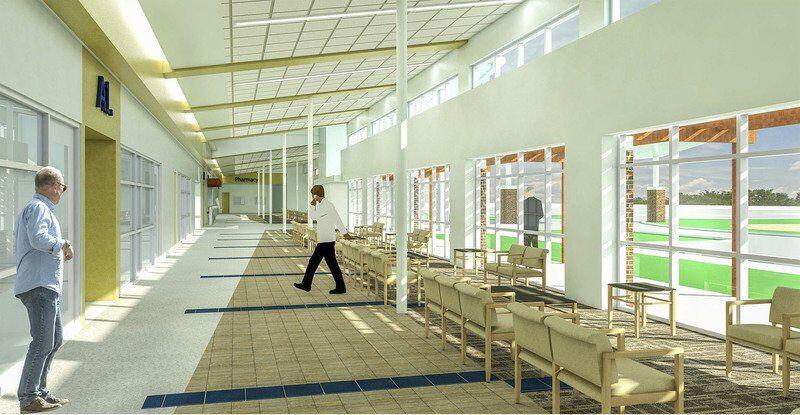 The new VA clinic
The new Terre Haute Veterans Affairs health clinic is on track for a November opening on the city's east site and will help bring more health care services for local veterans under one roof.
"This is a significant investment in the community and in the veterans of the Wabash Valley," said Julie Web, project manager for the VA.
The 46,000 square foot facility was built at a cost of $40 million, using a significant amount of local materials and local labor force, Webb said.
In the past, a smaller veterans medical clinic on the city's south side provided some care, while other services were contracted to providers. That will no longer be the case.
About 80 staff members will be hired and trained to provide services to an anticipated annual client load of 8,000 to 10,000 veterans.
The new clinic will provide primary health care, expanded physical therapy, as well as the added services of optometry, audiology, lab services and a dispensing pharmacy.
Mental health services will include substance abuse, PTSD, depression and other areas of care.
Ground was broken in late summer 2020. While it had been scheduled for a late summer opening this year, supply chain challenges have pushed the opening to November.
As of mid-September, Webb said the contractor was finished with the property and the VA was in the process of adding furniture and equipment, and hiring and training staff.
The center is located a 5080 Bill Farr Drive, behind the Walmart off Indiana 46 and U.S. 40. The 12-acre site has abundant parking, Webb said.
Congress approved funding for the Terre Haute facility in 2017. The project was formally unveiled at a December 2019 event in Indianapolis.
Health care education
Another impact of the medical community in the Valley are the educational resources for doctors, nurses, medics and other professionals.
"We have a lot of medical education going on in the Terre Haute area," said Dr. James Turner, medical director of the Lugar Center for Rural Health, which located in the Landsbaum Center on the Union Hospital campus.
Health care education is available at Indiana State University College of Health and Human Services, Ivy Tech Community College nursing and practical nursing program, the Saint Mary-of-the-Woods College nursing program, and the Indiana University School of Medicine residency program, which emphasizes rural medicine training for family doctors.
"We are a hub of high-level medical education,  and a fair number of these medical professionals end up practicing where they are trained," Turner said.
In 2003, a collaboration by Indiana State University, Indiana University and Union Hospital resulted in the Landsbaum Center for Health Education. The center provides educational facilities to second-year medical students as well as nursing and other health care staff.
The center offers opportunities for health improvement and team learning through partnership and multi-disciplinary education that incorporates occupations such as social work, applied medicine and rehabilitation, health sciences, kinesiology, recreation and sport.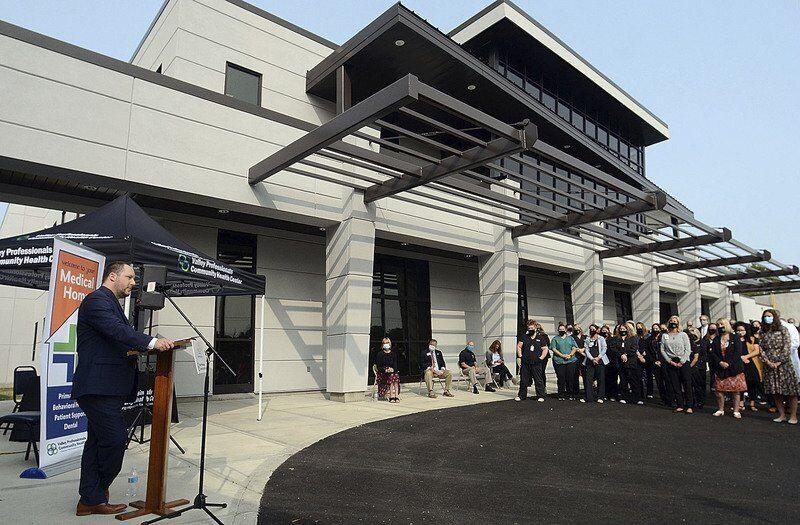 Hospital and clinical settings
Terre Haute Regional Hospital and Union Hospital have been major medical providers in the community for decades. Their in-patient and out-patient care is supplemented by providers including Hamilton Center Inc., a regional behavioral health system; Harsha Behavioral Center, a psychiatric hospital; as well as Wabash Valley Health Center and Valley Professionals Community Health Center.
Regional Hospital is a 278-bed community-based medical center with comprehensive medical and surgical programs. The hospital is now a Level 3 trauma center after five years of operating a Level 2 center. It continues to provide many of the services it had maintained during its certification as a Level 2 trauma center.
Regional identifies itself as a regional medical center to more than 300,000 people in a multi-county, two-state area.
Regional became a primary stroke center in 2018, with the goal of delivering clot-busing medicine in the emergency room within 60 minutes to reduce the negative impacts of strokes.
Union Hospital is a 343-bed facility in Terre Haute with a Level 3 trauma center. The hospital is part of the Union Health System, which includes Union hospital Clinton, a 25-bed critical access hospital, and the Union Medical Group, which consists of more than 130 providers and 20 specialties practicing at multiple locations throughout western Indiana and eastern Illinois.
Union's neonatal intensive care unit, or NICU, is the largest Level 3 unit in a 70-mile radius and was the first NICU established in the state.
Since the start of the COVID-19 pandemic, Union has operated the community's COVID-19 incident command center to answer questions from the public and monitor the status of the pandemic in the community. A cooperative effort developed with Regional Hospital, the Vigo County Health Department, the Vigo County School Corp. and higher education institutions, emergency services, the county's Emergency Management Agency, mental health providers and skilled nursing facilities.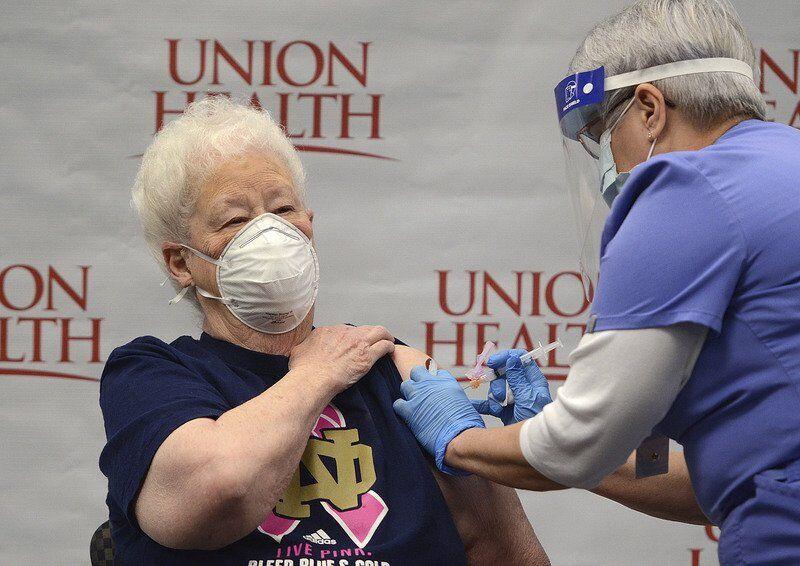 Federally qualified health centers
In response to the COVID-19 pandemic, Valley Professionals Community Health Center implemented protocols to limit risk of exposure. These efforts included mobilized HVAC system air sterilization, UV light room sterilization, glass barriers at each location, and separating sick patients from patients with wellness visits.
As the health center ventures toward life after the pandemic, strict procedures such as universal masking, social distancing, and the use of personal protective equipment remain in place.
Valley Professionals' operations have also continued to advance by adapting and meeting the need for virtual connection. Patients are eligible to engage in telehealth services, meeting with their medical or behavioral provider through a digital platform. Valley Professionals also stays engaged with patients and the community by focusing on health education through hosting virtual panels on medical topics, live diabetes education classes, as well as videos and blog posts with health center providers.
"The pandemic has undoubtedly caused a disruption to healthcare and the way we deliver care to our patients. I envision telehealth and remote patient monitoring as the future in healthcare operations. The pandemic has really taught us that patients enjoy getting care from the comfort of their homes. At Valley Professionals, we are working on ways to build this technology into our practice so patients have the options," said CEO T.J. Warren.
As a federally qualified health center, Valley Professionals cares for patients throughout west central Indiana in Vermillion, Parke, Montgomery, and Vigo counties. Services include primary care, behavioral health, patient support, pregnancy and family care, dental services, and addiction services.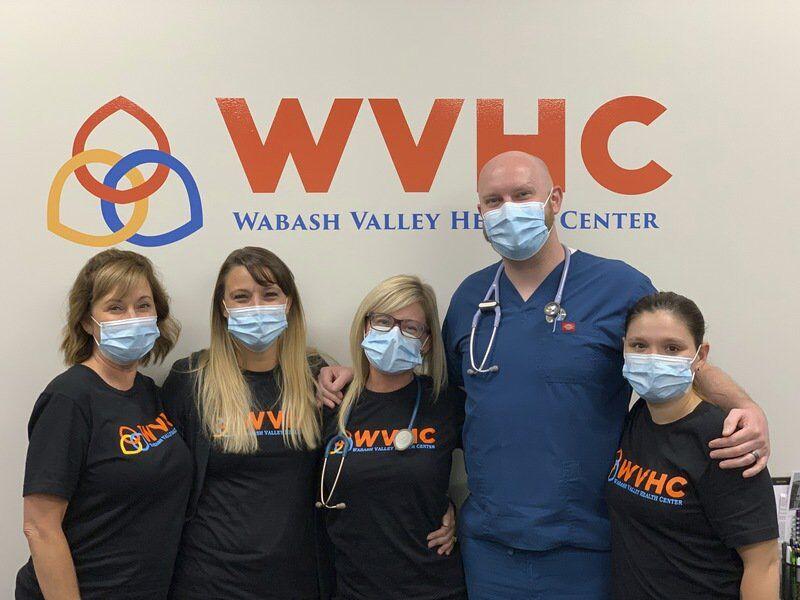 Wabash Valley Health Center
Wabash Valley Health Center is situated in the Ryves Neighborhood of Terre Haute. It grew from humble beginnings as a local clinic operated by the Sisters of Providence in a former parochial school.
During the past two years, the facility underwent a $4 million expansion, adding and renovating clinic spaces, expanding patient waiting areas and improving access to the building and parking areas.
Wabash Valley Health Center is a Federally Qualified Health Center (FQHC) providing an array of services. The clinic sees patients of all ages and accepts most insurance including Medicaid and Medicare. The health center has a sliding fee scale discount available for those who qualify. The discount applied will depend on the number of people who live in the home and the amount of income combined for all living in the home. No patient is turned away for inability to pay.
The WVHC team includes physicians, nurse practitioners, and a physician assistant. Along with our clinical support staff, these providers works to provide comprehensive evidence-based care for all ages. The center puts a great emphasis on prevention and overall wellness.
Wabash Valley Health Center offers COVID-19 vaccinations for eligible persons.
A wide range of pediatric services are available for acute and chronic health conditions. Children require individualized, developmentally appropriate care from an experienced staff trained in pediatric health, so the staff pediatrician and clinical support staff work diligently to provide comprehensive evidence-based care.
Overall wellness starts with a healthy mouth. The center provide general dental services to people of all ages. Available dental services include x-rays, examinations, routine and deep cleanings, fillings, extractions, dentures, root canals, and crowns.
Behavioral health care services are provided onsite through a partnership with Hamilton Center and are available for anyone currently receiving primary medical care at Wabash Valley Health Center.
Wabash Valley Health Center places an emphasis on outreach and health insurance enrollment. The center has licensed navigators and certified application counselors. This is a free service available to anyone in the community.
The clinic is open 7:30 a.m. to 6:30 p.m. on Mondays, and 8 a.m. to 5 p.m. Tuesdays through Fridays.
Wabash Valley Health Center is located at 1436 Locust St. and can be reached at 812-232-7447. More information is available on Facebook or the website at www.wvhc.org.
Behavioral health providers
The Wabash Valley is home to a network of services offered by Hamilton Center Inc., and by Harsha Behavioral Center, a physician-owned hospital that treats children and adults with behavioral and addictions issues.
Hamilton Center opened in 1971 for outpatient services and has steadily grown to add satellite offices in 10 other counties in west central Indiana.
Services are provided to children, youth and adults, with specialized programs for expectant mothers, infants and people who may be struggling with stress, life changes or relationship issues, as well we more serious problems of depression, anxiety disorders and serious mental illnesses.
Harsha Behavioral Center opened in 2008 and is located just south of Terre Haute in a state-of-the-art acute care hospital. Inpatient services provide treatment to up to 81 individuals needing 24-hour intensive psychiatric care.
The Harsha staff specializes in behavioral health, autism, substance abuse and severe psychiatric cases.
Lisa Trigg can be reached at 812-231-4254 or at lisa.trigg@tribstar.com. Follow her on Twitter at TribStarLisa.