Sullivan County is mourning the loss of three North Central High School sophomores who were killed in a single-vehicle crash Friday afternoon.
The three Farmersburg residents have been identified as Thomas K. Jaroscak, 16, who was driving; Kegan T. Ennen, 16, and Tyson A. Boyll, 15, both passengers.
According to Sullivan County Sheriff Clark Cottom, all three boys died immediately from injuries sustained in the crash, which happened about 2 p.m. Friday on County Road 1100 North near County Road 500 East in northeastern Sullivan County.
Early indications are the car was traveling east on County Road 1100 when the driver lost control; the car then ran off the road and struck a tree. There are no preliminary indications of alcohol or drugs being involved, the sheriff said.
The sheriff's office continues its crash investigation along with Indiana State Police accident reconstructionists and the Sullivan County Coroner's Office.
Community gathers
The Northeast School Corp. has announced a vigil will take place at 3 p.m. today in the main gym of North Central High School. Counselors will be onsite and available.
Materials will be available for students to write memories to leave with the families. The school district also invites people to bring photo memories to display and leave for the families.
"Northeast Schools would like to encourage everyone to remember these families as they mourn their loss. Please keep them in your thoughts," the school corporation said in a statement.
Meanwhile, about 50 people gathered outside the Sullivan Courthouse on Saturday afternoon for prayer and to share memories of the three teens. The prayer circle was organized by Mezmariah Wilson and Susan Howard, members of Abundant Grace church.
Wilson began with a prayer. "Dear heavenly father: We gather here on this day to pray for the families and friends of the boys we tragically lost. We pray that you give their families and friends peace and healing during this tragic time. We hope that you, our Lord Almighty, will show anyone that is affected by this that they are not alone in this time."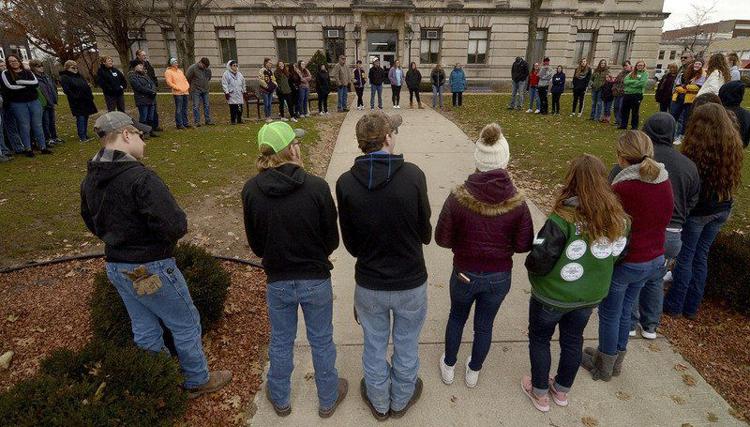 While those close to the three boys shed tears, they were still able to share happy and funny memories.
Among those who spoke was Abbie Pirtle, girlfriend of Kegan Ennen, who was a North Central football player.
"He was my everything," she said after the prayer circle ended. "He didn't deserve this. He was so good to everybody. He was such a good boy. I'll never, ever forget our memories. I'll always hold him so close to my heart."
Ennen entered her life when she was going through a difficult time.
"He put all the pieces back together," she said. "He showed me true love."
She relayed a story of how he once used two coat hangers to form a heart shape, and he attached words to a song he had written out that said, "She's everything to me." Pirtle described how he carried it around at school.
Pirtle was at work when she learned Ennen had been killed in a crash.
"That's my boy," was all she could say upon learning the terrible news. She went to the scene of the accident. "I was heartbroken. It's the toughest time of my life."
To have so many people gather Saturday to provide support "means the world," Pirtle said. "He was the most caring, special person I could ever have. I hope he can hear me. 'You were my best friend, Kegan.'"
Also attending the prayer circle was Abbey Wardell, who shared memories of Tyson Boyll.
"Everytime I saw him in the lunchroom, he'd always have the biggest smile on his face," she said. "He was so tall, you couldn't miss it."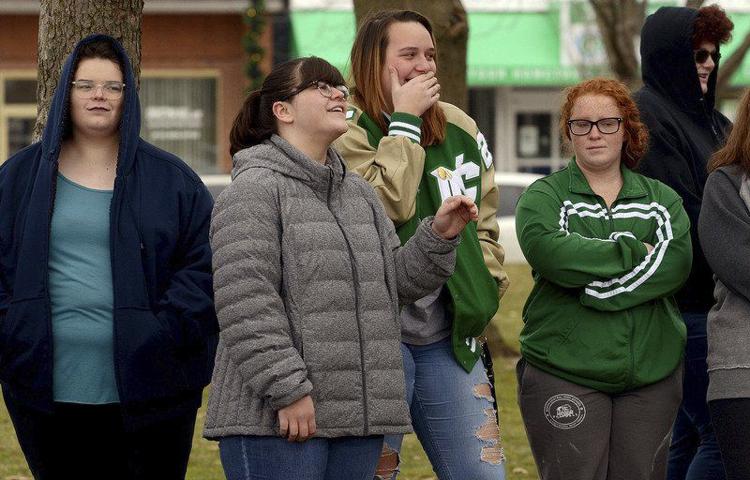 Annie Smith, a Sullivan High School student, remembered Boyll, a former boyfriend, as "just the happiest kid. He was always smiling."
David Cox, who also attended the event, said his son was good friends with Boyll.
"I loved Tyson and my son loved Tyson. It was important for us to be here."
As the prayer circle came to a close, he urged the young people attending to reach out to the parents and families of Boyll, Ennen and Jaroscak. "They're going to want to hear what you shared today," Cox told them. "They'll want you to be part of their lives. ... You're still a tie to someone they love."
And, "They want to know how much you care," Cox said.
Yesenia Gutierrez, who also spoke, told those gathered, "All three boys were beautiful souls ... We need to honor and celebrate their lives."
Sue Loughlin can be reached at 812-231-4235 or at sue.loughlin@tribstar.com Follow Sue on Twitter @TribStarSue.
Mark Fitton can be reached at 812-231-4333 or at mark.fitton@tribstar.com