A new cafe and climbing gym on the city's south side hopes to take Terre Haute's tourism draw to new heights.
Climbing Cafe, next door to Top Guns at 5070 S. Seventh St., offers 4,000 square feet of climbing surface and an adjoining cafe with sandwiches, smoothies and coffee.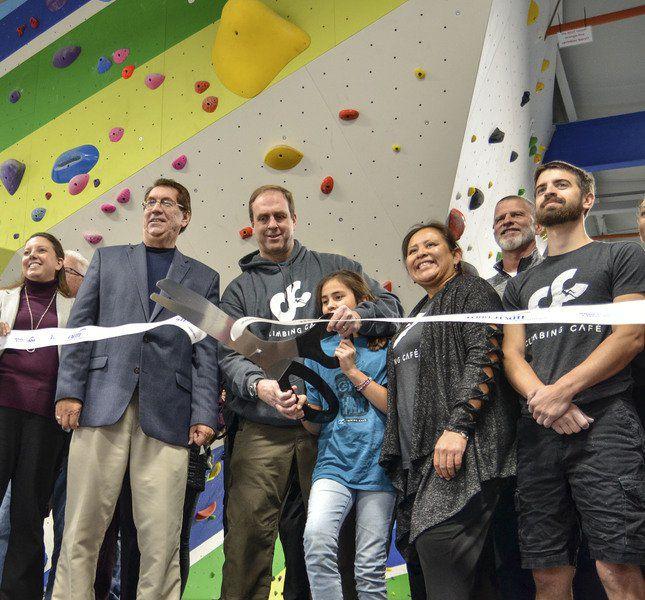 A first-of-its-kind facility in west central Indiana, Climbing Cafe owner Sam Morgan hopes the new spot will become a destination for those in the Wabash Valley and for the climbing community around the state.
"We're really trying to create is what I like to call a capitalist version of a community center," Morgan said. "We've got a giant playland here. You can meetings over here, you have lunches.
"You can bring your family, we're trying to be very family oriented."
Morgan said that while the climbing walls may be the natural draw, he hopes the cafe will serve as the go-to meeting and event space for the southside.
"We really want people to come in and use the cafe," Morgan said. "It's a great community gathering center, you can have meetings or classes, or whatever you want, really, and just throw the kids over here in this big play area."
Terre Haute Mayor Duke Bennett and representatives from the Terre Haute Chamber of Commerce were on hand at Friday's ribbon cutting, with Bennett wishing Morgan, wife Taunya and family luck with their new venture.
"I really believe this is going to be another destination that we can add to our change into a tourism type of community," Bennett said. "Hopefully people come here and visit this great place, enjoy it and help you all do great things here."
Morgan and his family moved to Terre Haute in mid 2014, where he served as the Air Force ROTC Detachment Commander for nearly two years at Indiana State University, before becoming a director/instructor of unmanned systems at ISU. He is leaving that position after three years. He served in the Air Force for 26 years.
Reporter Alex Modesitt can be reached at 812-231-4232 or at alex.modesitt@tribstar.com. Follow him on Twitter @TribStarAlex.