More than a dozen large Dumpsters were filled to the brim and hauled away Saturday morning in what officials are estimating to be the largest, most successful city-wide cleanup in recent memory.
At times it seemed the Terre Haute Police Department's parking lot was near overflowing with all manner of rubbish, at the center of which, was a veritable mountain of refuse.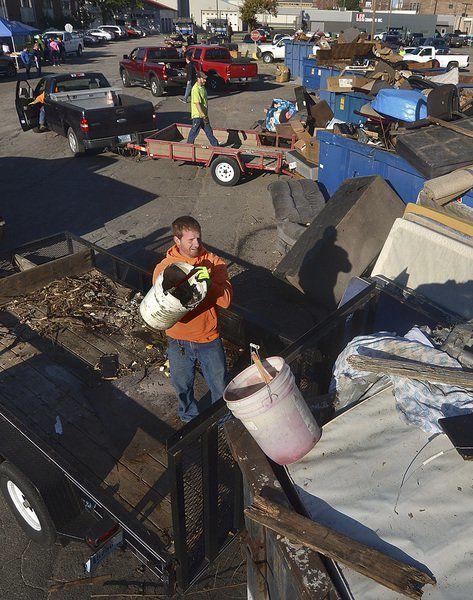 The trash heap was built and Dumpsters filled by a small army of volunteers as a part of Terre Haute's fall citywide clean up effort in conjunction with Republic Service.
Volunteers from a host of city and county offices, including Vigo County Solid Waste District, Vigo Health Department Vector Control, Waste Water Treatment, Terre Haute Street Department, city Code Enforcement and the mayor's office, canvassed the city for much of the morning.
Terre Haute Code Enforcement officer Laurie Tharp said she was encouraged by the turnout and thinks the city could benefit from doing city-wide cleanups once a quarter, versus twice a year.
"Just looking at the amount of trash we got today, we could do this every quarter," Tharp said. "I don't know that it would be this big, and hopefully we'd eventually get it back down to twice a year, but until we get things back in order, back in shape, we could do this more regularly."
Terre Haute Mayor Duke Bennett said doubling the number of cleanups in a year is being discussed, especially given the apparent need after tons of trash were collected in just four hours.
"This is by far, and it's not even close, the biggest one we've ever had," Bennett said. "Between what we brought in and what other people brought in, we've never had anything like this."
Bennett said the two additional code enforcement officers the city will hire next year, as outlined in the recently approved budget, will make the finding and hauling away of trash easier.
"With two additional sets of eyes we'll be able to find and deal with this stuff quicker," Bennett said.
Mike Hunter and his father Dave spent their morning filling a 12-foot trailer with all manner of construction material and tree limbs.
Mike Hunter said some of the trash was from rental properties he and his brother own, but the majority was from illegal dumping in alleys throughout the city.
And with owning multiple properties, Mike Hunter said, he has a vested interest in seeing the city cleaned and rid of piles of garbage.
"This is where I pay my taxes and where I live with my family," Mike Hunter said. "I want to see this city thrive as badly as anyone else."
Reporter Alex Modesitt can be reached at 812-231-4232 or at alex.modesitt@tribstar.com. Follow him on Twitter @TribStarAlex.